Discussion Starter
•
#1
•
A friend of mine, a Range Officer, handed me a jar of loaded ammo in various calibers the other day, saying I might be able to salvage some of the components, and I might also find some things "Of Interest" in there. These were rounds he had found on the ground and on various benches after people had left, and he'd been collecting them for awhile. I took it home and started rummaging through it, and what I found scared the bejezus out of me.
Some of the rounds were misfires, which are common with reloads as well as factory rounds. But when I started looking through the pile of unfired cartridges, I realized why some folks don't want to sit next to a guy with reloaded cartridges. After seeing this, I can't say I blame them.
Example #1: A 45ACP cartridge, loaded by someone who clearly didn't flare the case neck enough to let a plated bullet in without shaving off a substantial amount of the jacket and some lead as well. He apparently tossed it aside when it wouldn't chamber. If he'd been paying attention, he'd have noticed a lot more than that, and in fact, this round should never have been
reprimed
, let alone reloaded.
It's pretty obvious why it wouldn't chamber, and I'm kind of surprised he didn't just mash it in there anyway, given his obvious carefree attitude. He's lucky he didn't. Look close.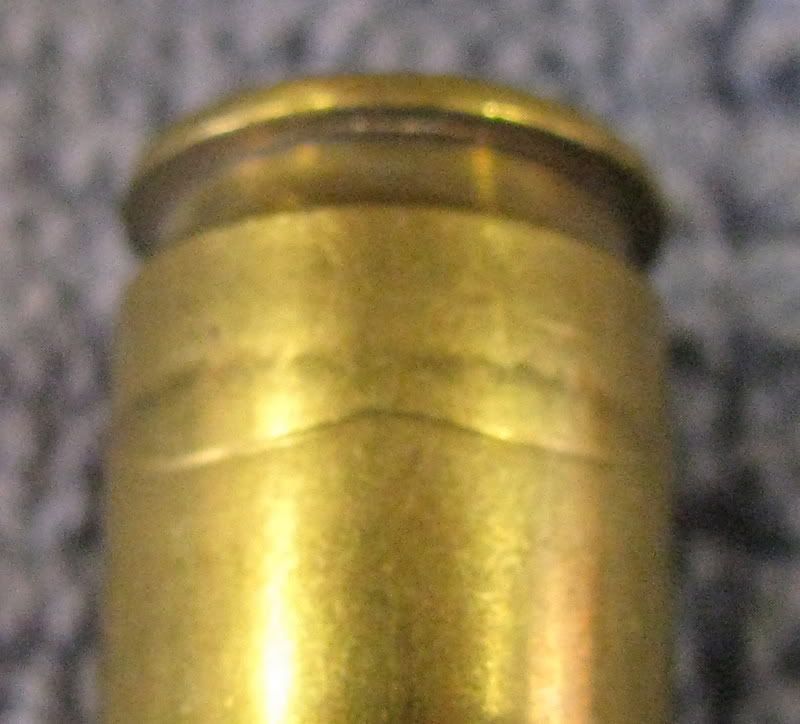 That thin, scribed line tells me that this case was less than one bazillionth (scientific term I just made up) of a whisker from letting go the LAST time he fired it. Had the case been properly flared and the bullet seated properly, I have little doubt he'd have fired it again. Speaking from experience, I can tell you the three things that probably would have happened, in a 1911-patttern gun.
#1, at the moment of ignition, the shooter's face would have been peppered with hot brass fragments and powder granules, as the pressure blew the back of the case out, and the gases were vented backwards, instead of the way John Browning intended them to go.
#2, the remaining rounds in the magazine would have been blown out the bottom of the mag well, taking the follower, the spring, and the floorplate with them. Given a pistol held at full arms' extension, that would put those items on a collision course with the shooter's crotch. Were the shooter wearing a fiberglass cup, he might not suffer much. Without one, physical pain would be a certainty. I can personally testify about that part. It hurts.
#3, unless the pistol was wearing metal grips, or Pachmayr's (which have steel plates in the sides, shielding the mag well) the grips would likely shatter, spreading shrapnel and debris out both sides.
Example #2: Another 45ACP, with an obvious split peeking out from under the shaved jacket. I don't know if our intrepid reloader didn't see it, or didn't care, but the results upon firing would have been unpleasant. The shooter might have not suffered, but the gun most likely would have, even if only a little. I like to remind new shooters that chamber damage from ruptured cases isn't instant erosion, it's a gradual process that distorts the chamber dimensions until accuracy is noticeably diminished. One thing IS for sure......this round would not have survived the stress of firing!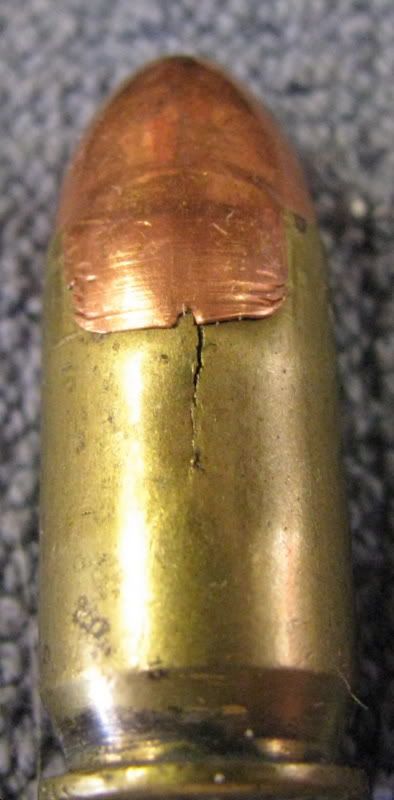 Example #3: This 38 Special case was a loaded round when I encountered it. I broke it down, dumped the powder, saved the bullet, punched out the primer, then tossed it in the recycle bin. Awhile later I thought better of it, fished it out, and snapped a photo of it. This kind of thing makes me crazy.
HOW CAN YOU RESIZE, DEPRIME, REPRIME, DROP POWDER AND SEAT A BULLET WITHOUT SEEING THE SPLIT IN THIS CASE?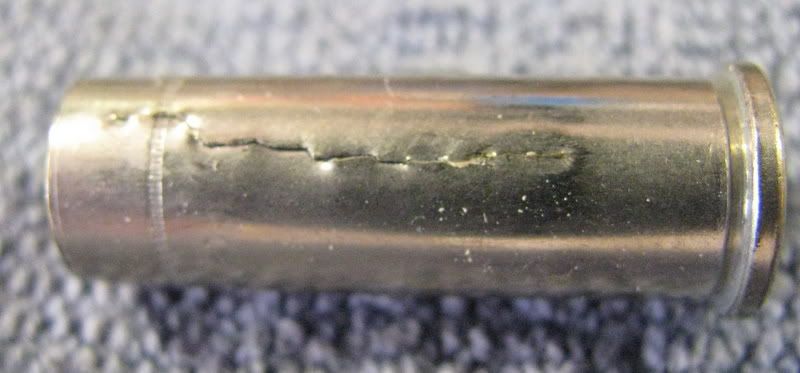 Example #4 is something I'm including even though I can't say for sure this happened during the reloading process, but I still find it interesting. A mangled 357 Magnum, bent and crunched, and I can only speculate on how it got that way. I've seen cases mangled this way in leverguns when the bullet was trying to enter the chamber at an angle, and got mashed by the lifter and bolt. That
could
explain how it got bent. But when that happens the cases are usually badly scuffed, and this one isn't.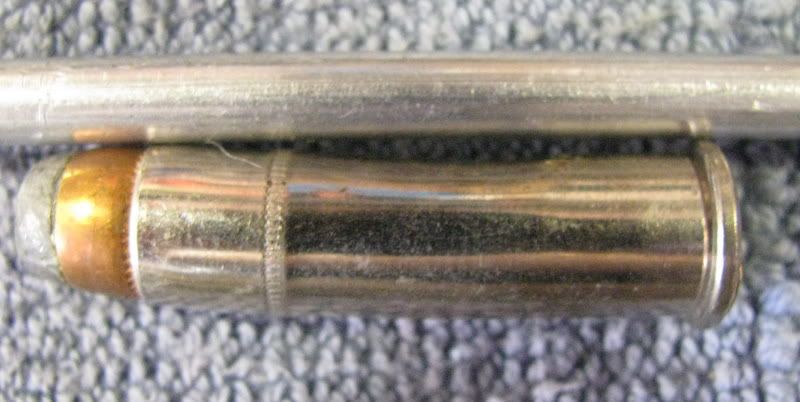 The second shot shows the deformity a little better, and makes me think that if the case hadn't been so bent, our friend might have tried to load and fire it anyway. I doubt this was a reload, that looks to me like a Speer bullet, seen less frequently in reloaded ammo.
My reloading process involves a lot of case inspection in good light, and the above examples are why. One trick I
always
do is to stand all my empty brass up, so I can see the case mouths. Splits down the side are not unusual, but splits at the mouth are far more common, and easy to see if you use this system.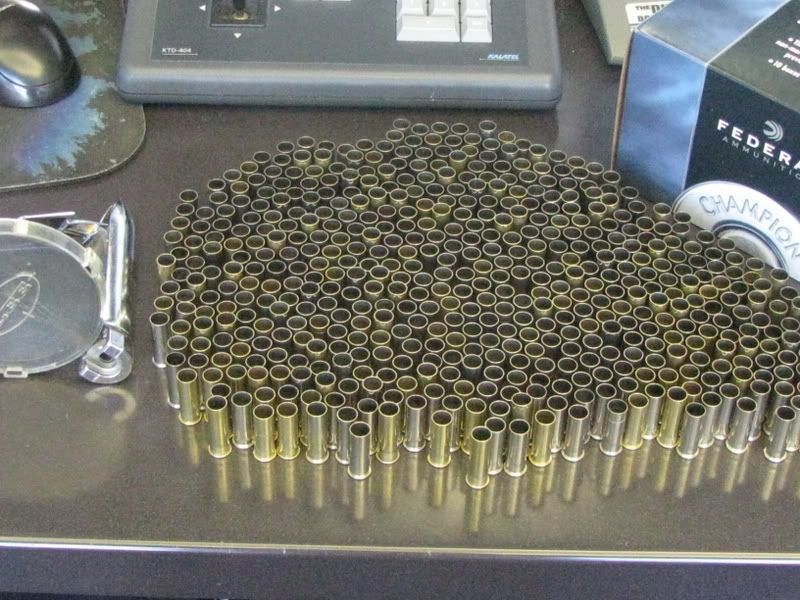 Primer pockets getting loose? Mark the headstamp with a red marker, which means "Don't load this brass anymore." When you get the fired brass out of the tumbler, red-butt rounds go straight in the recycle bin.
Okay, my feet hurt from standing on this soapbox...........But once in awhile I get a wake-up call like this jarful of ammo, and it scares the holy schnizzle out of me. There are some very scary reloaders out there, and I just pray they're not at the next table when one of their little creations comes apart.
So endeth this sermon. Go ye, in peace and safety. 8)