Discussion Starter
·
#1
·
Another one just like it!
I've done some buying and selling lately, some of it documented here, and while I refuse to pay exorbitant prices for the few Grail Guns that have eluded me thus far, I have no problem paying a fair price for something I already know I like. Most of my preferences are well known here.............Smith & Wesson revolvers, especially those made of stainless steel and wearing three-inch barrels. There are other characteristics I like, but those are certainly the favorites.
Despite all the modern ballistic
wunderkinds
available, I remain convinced that there is nothing wrong with the 38 Special as a defensive and recreational cartridge, and while I love my 45's, I shoot more 38's than anything else. I also use them for training purposes, people that can't stand the blast and recoil of a 357 Magnum do just fine with a 38, even in the warmer loadings. Since I have K-frames in both 38 and 357, it makes more sense to instruct people with the 38, and if they want to move up to the 357, that option remains.
As for the three-inch fetish............I just can't help myself, I think the three is a perfect compromise between size, shootability and power. I can shoot a 3" as well as a four-inch, yet it's lighter and easier to conceal. It's also a lot easier to hit with than a true snubbie, which to me is anything less than 3". I don't care for S&W's new crop of 2.5" revolvers, because the idiots compromised the gun by shortening the ejector stroke by about
half
. In other words, if you don't smack the ejector rod smartly, or if something sticks, your brass doesn't fall clear of the cylinder, and then you have to do it again. When reloading under stress, that makes a bad situation even worse.
Anyway, I've had a 3" S&W M-65 (dash two) for a dozen years, and consider it one of the finest guns they ever made, even though mine was a battered police trade-in. It had Road Rash in several places, the front sight was badly dinged, and there were scuffs all over it. Rode hard and put up wet, apparently pretty often. But it was mechanically fine, and it shot well for me. I did my all-time-best trigger job on it, neutered it to DA-only, and carried it for several years. I still love it, but I pamper it a lot more now these days, because it would cost me a fortune to replace it. Three-inch S&W prices have skyrocketed!
So what to do? Make another one! Since I have several K-frame 38's I picked one with a good trigger, bought a 3" barrel off GunBroker, and replaced the scuffed 4" one. Sometimes I have to open the cylinder to verify which is which, they look so much alike!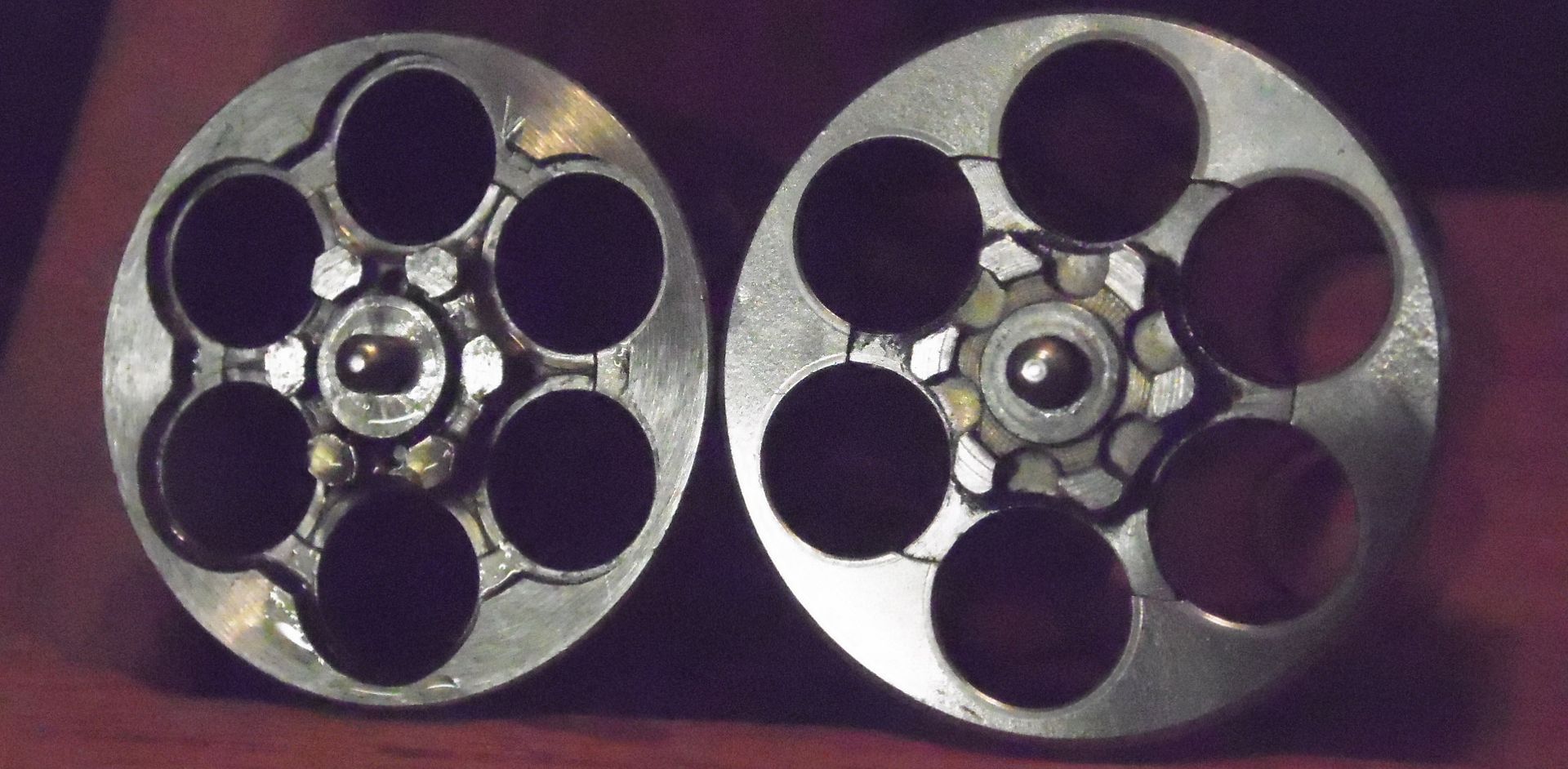 I swap grips fairly often, rubber feels better at the range (especially with stout loads in arthritic hands) but wood looks SO much better!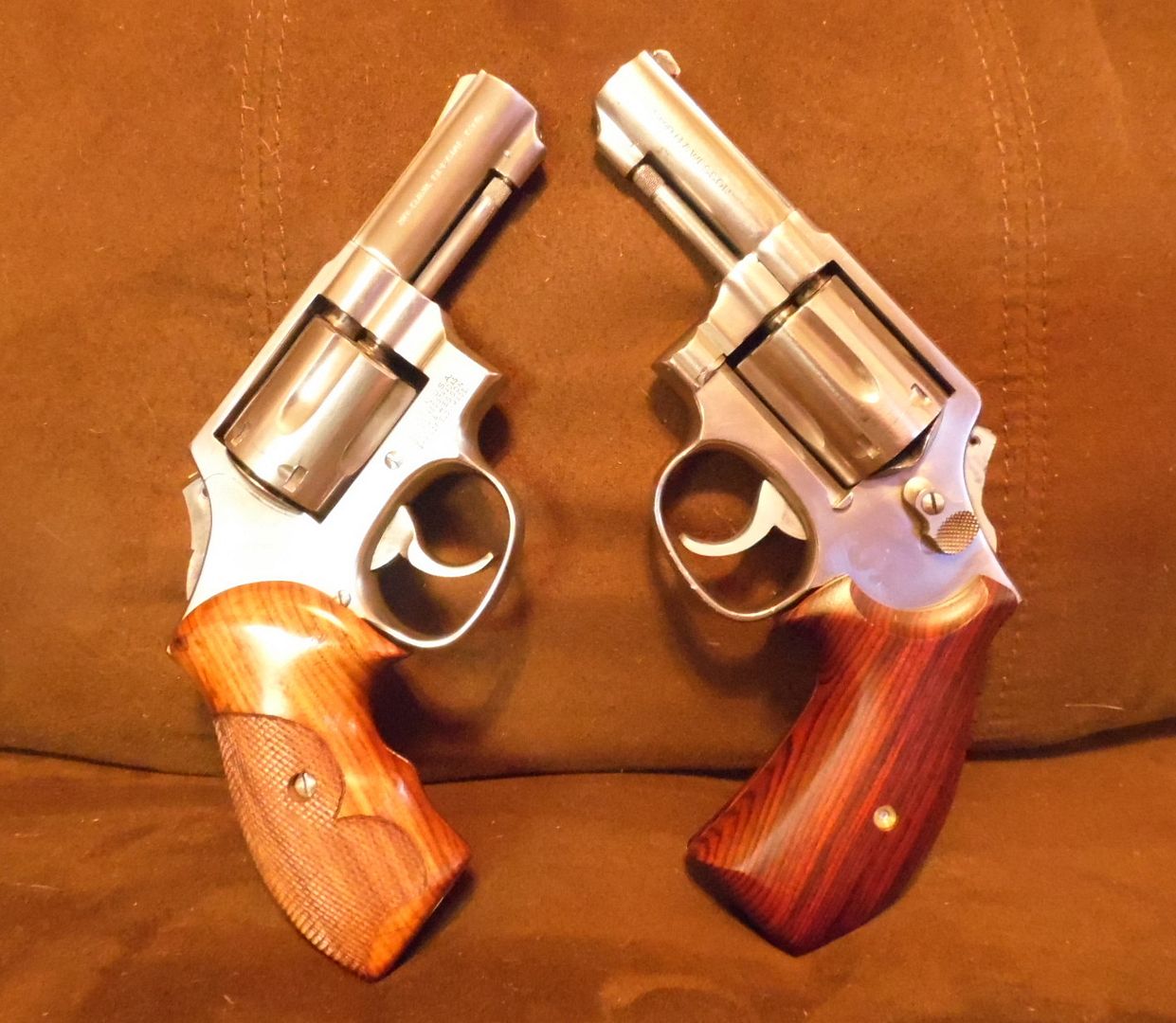 I find the resulting carry piece quite attractive, and it shoots like a dream, DA-only, like its predecessor. Since I "shortened" the barrel, I named it Bob. :flute: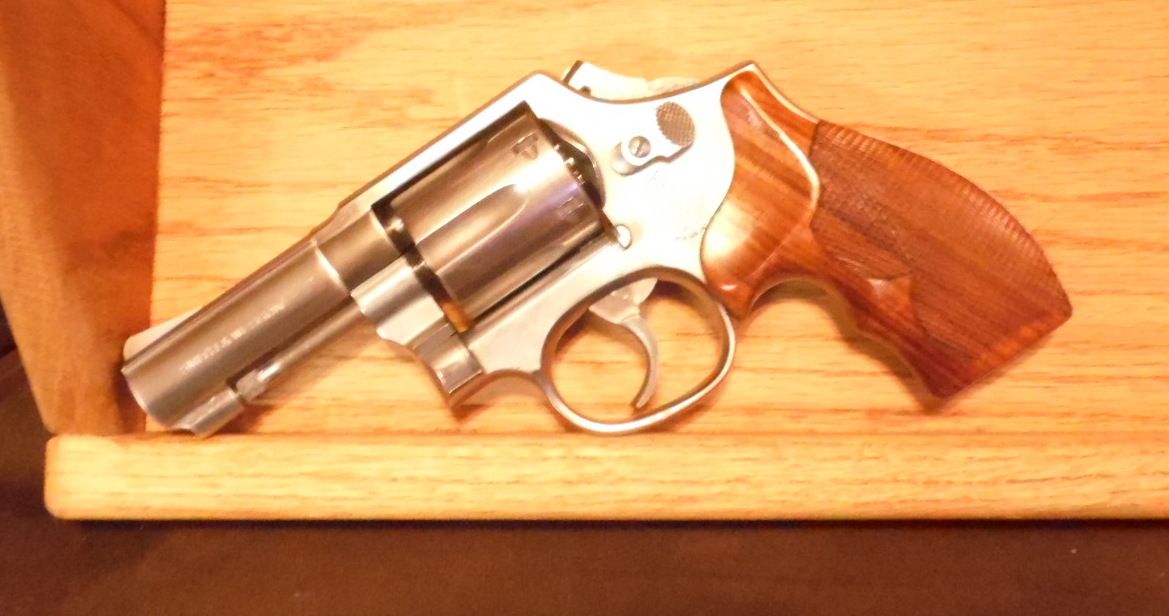 Another carry gun I'm quite fond of is one I bought from a forum member, Dennis was kind enough to think of me when he finally decided to part with it, and it's been a favorite since it arrived. I like it so much I started looking for another, and I wound up finding two of them at fair prices. One quickly went to a favorite student, the other is now in the safe as a spare in case the first one is too dirty to carry around. At the moment they wear similar but slightly different grips, and the original gun has a belt-clip on it that alleviates the need for a holster, making it ideal for shorts-and-T-shirt carry.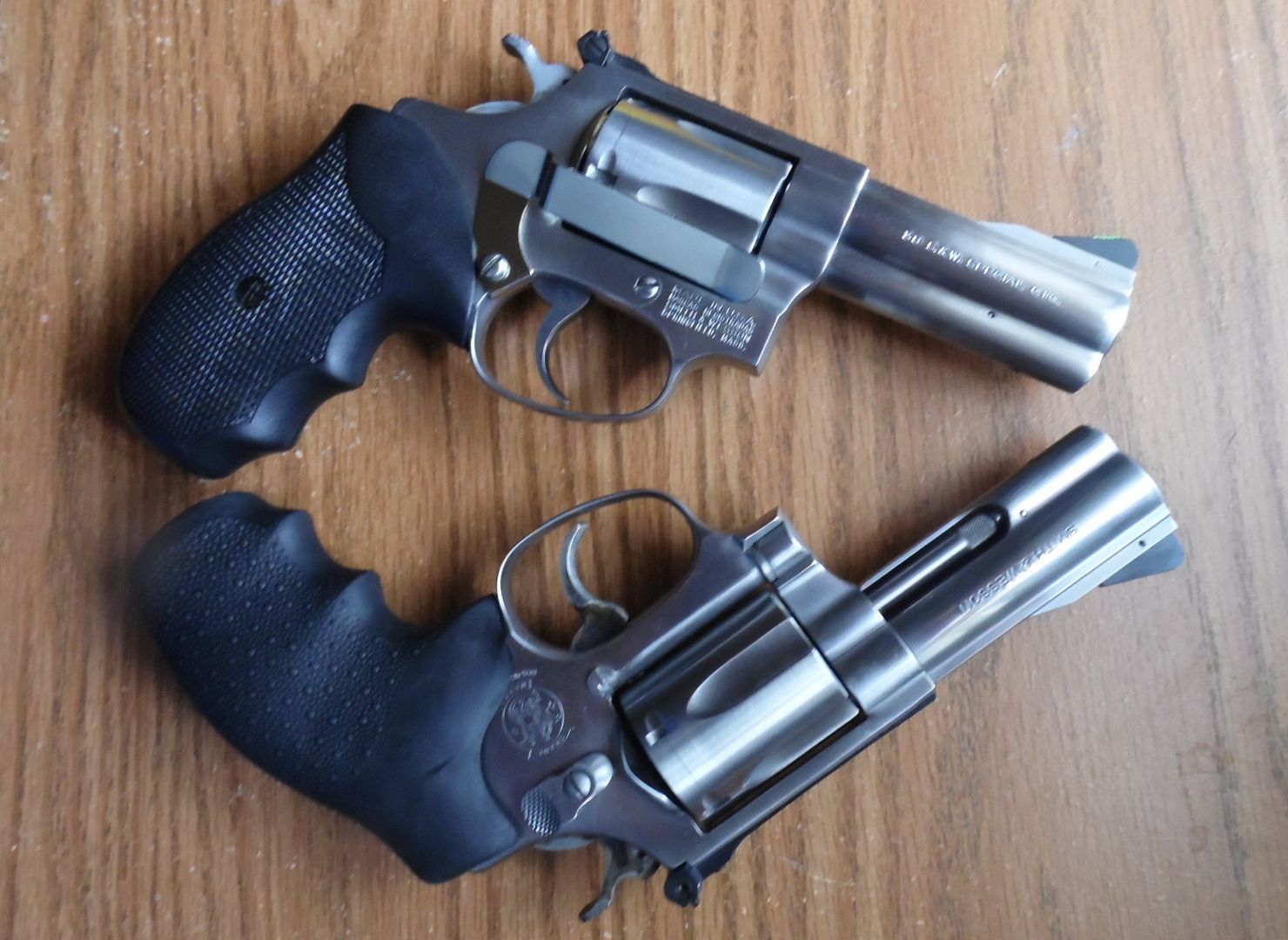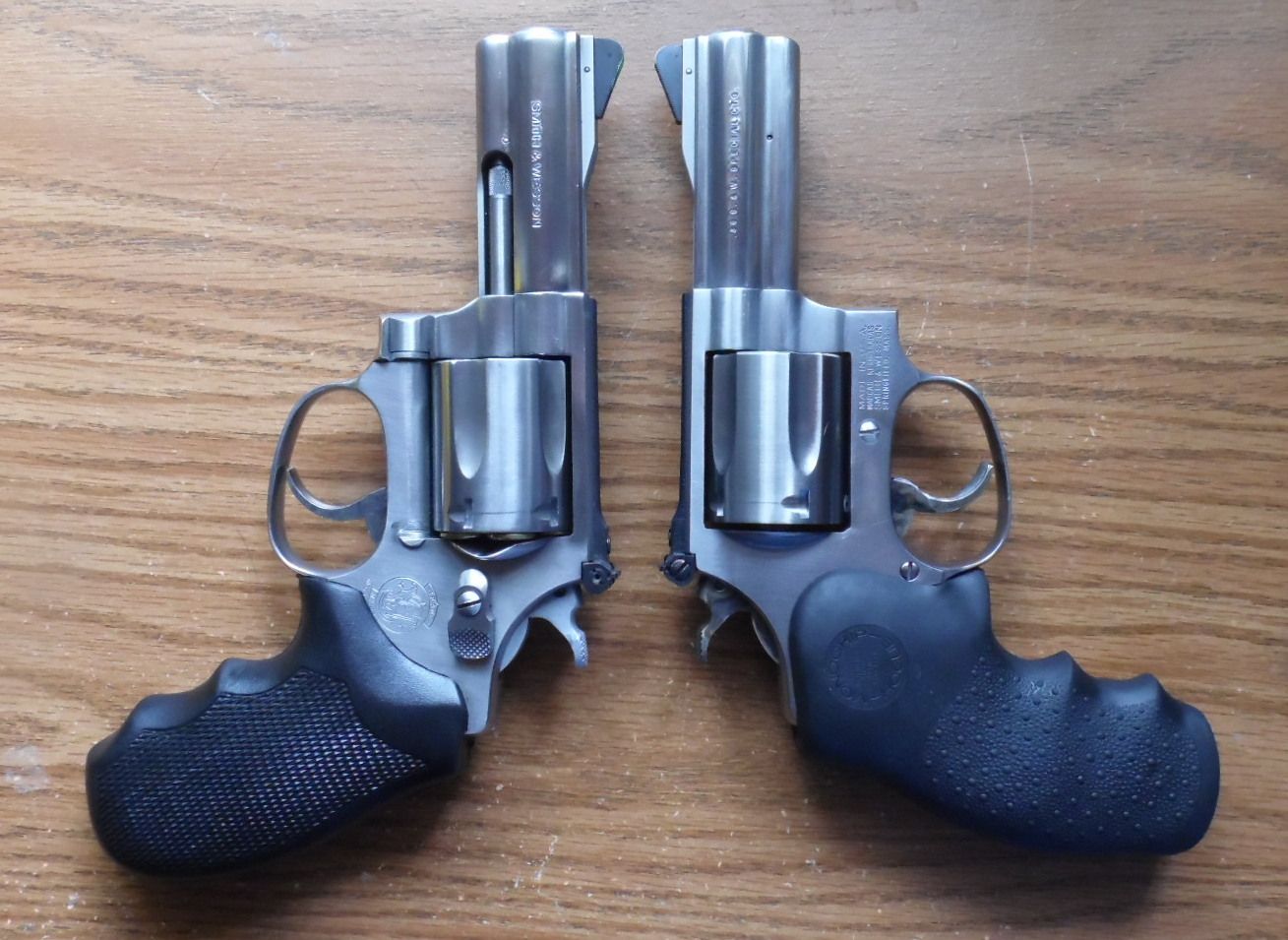 Suffice it to say I have a serious fetish for three-inch 38's. Even Rugers are okay! Well.............
.one
, anyway.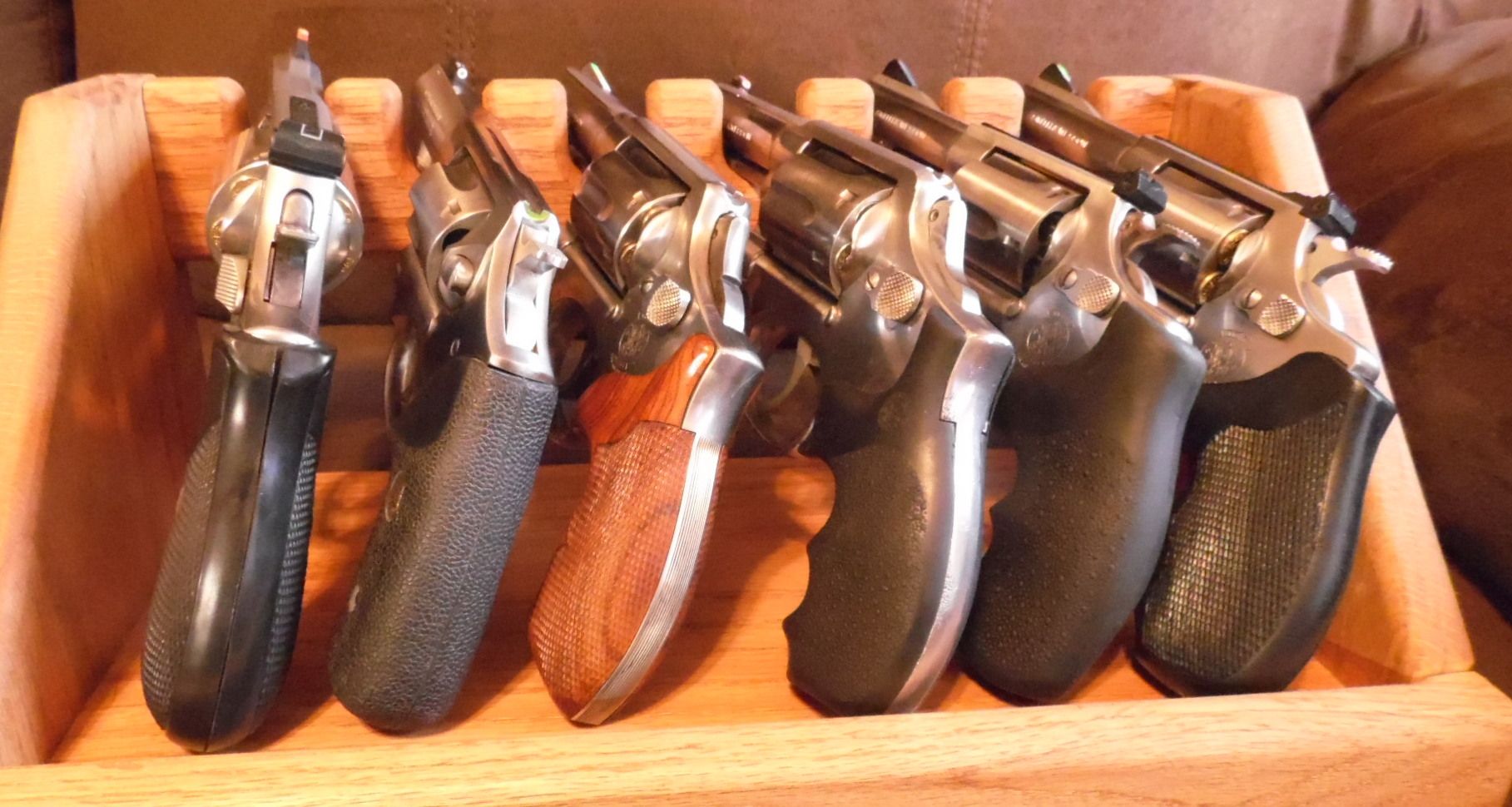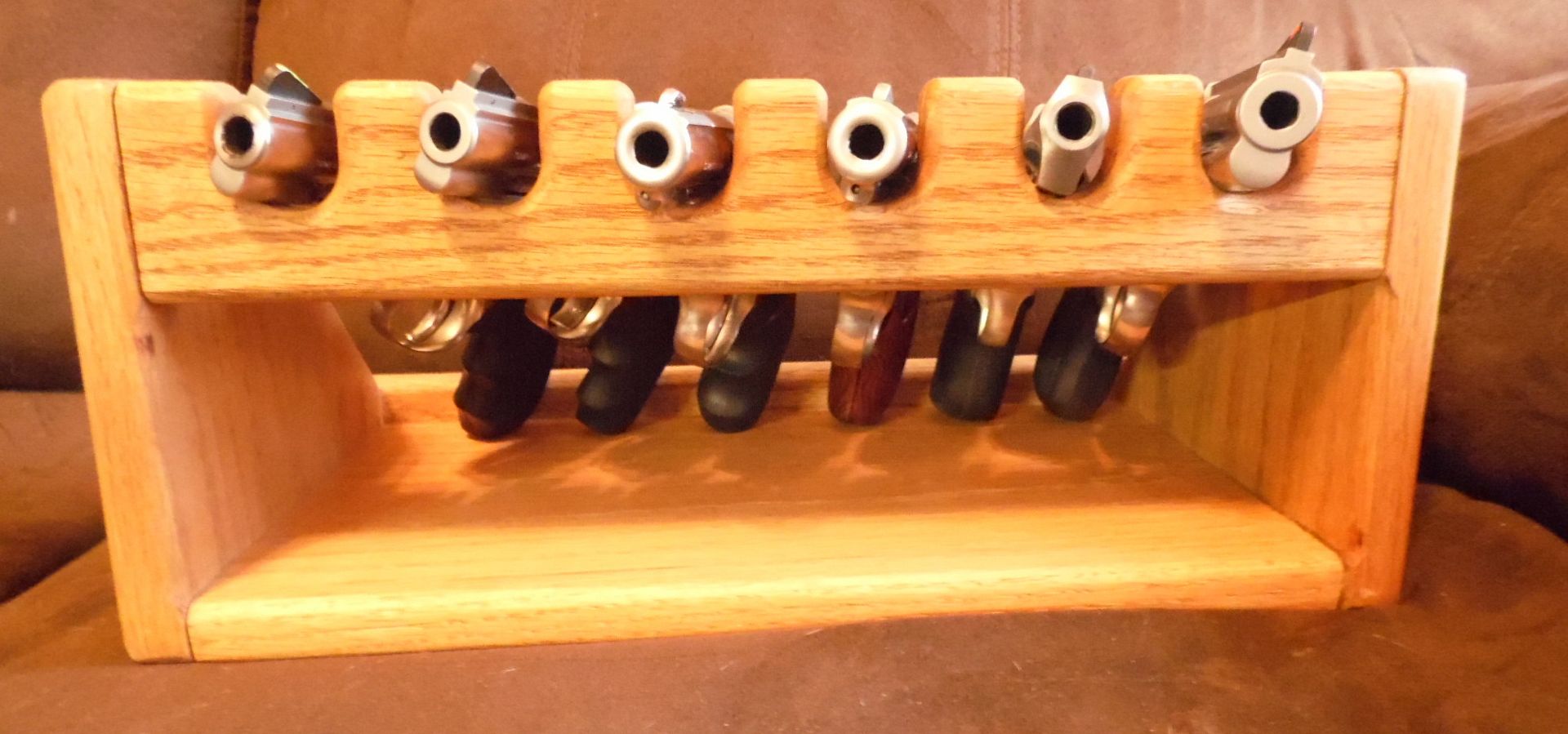 (Hey PJ-ABI, does that Red Oak pistol rack look familiar? I use it all the time!)
Beyond the three-inch revolver fetish, there are a few other guns that tickle my fancy enough to duplicate.......sort of. I was lucky enough (via yet another M-O co-conspirator) to find an EAA Witness Match when they could only be found in magazines. I loved the gun (and the
incredible
trigger) from the moment I got it, and it kept me from buying a 1911 for several years. I finally scratched that itch, but a couple months later in the same LGS they had a Witness Match in 40S&W, and I almost sprained my elbow getting my wallet out. It shoots as well as the 45, holds more rounds, and has a better rear sight. I don't carry the 45 off duty, but I do the 40!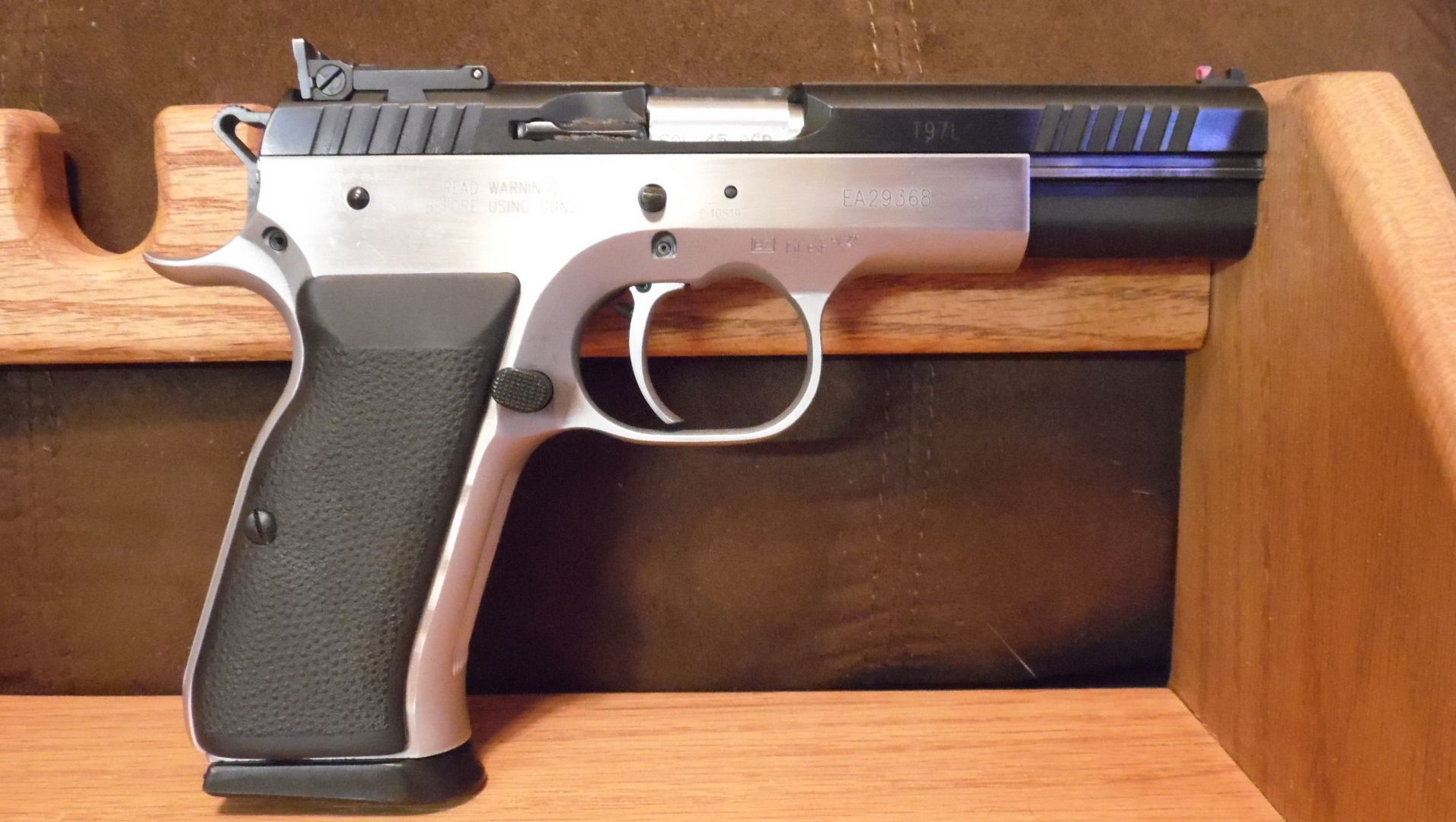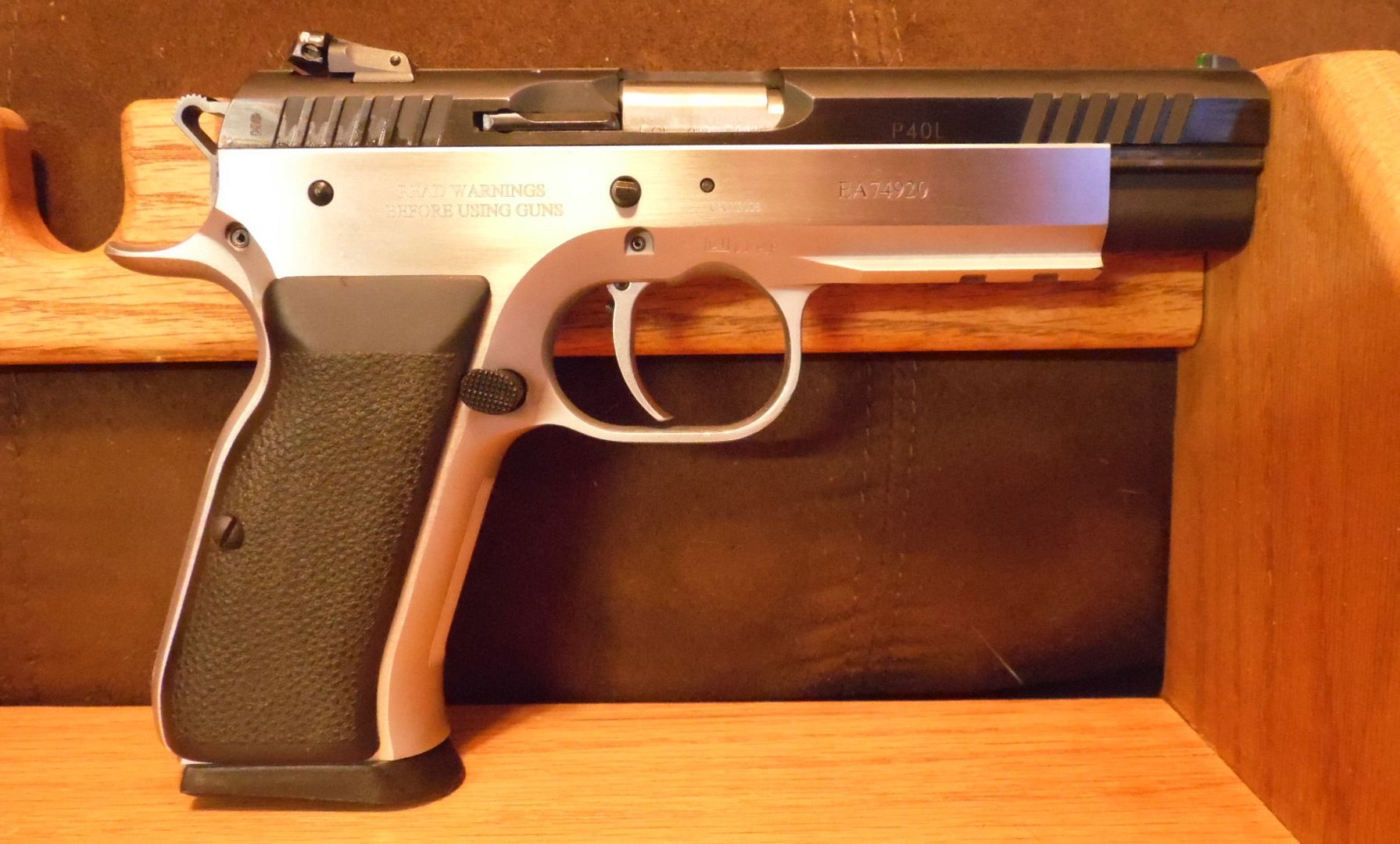 I'm not crazy about the flashlight rail on the 40, and might even machine it off one of these days, it adds weight I don't need, and I'm not a fan of gun-mounted lights. But when it comes to shootability, these two are the beans, at least for me. There might be a reason I have bought SIX of the Witness guns. And one of them.............(wait for it!)...............is a
three inch
! Who would have guessed?
Anybody else here have a "matched pair"? Since I have several S&W M-64's I asked the boss if I could a wear a nice engraved two-gun rig to work, with a nice belt and a few silver conchos here and there, maybe even a nice "shady" hat. He apparently never heard me, because he never answered me. Never seen him leave the office that fast, either. He musta been having a bad day....................