Discussion Starter
•
#1
•
I've posted quite a bit here on Marlin Owners about my two model 39s.
About how I just love 'em, and how much I enjoy shooting them, and how accurate they are, and how reliable they are, and how they feel like old friends to me, and Yada Yada, and on and on.
Well, tonight I'm going to say something different.
I bet most of you don't even know I have a model 60.
It's a newer model, probably 2005 or so. It has the short barrel and magazine, the last shot bolt hold open, and the subtle laminated stock.
I've fitted it with a Mueller 4.5-14X40 AO scope. They call it the "All Purpose Variable", or APV.
Here's a pic of it from a while back.
I don't brag on this rifle much. Generally, I prefer shooting the lever actions but that's not to say that this rifle is inferior in any way.
It's been 100% reliable since it was new. In fact, I don't ever recall it jamming in any way.
And it's proven it's self to be plenty accurate. It regularly shoots smaller groups than either of my 39s can do on their best day.
It carries and shoulders well, and the laminated stock is pleasant to look at.
The only thing I have ever had to complain about with this rifle is the dreaded scope creep, and that's a pretty small problem and not about the rifle in the first place. It wasn't even an "Every Time" problem. Usually, this rifle would make two or three trips to the range before I would notice that the scope was moving, and it didn't seem to bother the zero when it moved.
I would just loosen the mounts up, slide the scope back where it belonged, and keep on blasting.
I recently installed a one-piece scope mount in an attempt to make it stay put.
It's a Leapers setup with a huge clamp running the whole length of the top of the receiver. It's got three large Allen Bolts holding it, and I was able to seriously bear down on the thing. I put some Lock-Tite on the dovetail of the rifle before I installed the clamp, so it should be "Glued" on there pretty good.
Here's a crappy cellphone pic.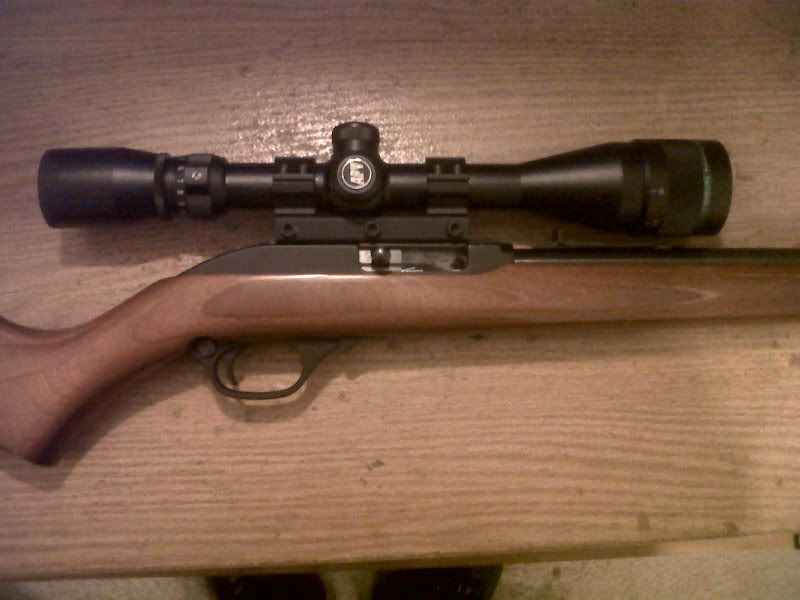 If this setup works as expected, this may well be an excellent little rifle.
I can't wait to get it out and sight it in. ;D