Discussion Starter
•
#1
•
I have a story & a pic "if" I can get my puter to work! Wish me luck.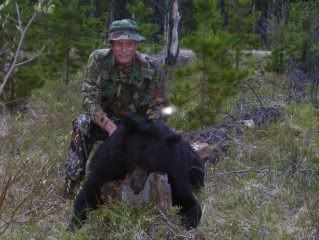 Story follows;
I had the opportunity to hunt black bear for five days early this June. It was my first guided hunt & conducted by Icha Mountain Outfitters out of Quesnel, British Columbia. The slowest day still produced four bear one of which we considered a shooter. Sabrina Fraser was my guide this rainy day. At first, we had some trouble determining if the two tone brown bear moving away from us was indeed a black bear & not a grizzley. Uncooperative wind & terrain favored the bear & it was a short stalk & return to the rig. As you can see, our mode of hunting in this beautiful country was spot & stalk. I had the option to fill two tags, but I'm getting ahead of myself.
I ended up filling my 1st tag on the 1st day. Al, the other hunter in our threesome, had two opportunities at two different large boars but it was not to be (he was later to fully redeem himself). It was my turn up.
Mid afternoon, Stewart Fraser, my guide, & I spotted a good-sized bear slightly more than 300 yds down the road. We dismounted & got in front of the truck to break up our outlines. Pushing some 450 cartridges into my rifle, we crept along the brushy edge of the road. Each time the bear bent down to grab a bunch of grass or clover, we took a couple of steps forward. In a few short minutes, we were within 100 yds. So far the bear was oblivious to us & making it easier as it was moving in our direction. I hit the prone & decided to let the bear come closer. It had a beautiful, black coat & a decent-sized head.
When the bear was within 80 yds, I pulled the hammer back to full cock & released the safety. Stewart was whispering "not yet, not yet, etc". At about the 5th "not yet", the bear looked up, hesitated & turned sideways facing the center of the road. As the bear began to move across the road, another "not yet" entered my ear. Being prone, even as excited as I was, it wasn't difficult to keep the crosshairs where they should be. As the bear took another step & put its nearside front leg forward, the "not yets" turned into "now!". I didn't have to be told twice. The bullet entered behind the shoulder & exited through the far shoulder. The bear made it just across the road & expired inside the brush at the road's edge.
My bear turned out to be a medium-sized sow w/a nice sized head. Her coat, which Stewart stated was common for BC bears, wasn't the coarse hair I was accustomed to w/WA bears but much finer (well not exactly cat fur but a fine texture & deep). I was a happy camper. Meat is in the freezer (we prefer roasts & smoked bear brats) & the skin is at Fildalgo Taxidermy in Anacortes, WA.
I still had four days to fill my 2d tag & the remainder of the week was filled w/action for the three of us including some long stalks on brown & black colored bears. Al was to fill both of his tags w/a large, black boar & a smaller, beautiful cinnamon sow (I will try to post the picture later). The last three days we saw 6,7, & 9 bears! (we covered some country eh?). Icha Mtn Outfitter has exclusive guide rights to over 3000 sq miles. Stewart, Sabrina, & his other guides provide hunts for bear, CA moose, mtn caribou, wolves, cougar, and deer. I saw more bears than I had seen in several seasons hunting by myself. I sure learned a lot from Stewart as well. My 2d tag did not get filled as most of the bears were smaller or w/newborn cubs. I came to BC to get a bear & learn more about hunting this beautiful, smart animal & I went home happy. All the moose & mule deer we saw each day were just a bonus to a great experience. Needless to say, I'm trying to start saving for next year.