Discussion Starter
•
#1
•
I was eyeballing some of the targets I shot last year with the first reloads I had ever made and a couple sort of stood out, so I thought duplicate the load for this year and this time Chrony them.....great idea huh!
So I'm going over my data and find one load that I had used Lyman's 49th Edition as a reference and made up this load: Bullet: Hornady 265 jfp, Case: Hornady sized to 2.215", primer:CCI 200 LR, Powder: 41.0gr IMR4198, COAL: 2.560" This got me a 4 round group of 1.559" x 0.674" and a 5 round group average of 2036FPS. I did Chrony these at two different times, First time out I shot 1 Each of the 8 loads made up just to see IF they worked, apparently so 'cause I'm still here! ;D That group is seen in the lower right hand side.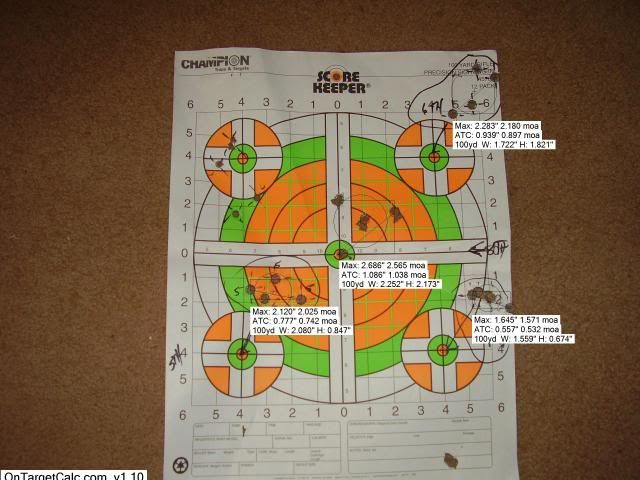 Now comes the reason for the post. I made a second batch up
Using the Alliant web site as a reference, I look up a recipe for the Marlin .444 and Reloader 7 and go with: R-P case sized to 2.215", Primer:CCI 200 LR, Bullet: Remington 240 gr. jsp, Powder: 45.0gr. Alliant Reloader 7,
MY COAL is 2.522"
. Alliant site states
Minimum OAL (inches) 2.53"
which means I'm short on my COAL.
I make up another 40 rounds using the recipe above for a starter and do 5 rounds in the following increments: 45.0gr.,46.0gr.,47.0gr.,48.0gr.,48.5gr.,49.0gr.,49.5gr.,and 50 gr. max. Shot the first 20 off with no problems noted, however they did seem to have a more noticeable kick. What all of this comes down to is this: The remaining loads are only going to go up in pressures and unfortunately I haven't Chronied this batch yet so I don't know what they're pushing FPS wise, What would you guys do? A Do over or leave them be and check FPS with a Chrony come warmer weather? Depending on whose manual you go by I've started under-loaded and have maxed out at 48.5 grs. I'm sticking by the Alliant info. Mr fixit