Discussion Starter
•
#1
•
The Redline Nebo Flashlight
Dave Williams
I will start by saying I just had my 64th birthday, have owned untold dozens of flashlights over the years and the Redline Nebo flashlight is the very best flashlight for the type of hunting, hunting situations and terrain in which I hunt. I mostly hunt feral hogs at night and occasionally will hunt a whitetail management deer during the dawn and dusk hours; both in the Crosstimbers of Central Oklahoma. I usually manage at least one hog hunt a year to SW Texas where the brush is thick as a briar patch and everything bites, sticks or scratches you.
For the past several years I have been sort of a Surefire flashlight snob as they have served me very well. But the new LED technology and advancements in batteries to feed them is growing better by leaps and bounds. My little G-2 Surefire has been my constant companion both in the woods and in my trucks over the years. I love my little G-2 (pictured) so much I even bought a Butler Creek flip-up cover to protect the lens covering the Zenon bulb.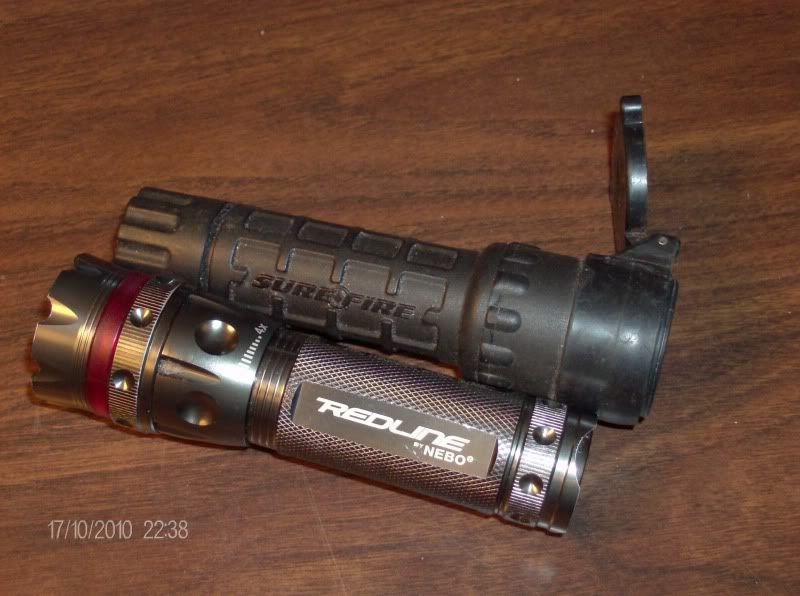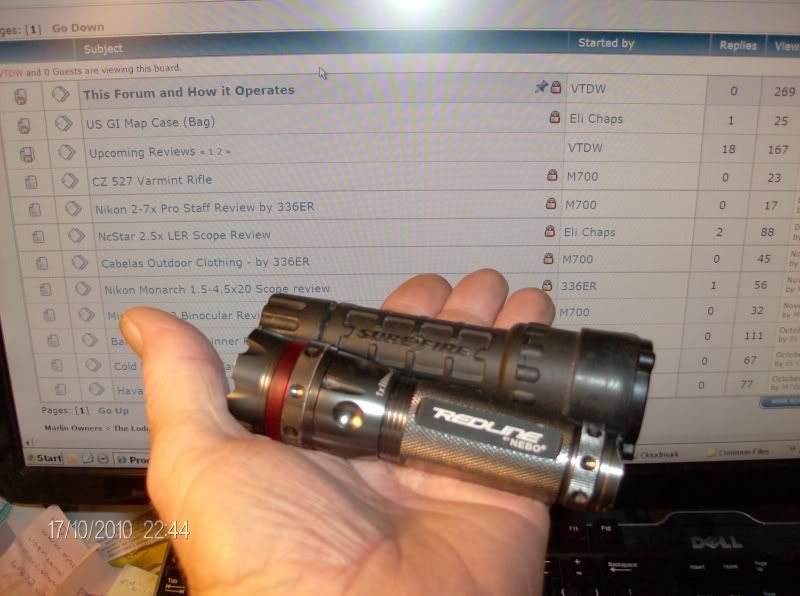 Those C(CR)-123 batteries to power the Surefire G-2 were are on the expensive side but I always figured what the heck, I would justify the cost of batteries for the performance of the light. Now even the Lithium 123's are pretty much cost effective, except for the fact that the Zenon bulb takes LOTS of battery juice and I always was careful to carry several spare batteries along with me.
A couple of months ago my hunting/lease buddy gave me a Redline Nebo he picked up at a local indoor shooting range for $26 + tax. Boy what I have been missing the past few years! This thing has, 1 yes one, LED. It is a square LED and the lens looks like a fisheye. You know, really thick and rounded.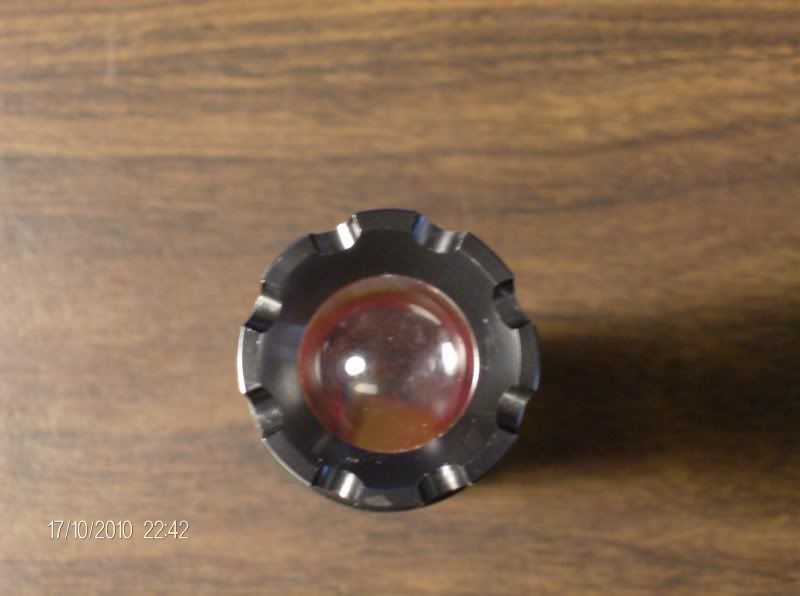 Turn it on and you can easily see detail past 150 yd, 220 Lumens on full power for 4 hours. You can dial it down to 50% power, 110 Lumens, 65 yd, for 8 hours and even 10% power, 22 Lumens, 30 yd, for 15 hours. It has an SOS function and flashing strobe, 72 hours.
The Nebo claims to have an effective range of 150 yd and I have found that to be entirely correct. One clearing on our hunting lease is 160 yards across and I found I could quite easily see details across the field in the dark of night with the Nebo. AND it focuses from a narrow beam to a wide beam as well, similar to the old Mini Mag Lite we all have owned.
• Defensive Strobe (the strobe is so powerful an assailant would be totally caught off guard and blinded by it)
• 4X Adjustable Beam
• Aggressive Self-Defense Face (a woman could easily maim an attacker just by pushing the face of the light into the attackers face and twisting. I would not like to be on the receiving end of that little thrust).
• Anodized Aircraft-Grade Aluminum Water-Proof Compact Body Design
• Rear Glow-in-the-Dark Tactical Button
• Powerful Magnetic Base
• Length – 4.5", Diameter – 1.5", Weight – 0.428 lbs.
• Three (3) AAA Duracell batteries included (I immediately replaced the batteries with three (3) AAA Energizer Lithium batteries for long life.
One last thing I want to convey is the type of light the Nebo puts out. See in the picture the Surefire has more of a yellow light and the Nebo tends toward white.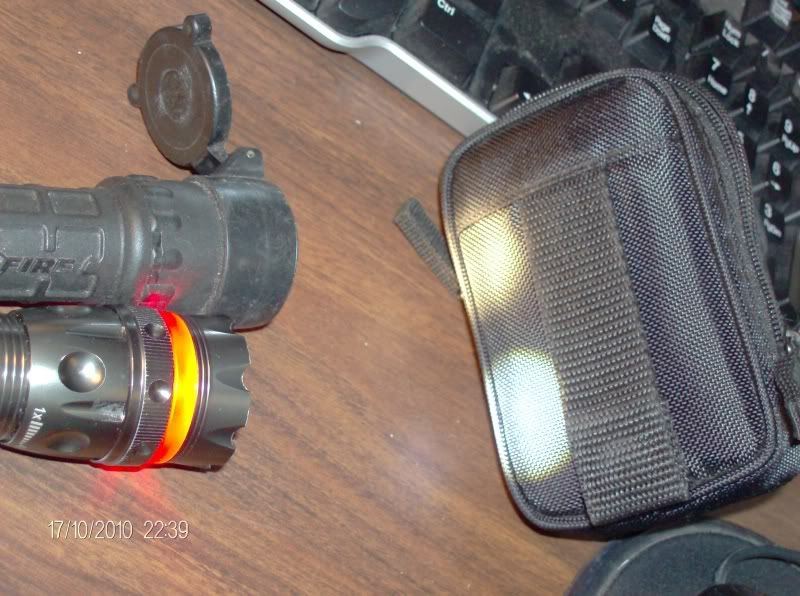 It is just amazing to me how much more detail I can see with the Nebo because it does not wash out detail as the Surefire does. Simply amazing!!
You will not be disappointed if you can acquire one of these most talked about, much anticipated, flashlights to hit the market in years. This little package brings high-end technology to a compact and extremely powerful light. This Flashlight is by far the best light on the market, not to mention one whale of a value. You will be very surprised at what the Nebo's 220 Lumens can do.
Dave 8)