Discussion Starter
·
#1
·
OK, so I will apologize now if the length of this post offends anyone. I will also make a public apology now to Marshall Stanton, for shooting those copper bullets through his targets, but he created the perfect scout scope target, sorry. I will also humbly apologize to Greg Bell, who up until Wednesday might have been getting his rifle back. Unfortunately, my lovely Sister in Law has been diagnosed with breast cancer, and I want my wife to be with her during this time, reducing our income a bit. So, no new projects for me right now, and I will be keeping the Brockman 1895gs with 16" barrel instead of selling it back to its original owner(Greg Bell) to fund a build of my own, sorry again Greg.
Now onto my story.
Here is a pic of the gun as it sits now with my Leupold Scout in Gun Metal Gray atop it.
We went to the range today, (we being me, the 1895 and a Romeo y Julietta Bully) after loading an assortment of 350gr Hornady FP's on five different charges of RL-7. All loads were in new Starline brass, with WLR primers and seated to the crimp groove. 5 Shot groups were fired from Lead Sled at 50yds.
The weather was cool and wet( go figure, I live in Western Washington) and the range was mine, mine, mine, all mine, not another soul there. ;D ;D ;D ;D ;D
The loads were 45, 46,47,48 and 49 grains respectively, and the data is as follows;
45.0grs
, Velocities- 1616,1666,1688,1663,1679- Avg. 1668 FPS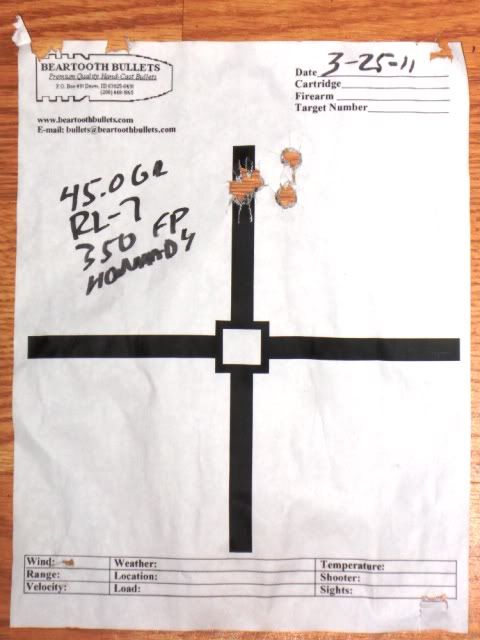 46.0grs
Velocities- 1704,1712,1699,1737,1689- Avg. 1708 FPS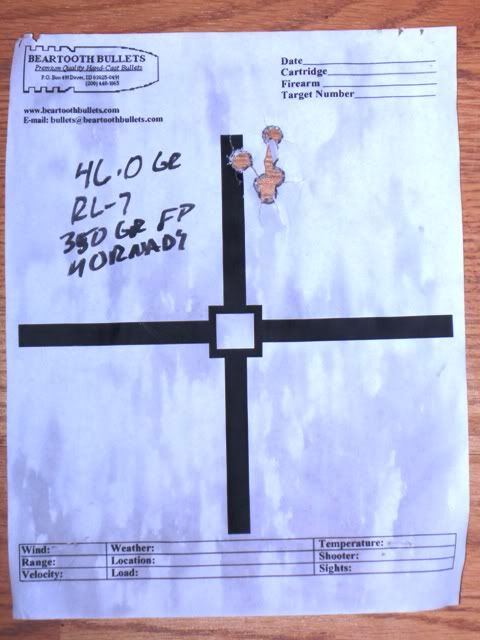 47.0grs
Velocities- 1786,1820,1810,1781,1821- Avg. 1803 FPS

48.0grs
Velocities- 1844,1825,1836,1817,1815- Avg 1827 FPS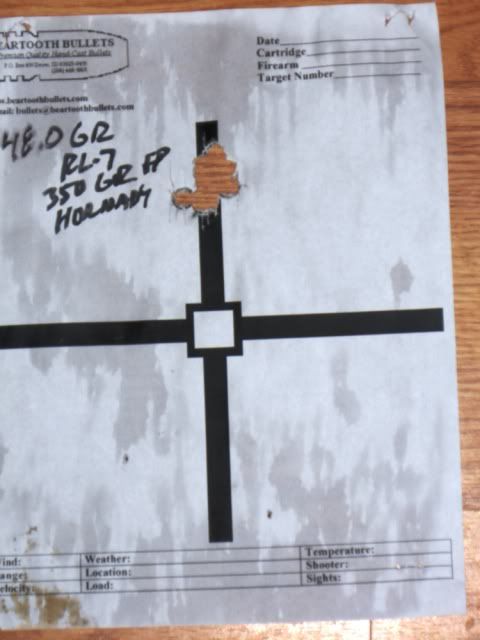 49.0grs
Velocities- 1840,1869,1824,1846,1845- Avg 1844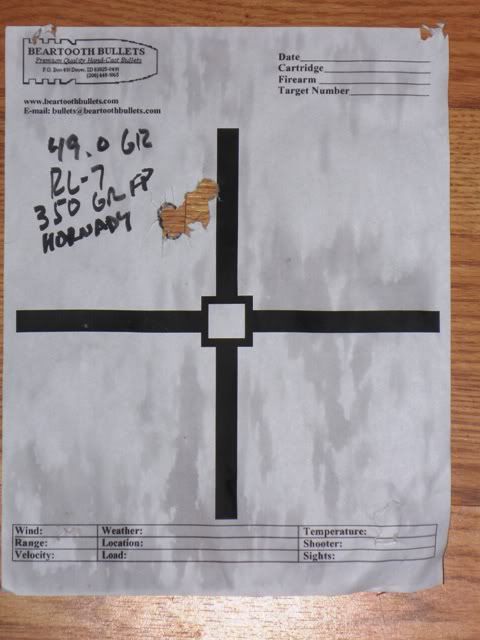 So, although all the groups are good, it seems my gun likes it better the faster I push them. Having said that, I think I will stick with the 48gr load as it is almost as nice of a group as the 49gr, but that extra grain of powder did not pay much dividend in velocity. It did make the lever start to pop open upon firing though, so 48grs it is. Hope this is helpful to someone, I couldn't have done it without the help of so many folk here.
As much as I love the Piledriver Jr's, I think for deer, elk and bear in my home state, this Hornady 350gr FP may be a really good choice. I think the PD's will be better when I take a Bison though, or bigger bears and hopefully African game someday. All opinions welcome.
Oh, and BTW, this was a 1 Knob Creek post, thought it might take two, but I'll have to enjoy the second one over the replies.
Look out Ideeeho Bears, here comes Digger!!!!!!