Discussion Starter
·
#1
·
I have seen people do the convection/grilling cooking in the Big Green Eggs, or the Bubba Kegs, but me not having the storage space, I had my eye and doing research on the Cobb Cooker. It originally got the name, "Cobb", because it was developed in Africa for back country people or tribes who didn't have modern cooking equipment. What they had for fuel was plenty of corn cobs, and the original cooker was designed to use corn cobs as fuel. Later it evolved into using charcoal.
This is the 5th generation of this cooker.
Anyway, I thought this would provide the same quality roasting/grilling, yet very portable, easily stored, and really efficient on coal usage. Could also be optimum for the bug out crowd.
Company website, and link to Pro Model Cooker...they've marked them down temporarily since the holidays. Don't know how long it will stay this price :
Remember, the roasting rack is an added accessory, or find a cheaper one locally. It comes with a nice canvas carry bag too :
Cobb Portable Grill Store - The Cobb Premier Deluxe
Cobb Portable Grill Store - The Cobb fenced roasting rack
OR...
You can choose the Ultimate Package, with all of the accessories :
Cobb Portable Grill Store - The Cobb Premier Ultimate Kitchen-In-A-Box
Cobb Cooker Animation :
YouTube - Cobb Grill Animation - how the bbq works - www.cobbq.com
YouTube - Cobb Portable Grill from www.portable-grill-store.com
I saw this as another convection grilling option, but much more portable and easier to store...what I needed :
Finally bought one several days back and tried it for the first time last night. I sent it on its maiden voyage with a 2-lb piece of beef brisket.
Here, I'm doing the marinading phase...injecting the brisket and then pouring remaining marinade into the Zip-Lok bag with the brisket. Normally, I would have marinaded it overnight, but this one was 6 hours. I injected the Stubs Beef Marinade...the Jim Beam mustard was later added to the remaining that was added to the bag :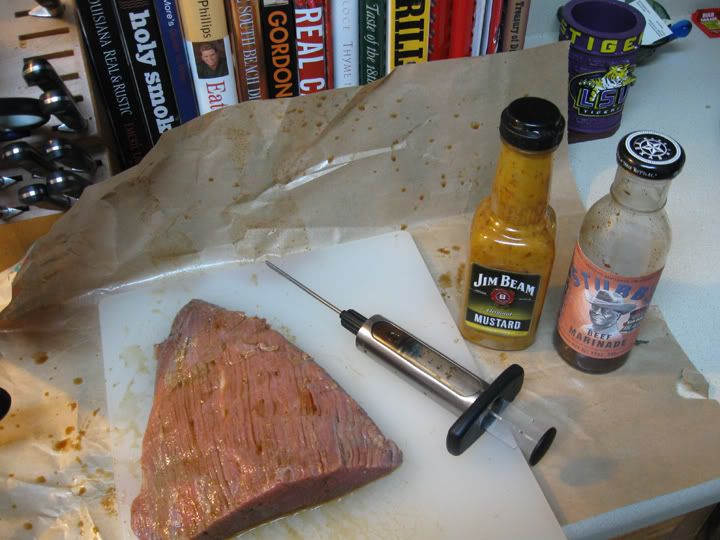 After it marinaded for 6 hours, I then removed it from the bag and dry rubbed it liberally with Chef Leo's "Game & Meat Rub", which I bought at the gun show.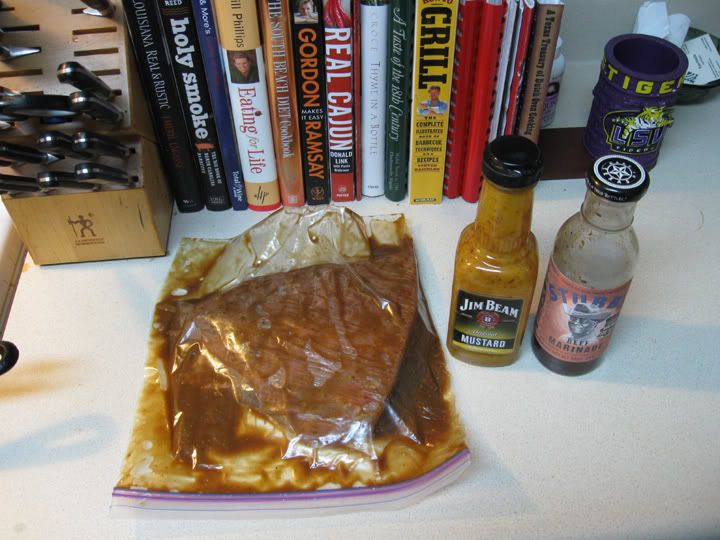 The thing about the Cobb Cooker, is it is very efficient and takes very few brickets to cook...I only had 3 pieces of hardwood charcoal (2 large, 1 smaller) in the fire basket.
So, I poured 1-cup of water and 1/2 cup of beef broth into the "moat" that surrounds the fire basket. Once your coals are white, you put the lid on and wait 10 minutes for it to heat up.
Then I added some wet hickory chips to the top of the coals for smoking. PLaced the brisket into a foil "bowl", with some chopped onions and bell pepper and about 3/4 cup of water/beef broth mixture. Put that on the grill, covered it, and soon had some hickory smoke venting out :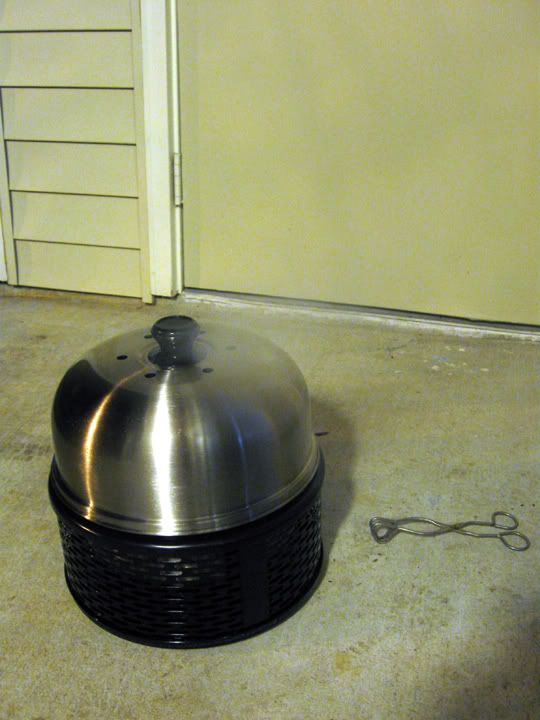 After 1-hour / 10 minutes, I added 1 small coal to the fire...1-hour / 10 minutes later (Two hours / 20 minutes total time), opened her up and here's how the brisket shaped up :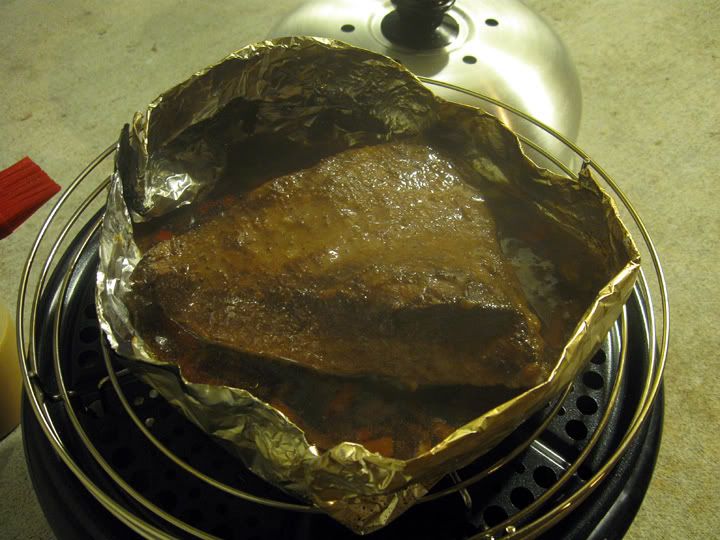 I wish you could have smelled and tasted how incredible the gravy was that developed from this brisket. It definitley picked up some of the smokiness flavor from the hickory :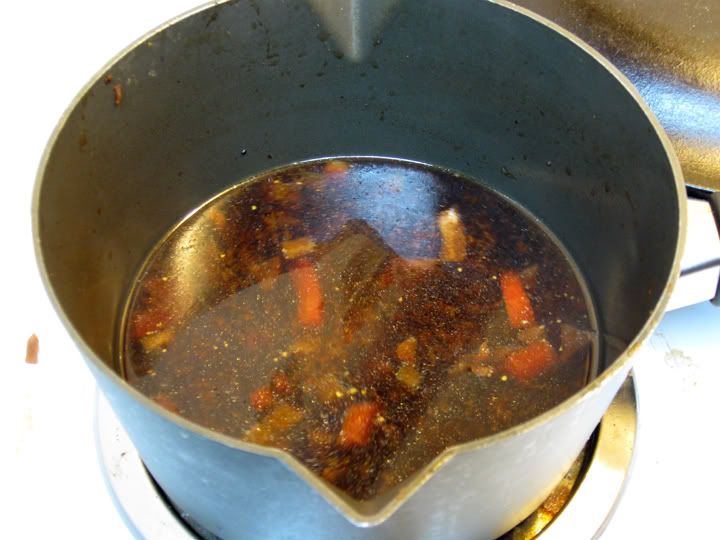 I cooked this 2-lb brisket for 2 hours/ 20 minutes, with
3 hardwood coals, later adding 1 coal
and the meat thermometer read 168 degrees. I pulled it, wrapped it in foil and let it sit in a warm oven for 10 minutes prior to slicing it. For my first brisket and first time using the Cobb Cooker, I was very pleased. I probably could have gotten by with 3 coals and cooked it closer to 3 hours...might have been a bit more tender, but still was very good...the gravy was awe inspiring.
Ready for slicing :
Coupled the brisket with some cornbread dressing, all drizzled with that fantastic brown gravy...I judged it a success for the first outing with the Cobb Cooker !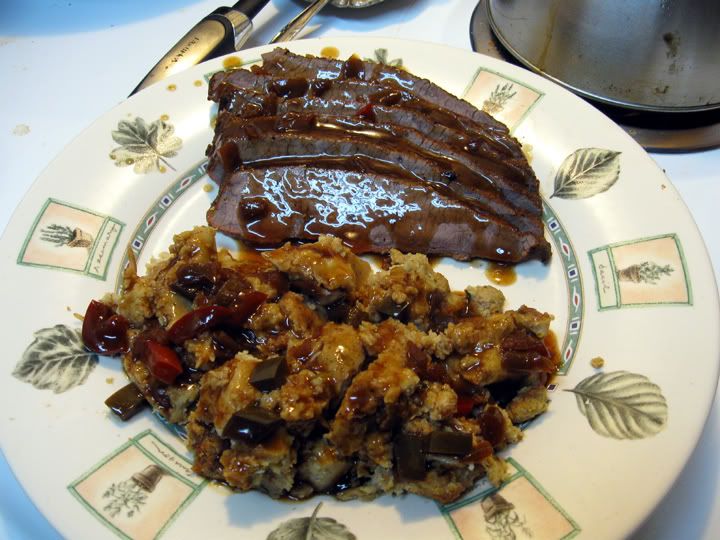 Next project...cornish hens.
Regards,
Swampbilly