Discussion Starter
•
#1
•
Many years ago in the early 80's Cabelas' offered rod building supplies, after doing a lot of reading and talking to the judge I clerked for, he had his secretary go out and find a page by page description on how to build rods, he built his in a matter of days (didn't look the best though) and he was just one heck of a nice guy to boot. Anyways I started and finished one for my brother-in-law and my brother, they were flabbergasted by the gesture, come to link of it I don't think they have ever used them. Oh well, I started on mine and never finished it, saw it today out in the garage in a pvc tube to help keep it straight and some what clean. So here's something that I (almost made). The handle is made up of an aluminum reel seat, with a Rosewood insert, the cork handle had to be tapered individually to the inside to accommodate the taper of the rod blank, each piece of cork I think was 1/2" or 5/8" thick. The design on the guides are made up of individual wraps of thread, quite tedious to do, some of the threads are a bit out of place but at this stage they can be moved into position before sealing the entire rod in some sort of thick lacquer. The rod blank is 8' long and I have a Berkley Specialist Graphite reel to go along with it if I ever get around to it again. I'm not sure of where I wanted to go with the color scheme...that's why I came to a screaming halt. :
The handle and reel, you can see the lines from the piece of cork pretty good at the indentation there at the end of the cork handle.
This is the Butt wrap
Close up:
two different views


A guide wrap
a bit closer
I started with the guide wraps for the top section of the rod and got them all in place, then brain freeze!
and the box of threads that was used for all the wraps.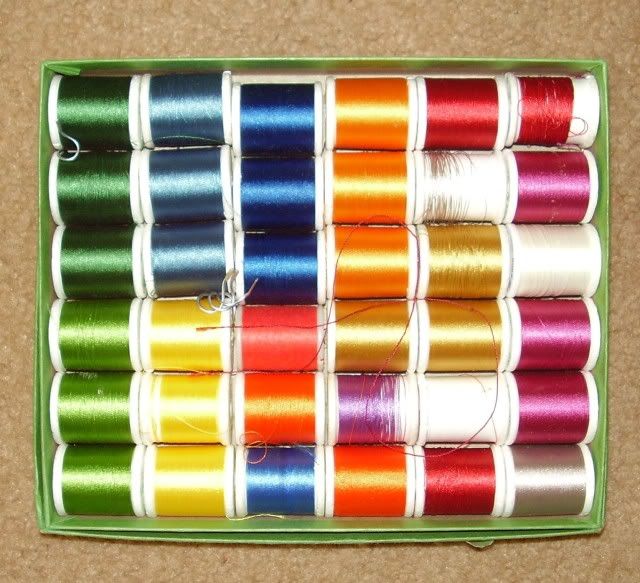 So there ya go! I do hope to finish it some day!! Mr fixit