Discussion Starter
·
#1
·
I visit a couple of other sites that have running threads that are fun to keep up with so I thought I would start one here.
Tonight's dinner was Sherry brined, roasted raspberry chipotle sauce glazed, slow grilled pork chops with a side of edamame.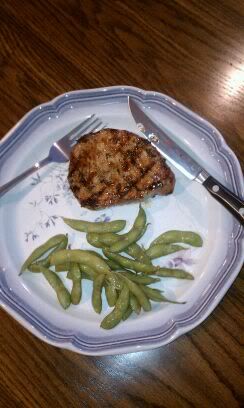 The sauce:
The brine:
2 cups chicken stock
1/2 cup Alvear Oloroso Asuncion Montilla-Moriles Sherry
1/3 cup demerara sugar (pure cane sugar that has not been fully refined)
1 Tbsp crushed peppercorns (I use a mortar & pestle)
2 Tbsp kosher salt
4 cups ice
Bring the first 5 items to a boil in a sauce pan. Remove from heat and add the ice. Once the ice melts, place in a heavy duty plastic bag with pork chops for at least 4 hours. Or (what I do) place the mix & pork chops in a vacuum canister on use your food sealer. The second option only takes about 10 minutes or so.
On a side note, did you know onion chives bloom?