Discussion Starter
•
#1
•
Drove from West Wales to Yorkshire (not far by USA standards!) to pick this up today: (JM) Marlin 1895 Cowboy with dodgy Malcolm repro scope: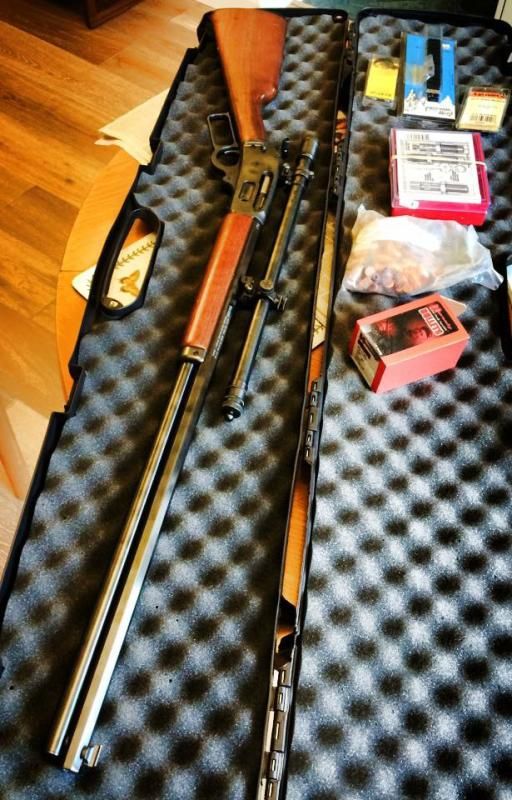 Here in the UK, these things don't grow on trees and tracking down a "JM" hasn't been easy (had one false start with what turned out to be a "REP" on inspection!)
The serial no. starts with a "91" so I think it's 2009, ie: one of the later JMs, correct me if I'm wrong?
I have everything I need for reloading except brass but tomorrow I'm going round to a mate's place to pick up the only ammo I could find- Remington 405gr SP. Low pressure stuff that will at least let me fire the gun and generate some brass for homeloads. Wouldn't be my choice but he's giving me mate's rates on it and beggars can't be choosers!
I've already taken the scope off it: any idea what size dovetail blank I'll need?
I've put a Williams Ace-in-the-hole rail on it (not sure this will work with the cowboy front site) and will put a 1-4x24 scope on it at some point.
Stripped it for cleaning this evening and installed a trigger-happy kit: lighter break and no "waggle" now!
Took a few rough edges off but proper "slicking" will have to wait til I am home and have my own tools.
I hope I fall in love with this one like I did my 45Colt 1894 Cowboy and .357 1894.