Discussion Starter
·
#1
·
Decided to go ahead and pick my Ram's Head mushroom yesterday. It was about half as big as it was last year but it was also at the peak of freshness. Seems like if you let them go too far, they get tough. I weighed this one at just a tad over 8 lbs. They can get quite a bit bigger under perfect conditions I'm told.
Here is me holding it.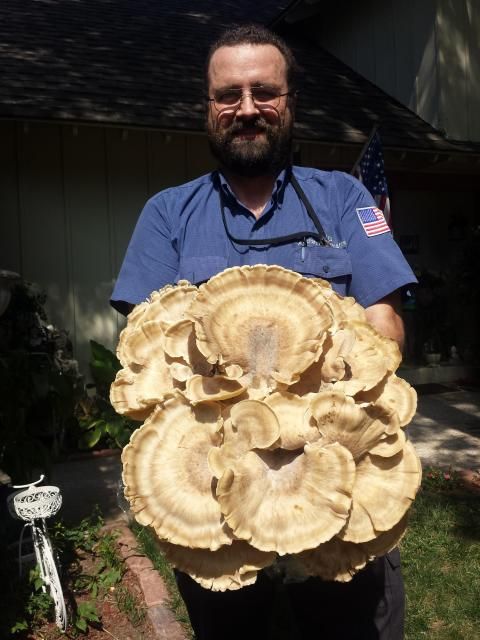 And my youngest boy enjoying some tasty deep fried mushroom!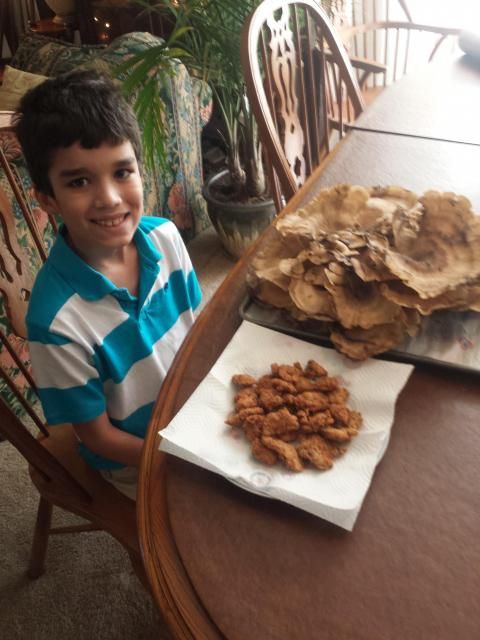 As for the recipe, pretty simple.
Cut the mushroom up into bite size pieces. I did some in strips but it's firmer than most mushrooms so if you don't bite cleanly through it, it will pull everything out of the breaded part in your hand. Bite size pieces eliminates this problem. Beat two eggs into about a cup of buttermilk. Substitute regular milk with a couple good spoons of plain yogurt if you like. That's what I used yesterday and it worked beautifully. In a second bowl, crush about a cup of seasoned Italian bread crumbs and add about a cup of flour. (I almost never measure anything so these are approximations.) Season with a health dose of Lawrys Seasoned Salt, a medium amount of garlic powder and a sensible dose of basil and also oregano. Mix dry ingredients thoroughly. Soak mushroom pieces in buttermilk a minute or two and then dust in bowl of dry ingredients. Place breaded 'shrooms onto a cookie sheet while deep fryer is heating up to 350 degrees. Place mushroom pieces into fryer one at a time until you have a nice batch started. Cook until golden brown and crispy, shaking/tossing basket a time or two as it cooks. When done, place on paper towel covered plate and salt to taste. Serve either plain or with ranch dressing and a nice dark beer of your choice.
Mmmmmmmm Mmmmmmmmmmmmmm!