Discussion Starter
·
#1
·
Personalizing and "Perfecting" a Handgun
Lots of people buy a handgun, some ammo, maybe a holster or two, and call it good. I'm not one of those people. Nearly every handgun I've ever bought has been modified, cleaned up, or improved in one way or another, some of them with several changes. I guess it's my way of making the gun more personal, more "mine".
I recently came across what I consider one of those guns everyone should have, a S&W Model 625, third change, in 45ACP/45 Auto Rim. It had the five-inch barrel I like, stainless steel construction (which I prefer because I'm lazy, and like shiny things) and adjustable sights. The grip frame is round-butted, making it more user-friendly to those of us with smallish hands, and it can use moon clips if Auto-Rim ammo isn't available. In my mind, it was about perfect, and needed no modification..............................right? Well, not quite.
For one thing, I wasn't happy with the factory sights. Black-on-black is fine when your eyes are young and you're shooting at something white, but on a black bullseye or dark target they just turn into a blur, and it gets worse as your eyeballs get older. I needed something with more contrast.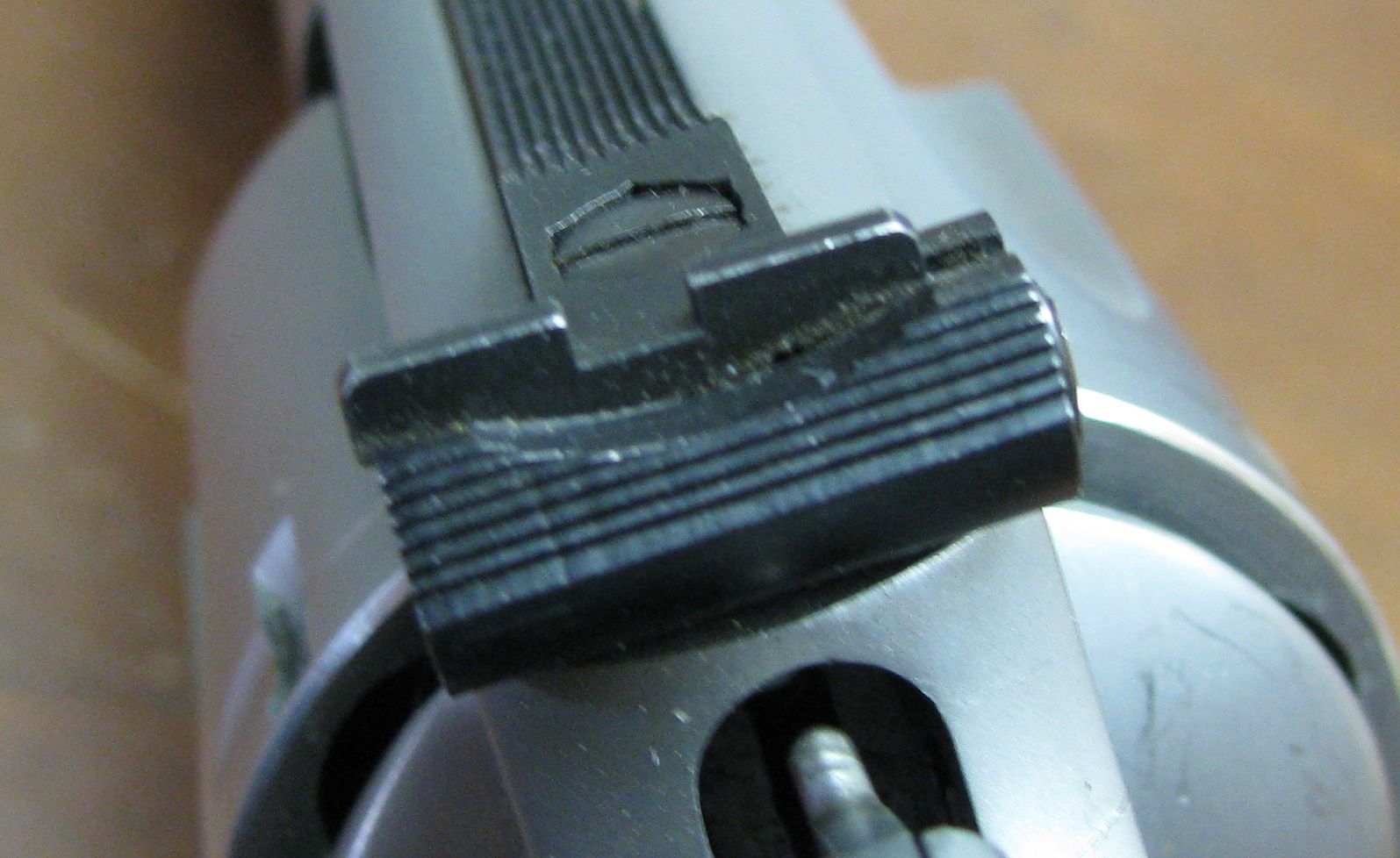 I called S&W and ordered a white-outline rear sight blade and a fiber-optic red front sight, which for whatever reason were shipped from two separate locations. They arrived and were installed in due course, with only a few hitches. I'm not a gunsmith, but I managed to get them in place with very little blood shed and no left over parts, so considered it a victory.
One of the issues was that S&W has changed the way they put the white outline on the rear sight blade, and I was pretty disappointed in the way this one looked when it arrived. Instead of a bold, thick white "U" around the sight notch, this one barely had enough paint on it to qualify. I really wanted to shoot this gun, so instead of sending it back, I got out the masking tape and some white fingernail polish, and "enhanced" the white part a little. It won't win any awards for precision or neatness, but it's better than it was.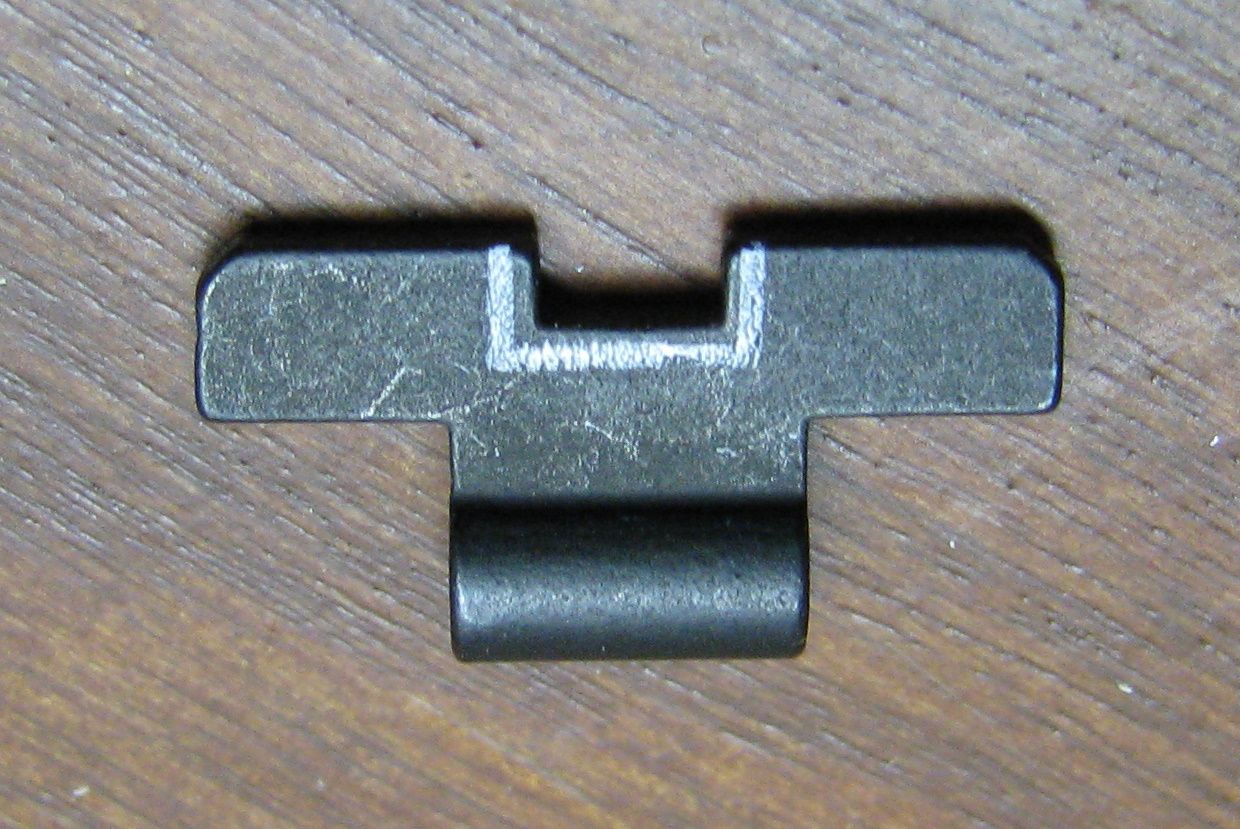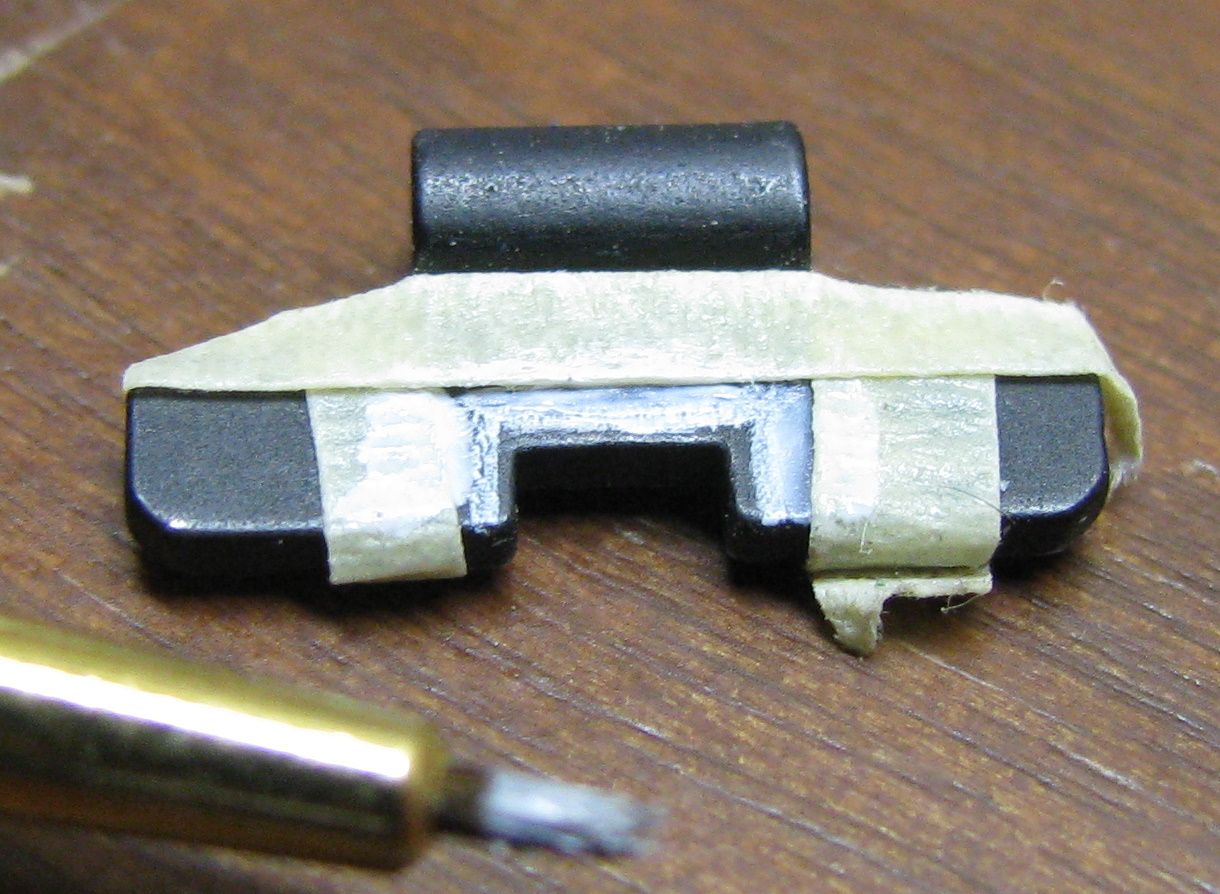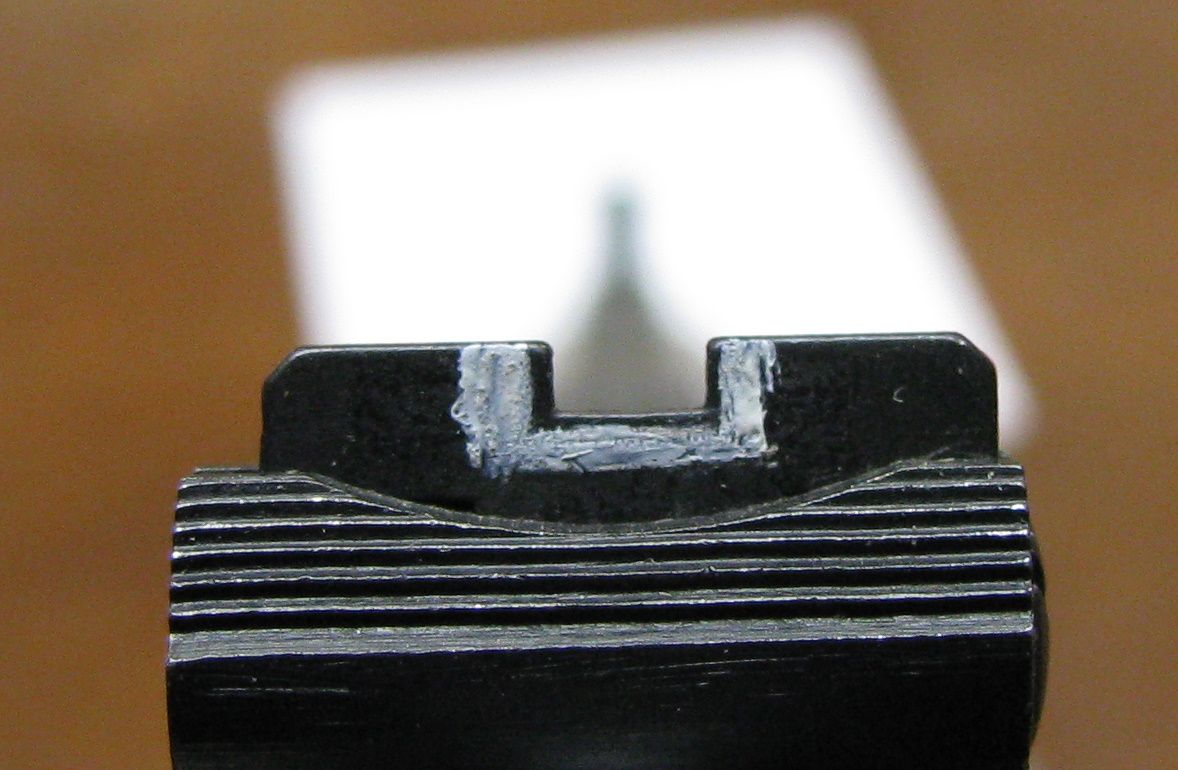 Changing out the front sight was pretty straightforward, once I found something small enough to drive out the .055" diameter pin that held the old one in the base. The new sight quickly replaced the black blade, and I now had a sight picture that a blind man could use.
So now the gun was perfect, right?
Well, not quite yet. The grip that came on it was a Pachmayr finger-grooved model, too thin in cross-section and too long from front to back, since the grip covered the backstrap. Since the grip is the only thing between my hands and the gun, it has to be a perfect interface, and this one wasn't. I decided a rounder profile would fit me better, and hoped Pachmayr made something for the N-frame like the Compac Grip I have on several of my K and L-framed guns. They do! So it went from this to that in about a minute.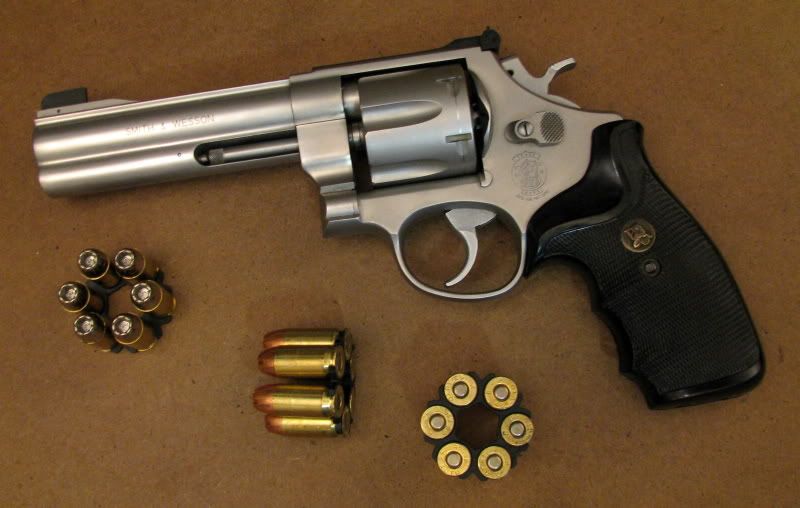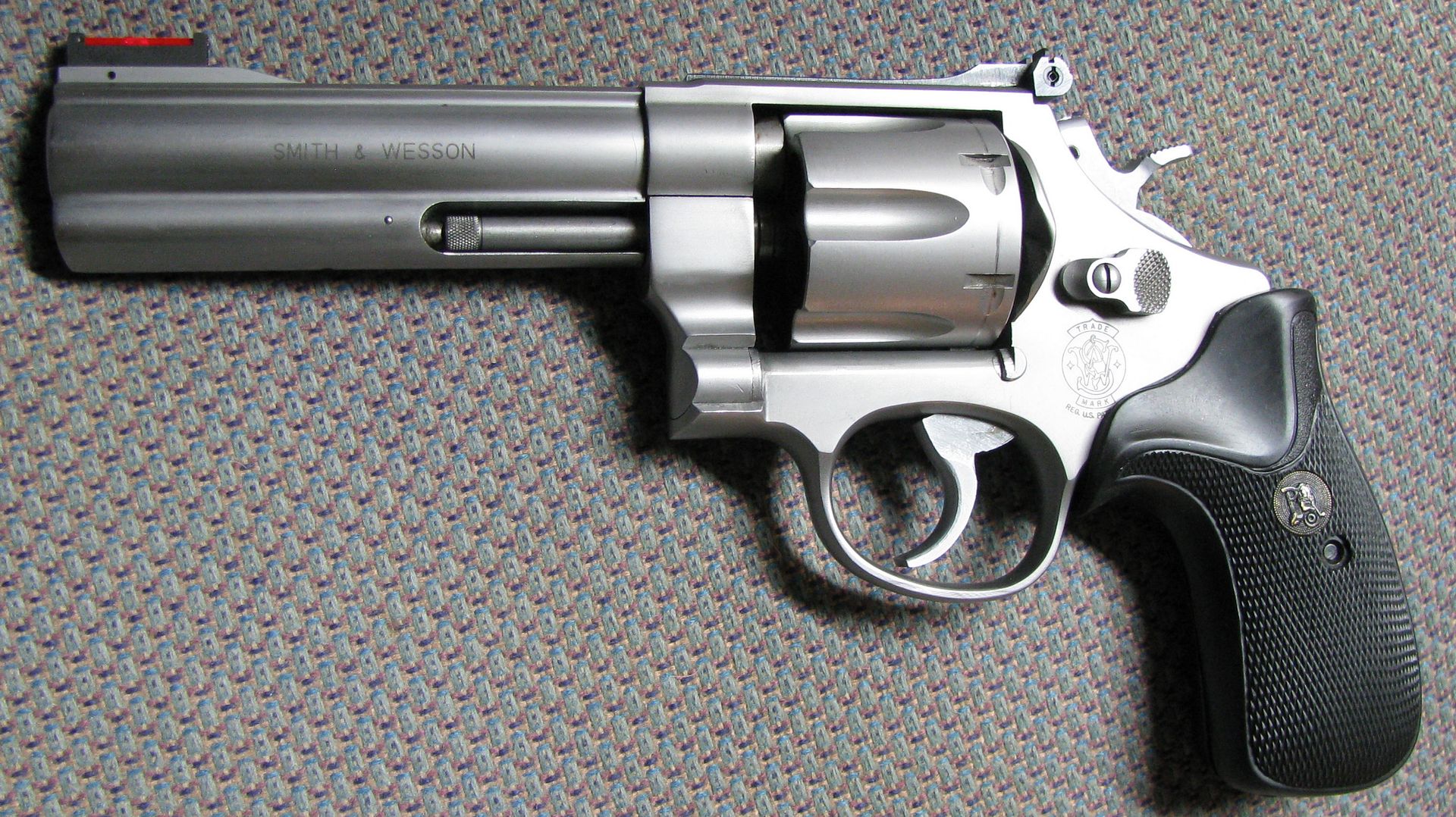 NOW it was finally perfect, and ready for the range. While I was waiting for the parts to arrive, I bought and loaded 200 pieces of Starline Auto-Rim brass, and had several ammo cans full of 45ACP loads, just waiting around to be shot up.
After three MONTHS without burning any powder, I was afraid my perishable gunhandling skills had evaporated, but I still had a few left when I got to the range this week. The new rear sight blade was only casually centered, but it was dead-on for windage at 50 yards, and a few clicks of the elevation screw had me busting clay pigeons within a few shots. The single and double-action trigger pulls were pretty good when I bought the gun, but half an hour of polishing the innards had smoothed it out even more, and as I passed the gun around to my shooting buddies, they all commented on how good the trigger stroke was. We shot up nearly an entire case of clays before I even thought to shoot a few targets for score, and I chose a load at random, which turned out to be four grains of WST under a Rainier plated 200-grain flatpoint. The gun seemed to like it, despite the fact that I consistently managed to pull a shot low out of every cylinder-full. It's not the gun's fault, that's for sure. Any gun that will do this for me at 25 yards, with my eyeballs and lousy bench-shootings skills, is destined to be a favorite!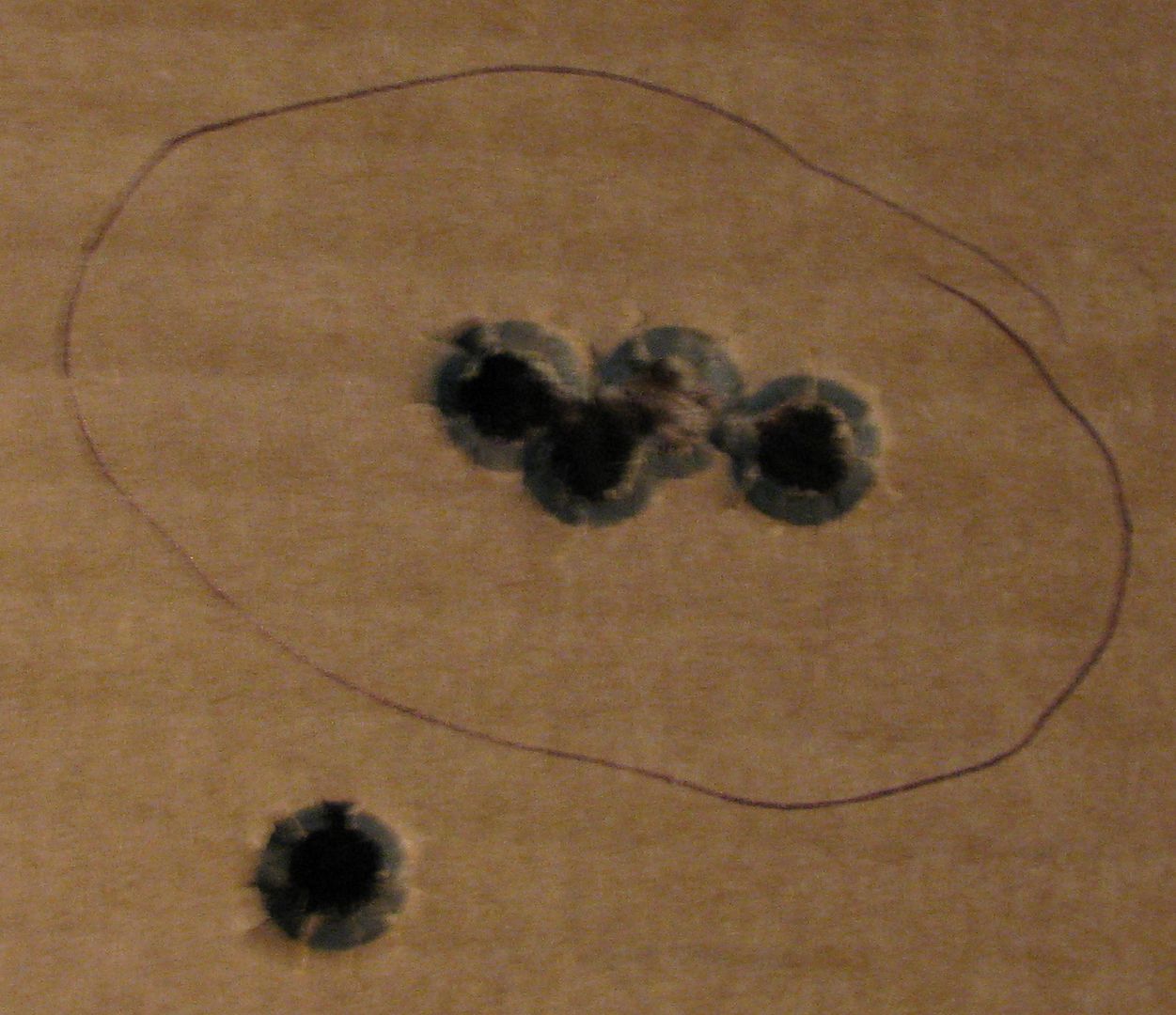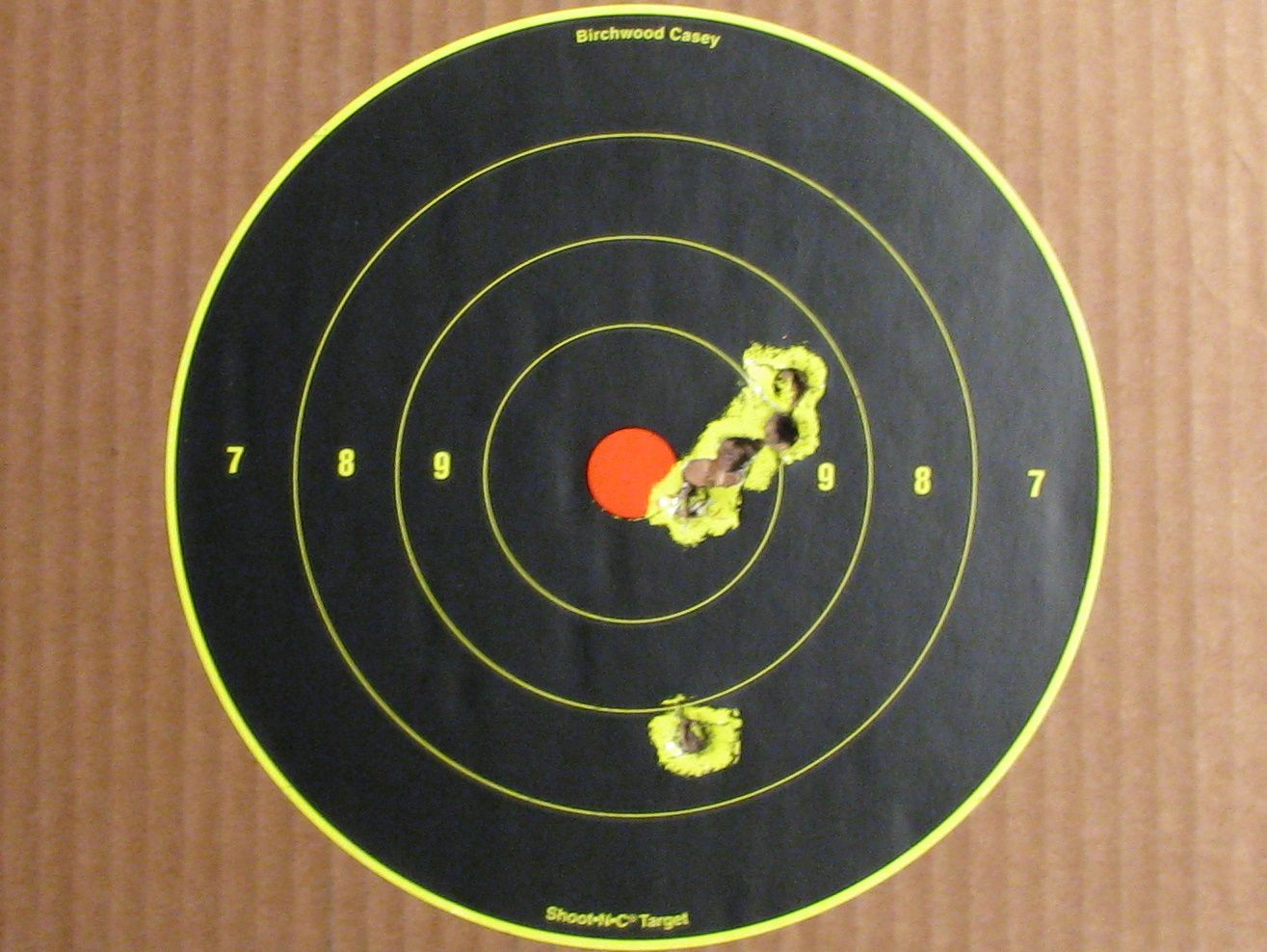 Satisfied that it was dialed in close enough for my purposes, I went back to shooting clays at 50 yards, and as the gun and I settled down and got used to the ammo, clays started disappearing faster. My shooting buddy took a break to eat lunch and watch me shoot, and he declared after several strings that I'd hit 20 clays in a row. I wasn't counting but I could tell I was getting pretty dialed in, and while I like shooting a lot, I like hitting even better.
By the time I got home after five hours of shooting, I was wearing a goofy grin and chuckling to myself for no apparent reason. The gun was filthy, I had buckets and bags full of empty brass to reload, but I was at peace with the world. The longest winter in history was finally coming to a close, I had a new bullet launcher that shot like it was laser-guided, and thousands of rounds for it already loaded and waiting to be shot.
Life is good. I think I need to go shooting tomorrow, too. Hey T-Bone!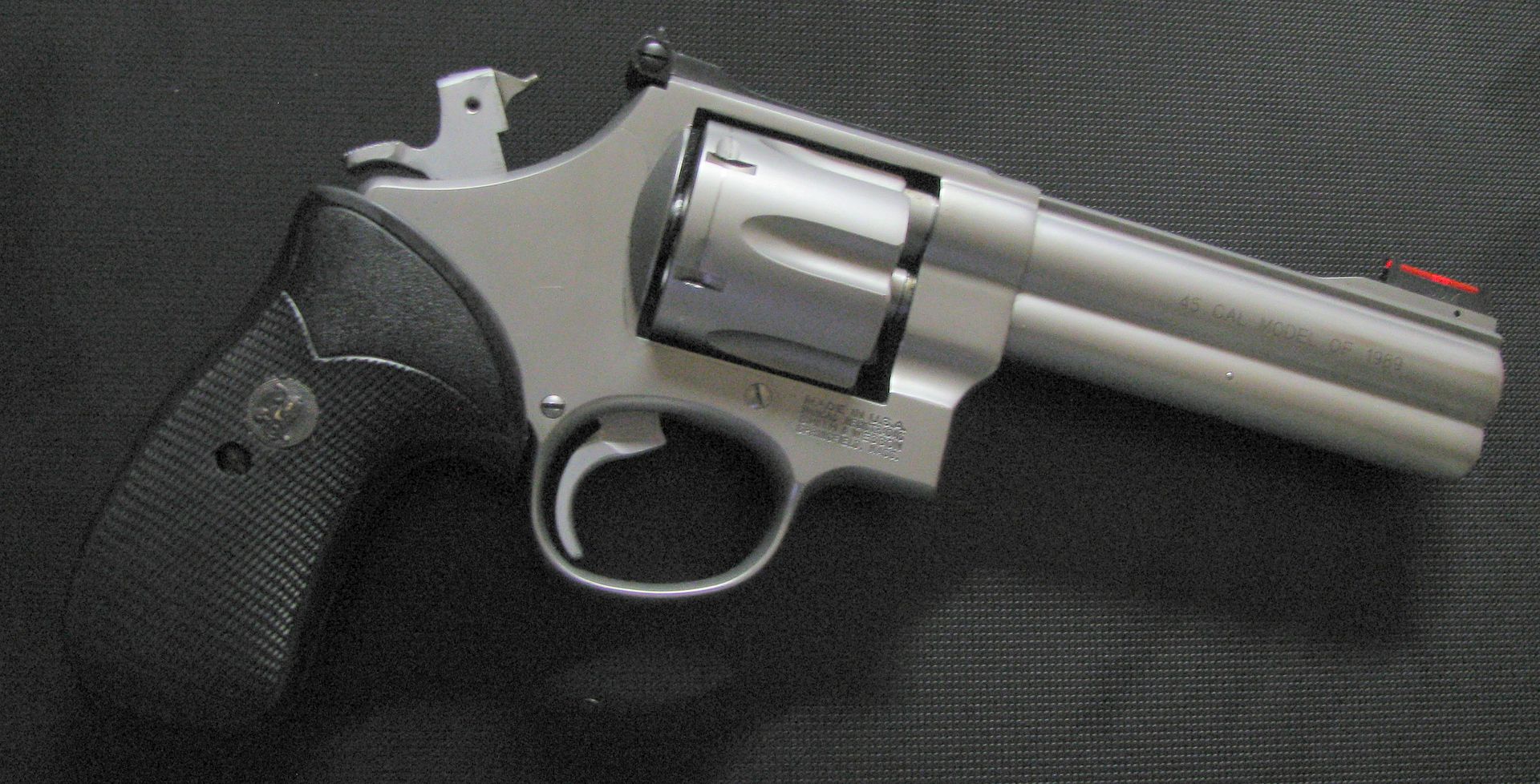 See? It even LOOKS perfect!