mr fixit originally posted about .30-30 cartridges found on the road that had undergone some pretty good abuse.
http://www.marlinowners.com/forum/reloading/143641-30-30s-found-road.html#post1751222
Since he had decided to trash the cases after removing the bullet, powder & primer, I contacted him and asked if I could have the cases to see if they would have actually been safe to shoot.
Thankfully, he agreed. When the cases arrived I could see that most of them had pretty deep indents. I decided to take the worst five and anneal them, leaving the rest as they were.
I then reprimed and reloaded them with a factory equivalent load.
Here's a pic of two of the cartridges. The left one has been annealed, the right one has not.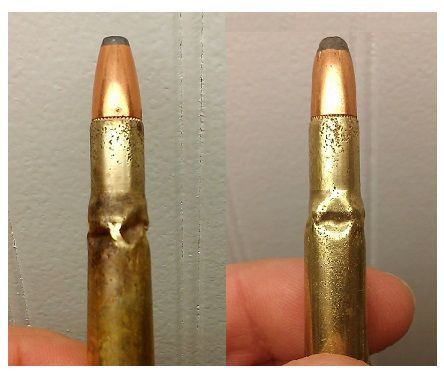 Thankfully, there were no case failures when the cartridges were fired. That speaks well of the quality of the FC brass those cases were made from.
Top pic by mr fixit after he dissected the cartridges
Bottom pic after firing and cleaning :biggrin: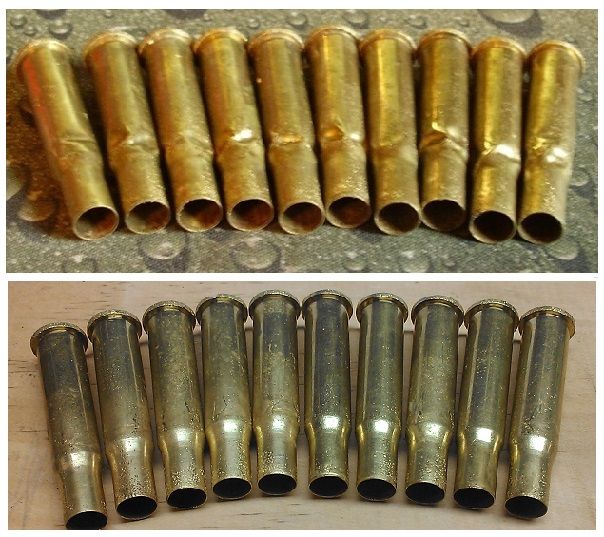 Based on the results, if you have cases that have some dings in them toward the front of the case (IMPORTANT) and they will chamber aok and are of recent manufacture, you can be reasonable certain that they will be fine.
However, if the dents are toward the back of the case, do not chance it since any case failure at that point could leak the gas back toward the shooter.
I plan on reloading them a few more times with full power loads over the next few months and see how they stand up to the repeated firings. Based on what I have seen, I think they will be just fine.....
I will report back in a few months.......
w30wcf