Discussion Starter
·
#1
·
I do a lot of handgun training, most of it with women and first-time shooters, some of whom have limited hand or upper-body strength. When using semi-auto pistols, I try to use guns that they can easily manipulate, but some are tougher than others. One client is a nice lady over 50, who has had shoulder problems, and while she shoots a 1911 pretty well, chambering a round is difficult for her, even with low-powered springs. She generally doesn't buy a gun without consulting me first, but one day at Bass Pro Shop a female sales clerk talked her into a Kimber Solo, based mostly on its size. The clerk was a stout woman in her 30's, and easily demonstrated how to lock the slide open and rack a round in. The sale was made, and it wasn't until my client got home that she tried to rack the slide herself. BIG problem.
The Solo has a very short slide, and makes a wonderful concealment gun (it's a 9mm) but the captive recoil spring is something on the order of 300 pounds, or so it would seem. She brought the gun to me, and I had trouble getting the slide back far enough to chamber a round, let alone lock it back, the spring weight was
horrendous
. I'm not a descendent of the Schwarzenegger clan, but I have pretty decent hand strength, and this thing was a BEAR to manipulate. To make matters worse, it jammed on EVERY shot, regardless of the ammo used, and clearing jams involved a lot of sweating, straining, and colorful language. My client would squeeze off a shot, the gun would seize up, and she'd hand it to me, and it often took me several tries to get it back in working order. After a call to the Kimber factory, the gun was sent back, they replaced nearly everything in it, (including BOTH magazines) and while it finally worked properly, it was still quite a chore for me to work the slide, and impossible for my client.
I tried to get her to sell it at a loss, but finally told her to leave it with a round chambered and the safety on, like the 1911 it resembles. She was okay with that, but felt helpless without someone stronger there in case she had issues with it. After studying the design for awhile, I hit on an idea, spent an hour in the wood shop, and came up with a way for her to work the slide with her good hand.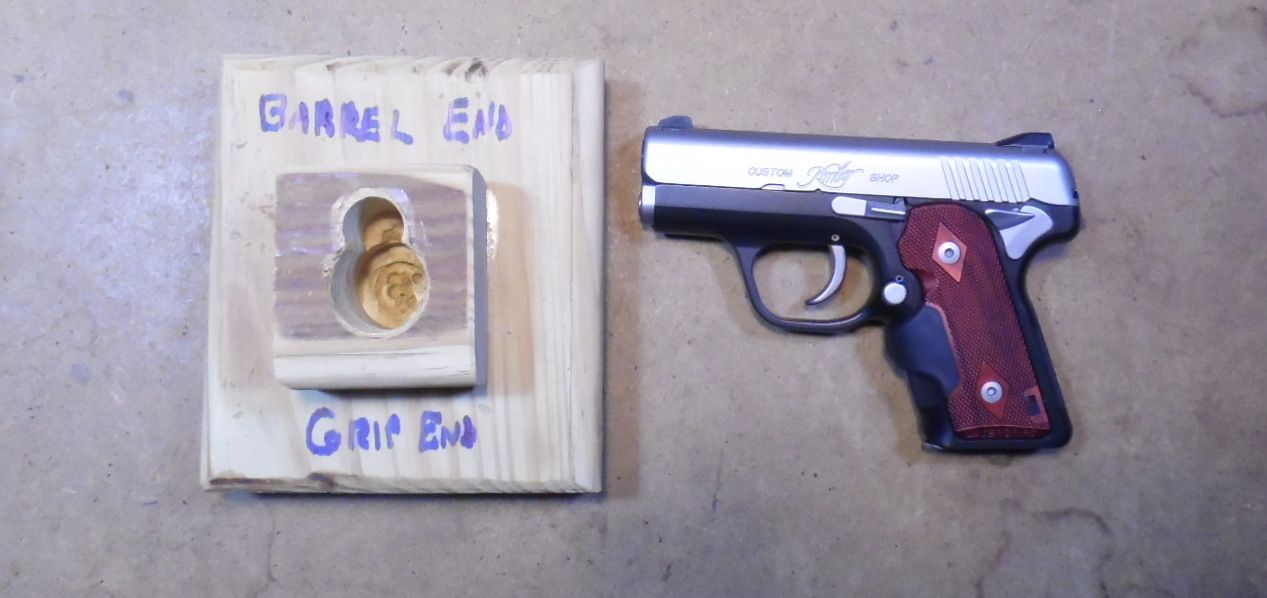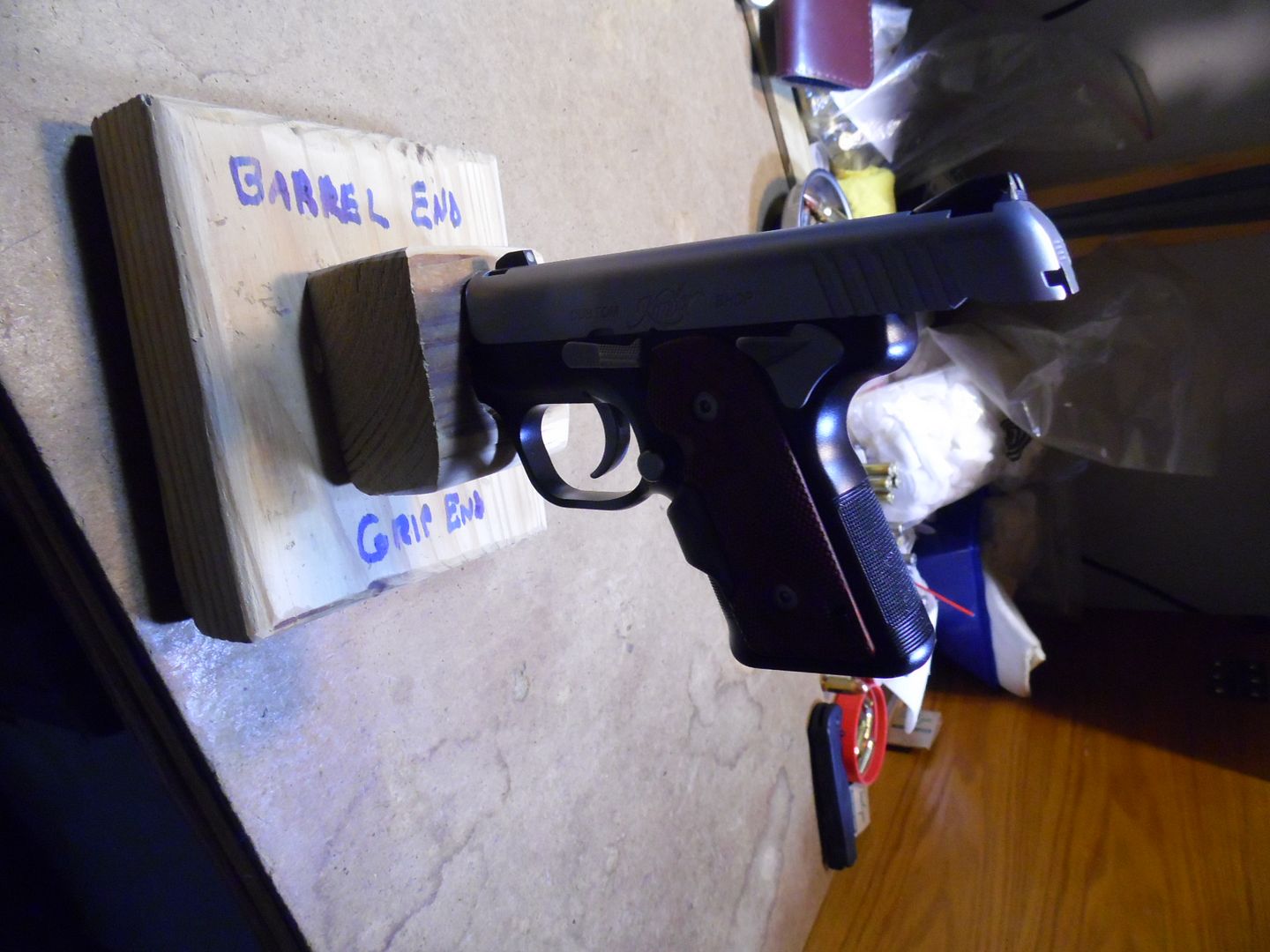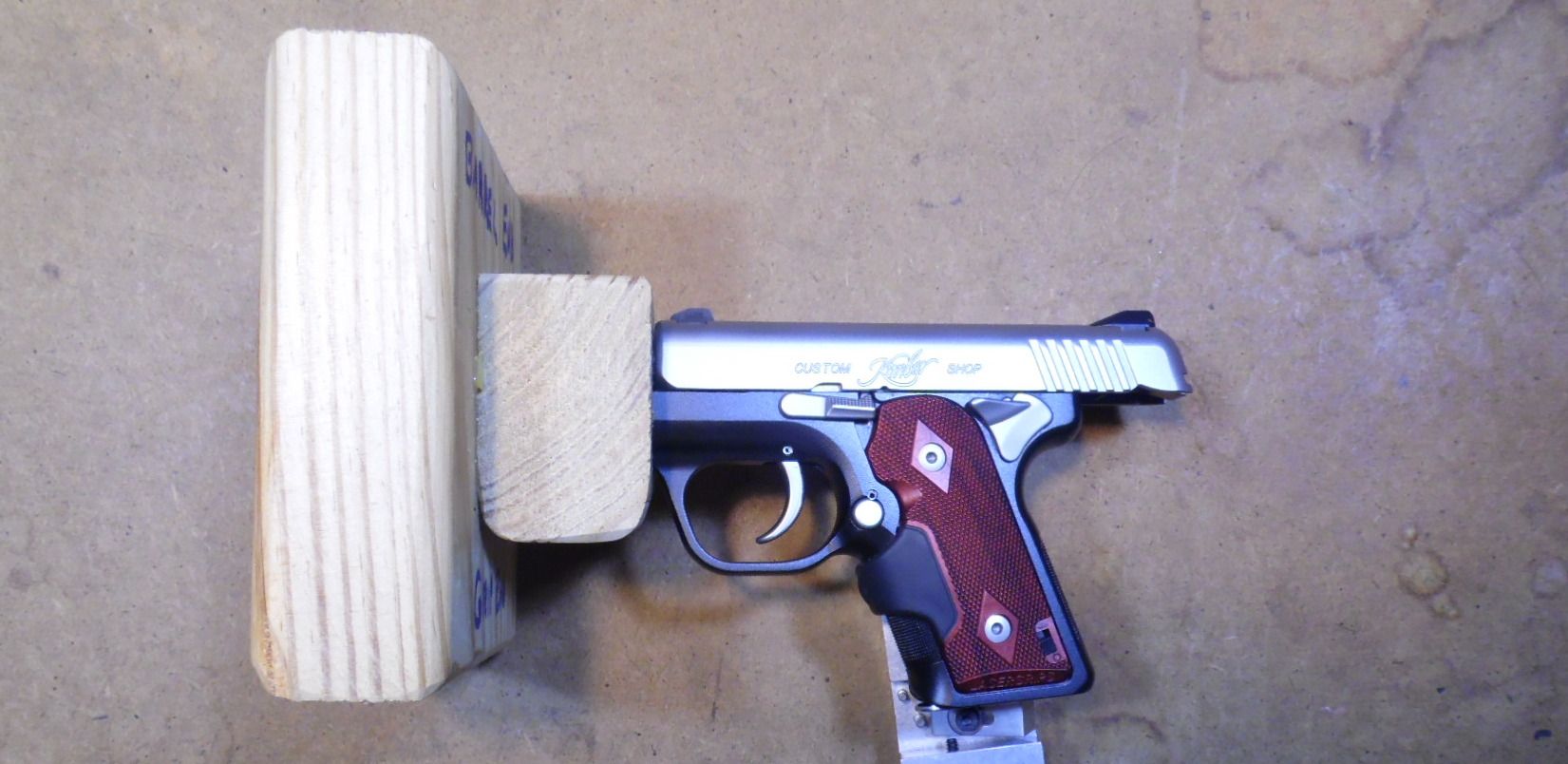 It's simple in design, easy to make, and it works pretty well. Jam the muzzle into the proper recess, push down hard, and the slide is pushed back far enough to chamber a round. Push a little harder, and you can manually lock the slide back, using one hand or both. It's crude, but it works. I got the idea from a WWII vet who had lost his left arm at Iwo Jima, and used to use the edge of his shooting bench to chamber a round in his 1911. Once the mag was empty he'd dump it, jam the gun into his waistband, pull a fresh magazine out of his belt, shove it into the grip frame, press the slide release, and go back to shooting. He was an accomplished Bullseye shooter, and could blow the X-ring out of a target with his favorite pistol at ranges that would make you wonder what he could have done offhand with a rifle if he'd had two arms at his disposal. Off a bench he was a force to be reckoned with!
Having a woodshop in my basement has been a blessing, and not just for me. I mostly make sawdust, but sometimes some good comes of it. She loves it. And all it cost was some wood scraps and an hour's time.