Discussion Starter
·
#1
·
Hello everybody. I am Jeremiah and just purchased my first Marlin yesterday for a whopping $125 dollars cash. A little background on myself. I am 28 yrs old serving proudly in the USAF. I am an Avionics Technician by trade but am currently working behind a desk for atleast another year. I am married and have 2 wonderful children and one more on the way. I live in Vilonia, Arkansas but I am originally from Dover, DE. Ok now on with the gun story.
The wife and I were out yesterday and she wanted to stop at the pawn shop to look at some saddles. I quickly agreed and in we went. We went and looked over what she wanted to and I patiently awaited to go into the gun room. In I go with no real hope to find a "good deal" as most pawn shops now a days just dont have them. I quickly went to the lever guns and started looking them over. They had a glenfield that was pretty decently priced but I just didnt know anything about them. On the lower rack was a Marlin 30-30 marked $150. I quickly decided further investigation was necesary.
I pulled it off the shelf as much as I could due to the locking cable that holds it to the rack and decided to run the lever through its motions. It opened no problems but when I went to close it nope aint happening. I almost decided to just put it back on the shelf and walk away at that point but decided I better atleast try to close her up. I quickly realized that the loading gate was lose and was being pushed up while the lever was opened. I managed to get it back down and the lever was than able to be returned to closed position. I told the owner I wanted to look at the gun further with a bore light. He came in pulled it off the rack after unlocking it and handed it to me. I opened her up and held her up to the light. I almost threw up in my mouth. There was so much packing grease in this gun along with dust and grit and grime. I was highly dissapointed seeing all the dirt and grit in with the grease. I looked down the bore and saw a very bright bore with strong rifling with lots of grit in it. I than went to close the lever back up and it wouldnt. I said sir I cannot get this gun to close. He said "looks like I have to send another one off to be fixed" I said Ill give you 125 cash for it right now. He said deal and we were on our way to the counter.
I get the gun home and decide it needed to be stripped down and cleaned immediately. In the process of losening some screws I realized that almost every screw on the gun was like finger lose. So I decided to tighten them all up. In doing so the loading gate returned to its normal position so I gave the gun a cycle. Opens and closes no messing around. I said wow I fixed that by just tightening the screw. Later that evening I tore the gun down to bare bones and cleaned all the grease and grime out of her. The bore is gorgeous and although the finish is rough on the rest of the gun I really like the look of it. I plan to use this gun for hunting so I dont mind it looking a bit rough as long as it gets the job done.
So here it is my first lever gun and my first Marlin. It is a model 30AS by the way...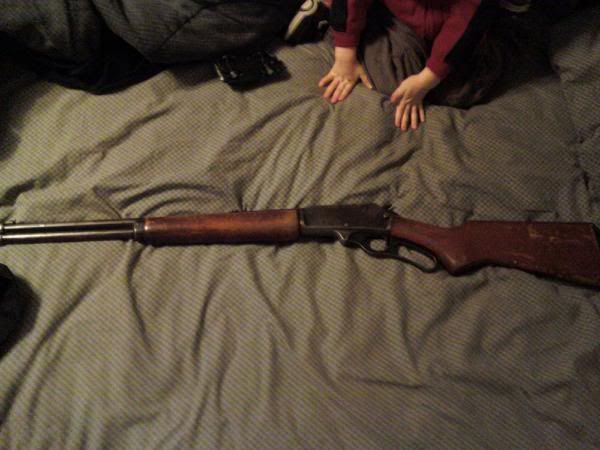 This is immediately after getting it home. My son likes to watch me do everything and try to sneak a quick poke or two in while im not looking. The gun was empty otherwise he would have been no where near it.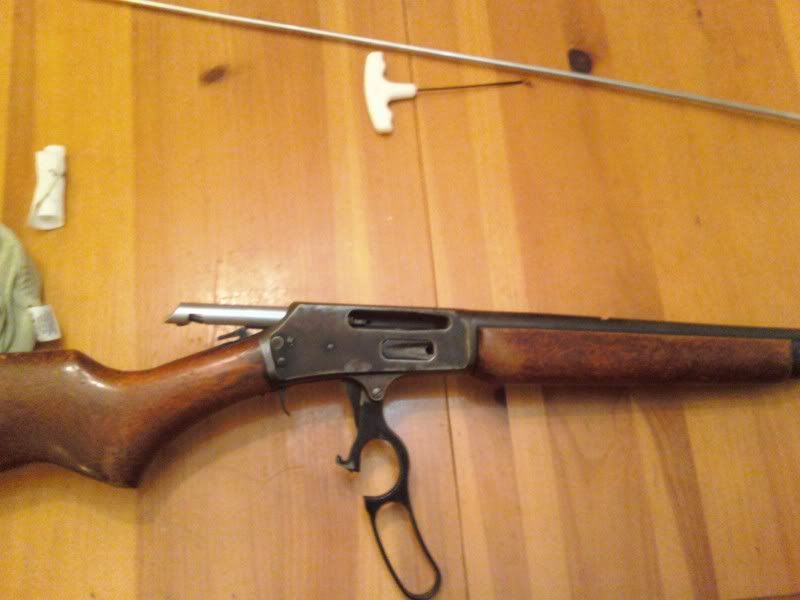 This is after I cleaner her and lubed her before putting it away. All I need to do now is find a rear sight for it. All that was left of the original was the beavertail. Everything else had been sheered off some time long ago.