Discussion Starter
·
#1
·
It was not supposed to arrive until Friday but waiting in the den when I arrived home last night was the gun. Something arriving 2 days early ... that never happens !! LOL

Got it unboxed last night and played a little with it. Cocked and shot it 3 or 4 times empty and gave it the once over.

The trigger pull is much much much better than I was lead to believe and expect from the TONS of NEGATIVE COMMENTS I have read and heard on video reviews. That is not to say it is a rather long and arduous pull but it was not the big deal I was expecting. That being said I have also used a Ruger 380 LCP which makes you think you are going to have to wait a year to get the thing to fire and the Ruger .22 LCR has a long pull also but it's special trigger setup alleviates part of the long pull effort there. Will still do either the "Bearing Fix" or install the GTX-III that I have on order.

The stock is definitely going to have to be refinished and refined. It really looks pretty nice but I can't stand all of that exposed unfinished wood around the trigger and visible on the inside of the fore grip. Sure it is just an "Air Gun" ... but it just cost almost as much as a my .22 LR rifles and more the than my Winchester .243 which I bought in 1972 so I just can't have anything around with a fair amount of
$$$$$$$
investment that looks like it is just plain not finished. In addition to visual concerns I was taught by a master wood worker and finisher that you don't finish wood on one side and seal it and leave the opposite sides exposed and unfinished. Not a good situation for moisture over the long haul. Besides I wouldn't mind the stock being a little darker color with a more satin richer looking finish.

It did not come with a sling which I thought I had read in several places that it did. Will have to do some further research on that. Missed out on that today. Crosman's phone lines close at 4:30 pm eastern. I missed calling by an hour or so after I got off work today.

Next observation ... this thing is a beast. Well balanced and handles well enough, the thumb hole stock helps in that respect but it is HEAVY. Will take a little getting used to. It started out to be a little difficult for me to cock. Not the foot pounds of pull needed but the length of wing span. I am 5' 9" tall and it was a stretch to get the gun in a comfortable position to cock. Got it worked out but one of those kinda "Uh Oh" how am I gonna deal with this first impression things. Turns out it will not be a real problem or inconvenience.

The weight will tie it to the bench for a lot of target shooting for the kids for a while. They will be able to shoot a few rounds free standing or kneeling but the weight will wear on them pretty quick I imagine. But we will deal with that. The weight surely masked the fact it is an air rifle - sure would not know it in a blindfolded impression of the gun.

On to first impression shooting. I loaded the gun and put five pellets ( Benjiman 14.3 grain domed hollow point hunting • only thing available yesterday when I went to purchase • tried 4 different places ) in my pocket and headed out to the range and the plinking targets.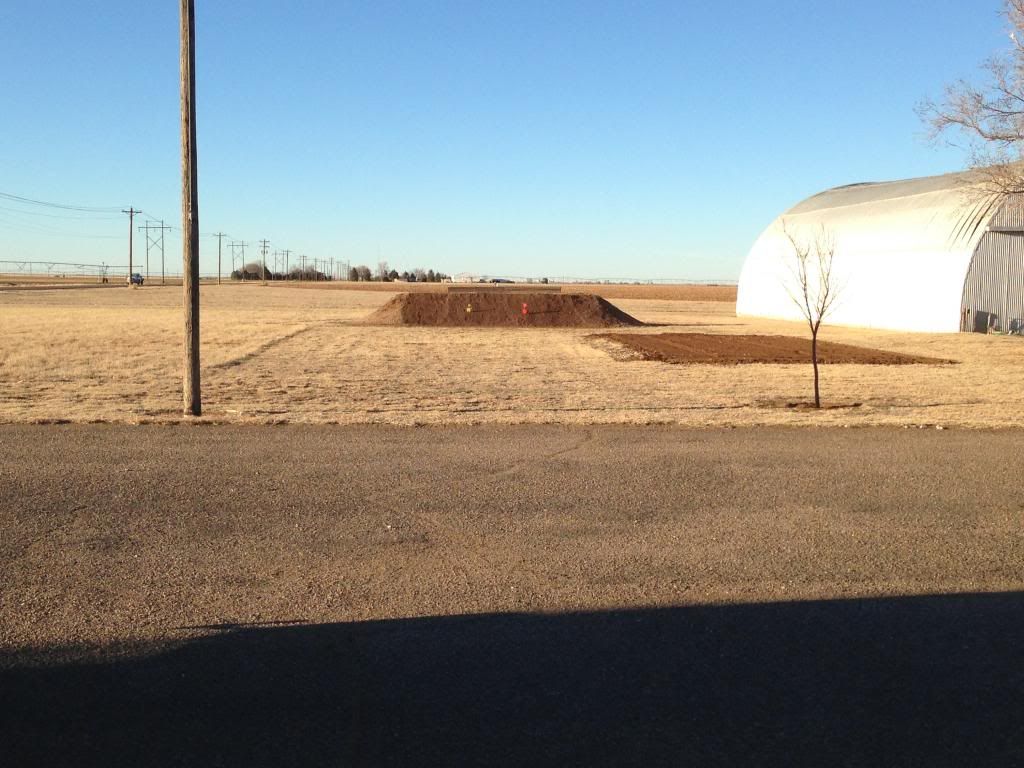 Winds were about 30 mph so this was not gonna be a long drawn out break in meet and greet with the new weapon. Just wanted to see how it did. I wasn't going to get any feel for grouping or accuracy in these conditions so I chose to get about 50' from the targets and let loose. So that is what I did. I was mildly surprised and pleased. Got 6 of 6 wagging the wind. 3 hits and 3 nicks. I was happy just to hit the darn thing.

So first impression - very positive - I think she will be a keeper and a welcome addition to the fold. Looking forward to the first nice day to set up the table and rest, get the scope sighted in and see how she groups.