Discussion Starter
•
#1
•
My Grandpappy was a prepper by nature. He survived the Great Depression with his family and he handed it down to my Mother. My Dad was just a poor boy, the youngest surviving male in a family of 16 children, (his Dad's first wife died in childbirth and his Dad turned around and married his first wife's younger sister and had another eight kids ... he was the youngest surviving male.) He grew up extremely poor on the wrong side of the tracks in Memphis.
Over the years my family was taught to live by the 7 Fs. (7 has biblical importance to my family - but it still worked out this way.)
Whatever order you choose, all should be seen-to equally.
- Fresh Water
... be ultra redundant. Have many ways of getting it and getting a lot of it. City water will not last long. If you are on a water well have a way to power that pump to get it outta the ground (unless it is shallow enough to use a hand pump or bucket). We've also got ponds and streams on the property and lots of ways to purify it ... boiling it, chemically treating it, filtering it, etc. It is number one. Oh, and have lots of ways to store water. Sure, you can fill a bath tub, but have plenty of 5 gallon buckets, barrels, etc. Empty Clorox bottles. Bladders are excellent and they do not take-up much room when stored waiting to be used in an emergency. You'll save a lot of gennie fuel by filling storage vessels only when your gennie is running. Also, catch systems ... catch all that water coming off your roof. Walmart even sells catch kits these days. All you need are the barrels.
- Firearms
... and the ammo to go with it. Enough to hunt with and enough to defend your family. You decide the details. Do you reload? You should.
- Food
... lots of it. Beans and rice. Seed .. hybrid and heirloom type both. Plenty of stuff to spice it up with ... because beans and rice gets old. These days there are so many emergency meals to choose from but whatever you do have enough to feed each person for a year. Buy canned goods in bulk on sale. Canned meats. Can your own fruits, veggies and meats. Jerk meats. Invest in a good pressure canner and have plenty of canning jars and spare lids on hand. Don't forget the salt, bullion, dried herbs, hot sauces, etc. If you've got a good generator you can run it a few hours a day to keep your freezer and fridge running for awhile. Be sure to have implements on hand to help you garden ... good hoes, shovels, turning forks, etc. We keep a lot of scent free block ivory soap on hand because not only is it an important first aid item, but it can be shaved and diluted to make an excellent insecticide to keep the bugs off of your veggies in the garden. Ivory soap (bars) is cheap at the dollar store. And back to the food. There are so many ways to store food long term ... ask questions right here in this thread if you want to know. We do it in buckets with mylar liners, we do it in water bottles that we use when we backpack. There are just so many ways ... pasta is another great thing to stash away. Lasts forever, mixed with some spices and reconstituted jerky you would be shocked at what a good meal it makes. (one other note on food - have a fuel efficient way of cooking it. Pressure cookers are excellent for rice and beans. Alcohol stoves, Coleman stoves, Kelty Kettles (my personal favorite) and there are other ways to cook other than on an open fire with a cast iron skillet.
- Fire
... ways to start it. Fire separates us from the animals. You gotta cook, you gotta boil, you gotta have light at night, you gotta have heat in the winter. Batteries run-out, you'll need fire eventually. Bic lighters, Zippos and flints, flint and steel, ferris rods, etc. Waterproof matches ... the strike anywhere kind. Heck, even a magnifying glass might come in handy to light a fire ... and to read.
- First Aid
... make sure if you are on prescriptions that you have a few months worth saved up. Also, lots of Benedryl, lots of Asprin, lots of antibotic stuff, lots of dressings, alcohol, tape, surgical stapler, sutures, pain killers like nuproxin, acetaminophen, etc. Pills last just about forever in the fridge. Hemostats of all sizes, EMT sheers, etc. A good trauma kit is a must, but make sure you have lots and lots of things to stop infections. Small things turn big when there are no doctors. I also highly recommend a book I'll talk about in a minute. Spare reading glasses or prescription glasses. And DO NOT forget the soap. It's cheap and easy to store and it's important when talking hygiene, germ killing, etc. And don't forget the oral hygiene. Big bags of baking soda will go a long ways doing a lot of things like brushing teeth, antacid, etc. Toilet paper also falls in this category ... and if your wife is still young enough, don't forget the female special needs. Tampons also make excellent bullet plugs in an emergency. Again, invest in some good emergency medicine books that might help you through tough times. (More on that below)
- Fuel
... you'll need it to run your generators, your engines (whatever they may be), etc. You'll need it to start fires in inclement weather. Fuel also includes firewood (and don't forget the axes and chainsaws). It includes lighter fluid for that Zippo. It includes gels. It includes tinder like char clothe, lighter wood (turpentine wood), etc. We invested in a gas and diesel tank for our farm but for two decades we stored fuel in 55 gallon drums. We also have a 500 gallon propane tank and a lot of smaller ones I buy when they are on sale and I get them filled locally. (I've got a lister peter diesel generator, a Troy-Bilt gas generator and a Champion I converted to propane that runs like a top. Another thing that falls under the fuel category because it falls under the energy category ... everyone should have a solar panel or two stashed away and know how to set it up and use it to charge batteries. Small solar energy kits are inexpensive these days and well worth the investment. You can recharge batteries for your lights, you can run a DC fan in hot weather. You'll need batteries to run your radios and recharge your electronics. Oh, and when it comes to gas and diesel, use a fuel additive that will help it last ... but be sure to rotate it. Don't let it go sour. I use Marine Stabil on just about everything and it works. We have barrels of ethanol free too, that do not have to be rotated as often.
- Fixes
... have things you'll need to fix things. Good tools, nuts and bolts. Nails and hammers. Spare fan belts, hoses, oil and filters. Parts to fix your generator. Parts to fix your tractor. Lots and lots of duct tape ... get the good stuff. Glues of all kinds. (yes, you can fix a tooth with super glue). Have a few sheets of plywood stashed away if you have the space. If not, a big roll of thick poly will cover broken windows if necessary. Fix a Flat and Slime are both good to have on hand. Spare water pipe and joints and the glue to make them work. Hoses are important. Rubber patches and plugs. Sewing kits. The list goes on and on and on. Invest in some books that will help you to do things in tough times. You may not have the Internet to fall back on. (more on that below)

The Bonus F​
This one goes, or went, without saying for people who lived through the Great Depression. It still applies today but most people blow it off as not that important. To my family, it's probably the most important thing of all.
- Finances
... get them in order. Pay off bills. Stash some cash and silver bullion away if possible. Be debt free. Keep only one credit card and use it only in emergencies. Drive paid-for vehicles that are reliable and well kept. Consider all those preps above, the 7 Fs ... consider that survival insurance. Invest in your preps like you do your retirement account. If you do it right and rotate properly preps will last a lifetime and can be passed down to your kids. But do not pass debt down to your kids. No sense in preaching here about finances ... everyone knows what's right and what's wrong when it comes to their own finances.
Okay, so some books. Books are an important resource and I mentioned them a couple of times above. I've put together a little library of prep books ...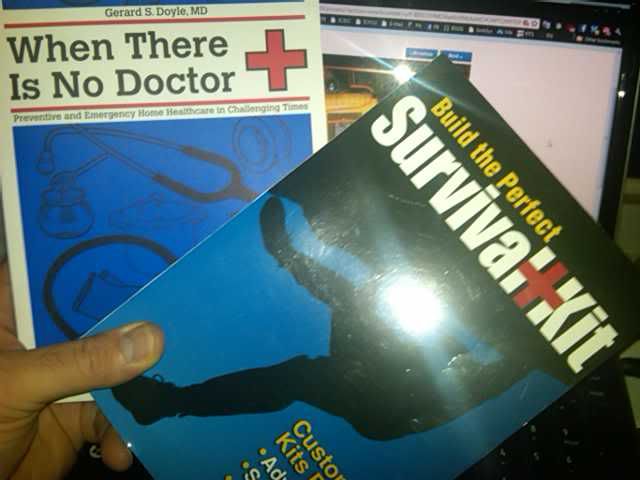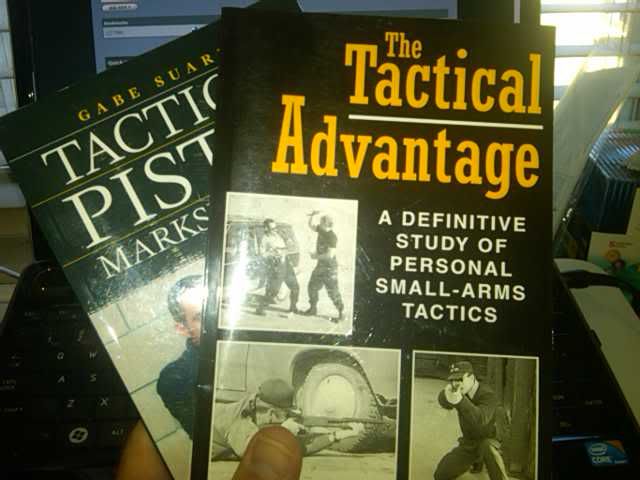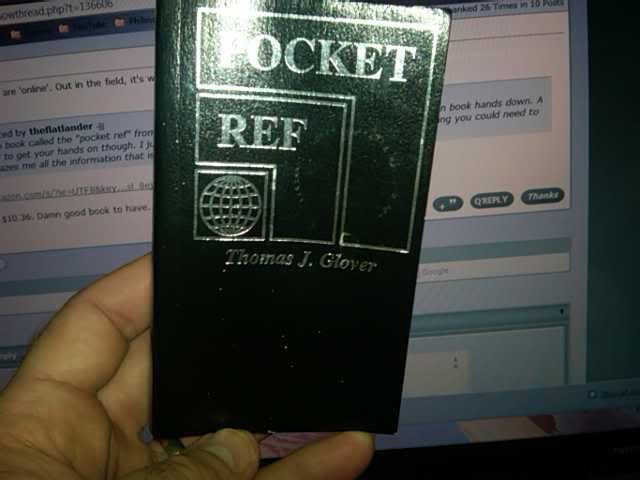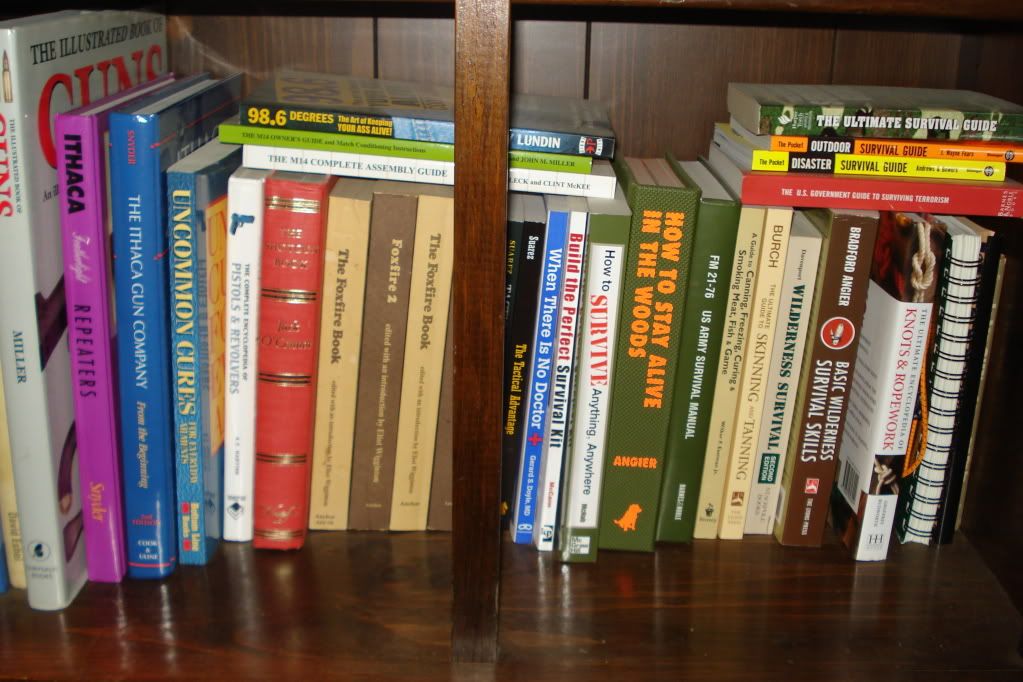 Please add your thoughts ... there are so many things we all can share with one another. Little things not all of us might be thinking about.
Prepping is insurance for tough times ... it's not end of the world stuff. It's not total social collapse, although that could well happen. But prepping is being prudent and prepared to exist and survive, for your entire family, in tough times.
Tough times are coming. Whether it happens in yours and mine lifetime, or in the lifetimes of your children or grandchildren, tough times are coming ... it is inevitable.
Using the 7 F method, plus the bonus F if you are so inclined, will help you to avoid the one big F that you do not want to fool with .... Failure.