Discussion Starter
·
#1
·
I always figured I would get one someday, but today it happened. Deal was too good to pass up. Gave $500 cash today for this: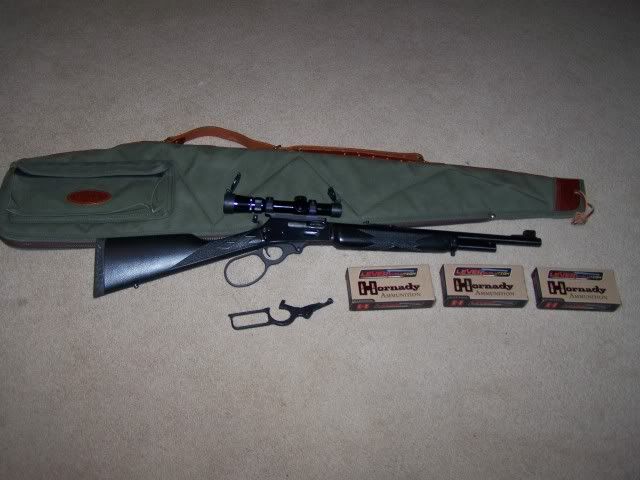 Rifle is like new, well cared for and low round count. The stock is a standard stock with Duplicolor Truck Bed Coating applied. That's why it's black. I can take it or leave it, I like the look of a wood stock better but this is pretty sharp. It was done right and is even throughout, hands grip it well, and protects from weather and scratching. Has a good feel to it and still looks nice (In my opinion anyway, I know there are a lot of levergun lovers who are shuddering at the scoped guide gun with a synthetic-looking stock ;D).
Came equipped with:
*Wild West Guns Big loop lever. Stock lever included as well.
*Weaver Classic V 1-3x20 scope with Butler Creek caps.
*DNZ Products Game Reaper 1 piece scope mount
*3 Boxes of Hornady Ammo
*Boyt canvas case
Online prices tell me this is a $1000+ rig before tax. Back to the $500, I did a little buy-low-sell-for-market-price dealing this week and when I'm done I'll have about $300-$350 into this rifle! Despite what you think of the Duplicolor, that's a bargain. I absolutely cannot wait to knock an elk down with this thing. Hope I draw a tag