Discussion Starter
·
#1
·
Hi All,
First post on the forum, I came because I was looking for a youth rifle for my 9 Year Old daughter and came across this nice Marlin 15Y on Armslist. I picked it up for $135 with a scope. I have to preface this post with the fact that I have never shot a rifle in my life before this (some shotguns and for the last couple of months a couple of pistols in .22 and 9mm).
I didn't realize how heavy the gun was until she got it in her hands - it weighs about 5 pounds. Is this something she will get used to? For now I got her some sandbags and she shoots rested. She can shoot it standing, but she cant hit the targets yet.
It's in GREAT shape, nice wood finish, no rust, and very clean bore. But I have a couple of issues I was hoping you folks could help me with.
Issue 1:
I cannot decide whether to buy a Savage Rascal (2.5 pound weight) until she gets more comfortable and strong at shooting, or to just keep on with this thing.
Issue 2:
When I brought this to the range for the first time to sight it in without her, it was printing left on the irons. After a careful inspection the front sight tap was installed incorrectly at the factory (cants 15 degrees right). Now the irons are nothing to write home about, but the gun came with a tasco 4x15 scope (the 7 dollar scope that is often on airguns, etc). I cleaned up the scope and sighted it at the range and I could put two shots through the same hole at 25 yards so I set her up with that. You can see her results in the picture below (at 15 yards). Should I just invest 40 dollars in nice optics, or spend 50 bucks having a gunsmith drill and tap a new front sight with a fiber optic or something?
So in conclusion, the gun is too pretty to sell, and I know she will grow into it. So in the groups semi-professional opinion should I just bite the bullet on a Rascal until she does? And for the Marlin, should I bother getting the Irons right, or go straight to optics. Right now I am thinking of letting her shoot this until the weather warms here in Michigan, and then get the rascal. Leave the rascal in Irons (it has a good peep sight) and leave this marlin with a 40 dollar tasco scope from amazon. Is that a good plan? I just dropped the price of a rascal on this gun, sandbags and a case
Some pics of gun and little shooter: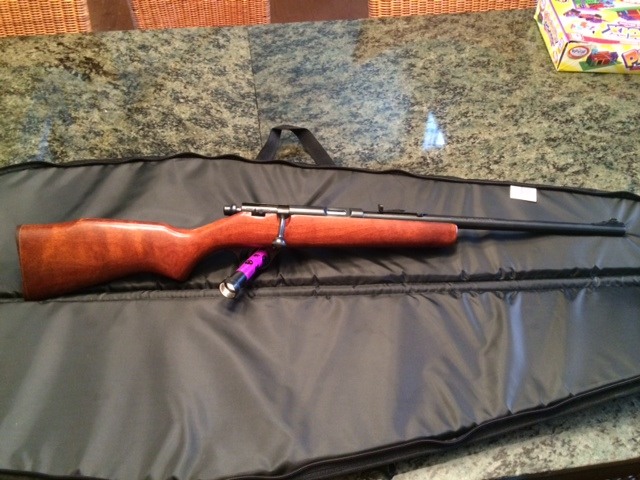 At 15 yards (her shots, first time shooting):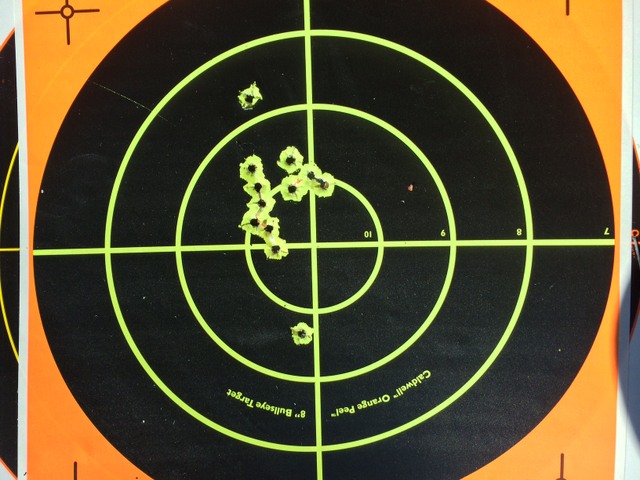 The little Shooter: