Discussion Starter
·
#1
·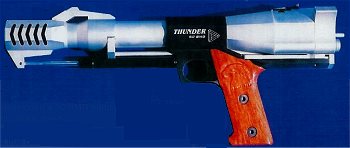 Thunderer .50 BMG pistol by Triple Action, LLC.
"In the custom field, the all time winner are probably the Triple-Action "Thunderer and Maadi-Griffin bolt action pistols in .50 BMG(!!!) and some similar crew served "pistols" from other manufacturers. These "pistols" have barrels of about 12" -15" in length, weigh between 10 and 17 pounds, and depending on barrel length are about 2 feet long. The barrels are fitted with massive muzzle breaks, not only to help control the recoil but to also prevent the shooter from being singed by the muzzle flash. Recoil is described as "manageable." I have viewed a video of a .50 BMG Thunderer "pistol" being fired and the muzzle flash is best described as "interesting." If you are within 5 feet of the sides or front of the muzzle you are a fire risk! Chronograph data suggests that with that the M33 Ball cartridge which is listed as firing a bullet with a nominal weight of about 660 gr at a nominal 2910 f/s from a 36" barrel. one will get velocities between 2200-2300 f/s from these pistols. If we discount the effect of the muzzle break, the free recoil energy of this pistol (assuming 15 pounds weight and 2300 f/s muzzle velocity) would be about 167 ft lb, and it would generate about 7700 ft lb of muzzle energy. At last! A pistol for elephant hunting!"
From FR frogs web page.
http://www.frfrogspad.com
Got to have me one.
:lol: