Discussion Starter
·
#1
·
Hi all.
First post in this part of the forum but thought I'd post a couple pictures of my son Emmett with his first turkey.
We actually did it right and went out the evening before and put 'em to bed. Had them gobbling in the trees and snuck out after dark then back in to the same spot about 45 min before sunrise. As it got light, the gobblers really got fired up. We had probably 6 or more birds gobbling withing 200 yards of us and several quite close. When they flew down it got pretty cool. All the birds started to purr, cluck and gobble. Especially the purrs. It turned into almost a rumble and I've never heard anything like it. At one point, we had a mature hen land in a tree to our left about 50 yards away who was calling and another about the same distance off to our right yelping away also. I for once played it smart and kept my mouth shut most of the time. Eventually the hen to our left flew down into the field behind us and things calmed down to gobbles every 15 to 30 seconds or so from various directions. It had been almost back to back to back gobbles for 20 minutes or better so this slow down seemed like a lot less gobbling. I did a couple yelps on a diaphragm call and got gobbles from our front left and from our right. I waited a minute or two and called again and got answers again. The one from front left was possibly louder. One more call and the gobble from front left was definitely louder so I again stopped calling.
Pretty soon we saw a bird from the front left direction but the head looked gray to me so I thought it was a hen but pretty soon it puffed up into a strut! Emmett and I were sitting with our backs to a cottonwood tree with about a 4 1/2 to 5 foot thick trunk. He was on my right and our shoulders were about touching. I had my legs down flat for clearance and his were pulled up so he could rest his shotgun on his left knee. The shotgun was pointed across my legs. We quickly whispered to each other that we saw the turkey and he flipped the safety off to get ready. It was about 50 yards out and strutting towards us. When it got to about 30 yards a second bird came running up to join him but was not strutting. As the strutting tom continued towards us he angled a bit left and pretty much walked right in front of the shotgun. He hit a nice opening and I whispered to Emmett "There ya go, whenever you're ready." and about two seconds later BOOOM! The bird flipped over on his back right there. Talk about excitement!!! We both jumped up and ran over there and I luckily grabbed the camera and started snapping some pictures. I certainly didn't have to ask him to smile for these. Turns out the distance at the time of the shot was only 24 steps. He was shooting a little Rossi 20 gauge single shot with Remington 2 3/4" 5 shot "pheasant" loads. Same gun and shotshell combo that his big sister used to kill her first bird 5 years ago. Hers was at 23 yards and was also a "bang flop DRT". Choke is modified. Who says ya need a 3.5" magnum and extra full choke eh?
The bird weighed 23.1# and the beard was just under 10 inches with maybe two or so hairs that were about 10.5" and the beard was VERY heavy.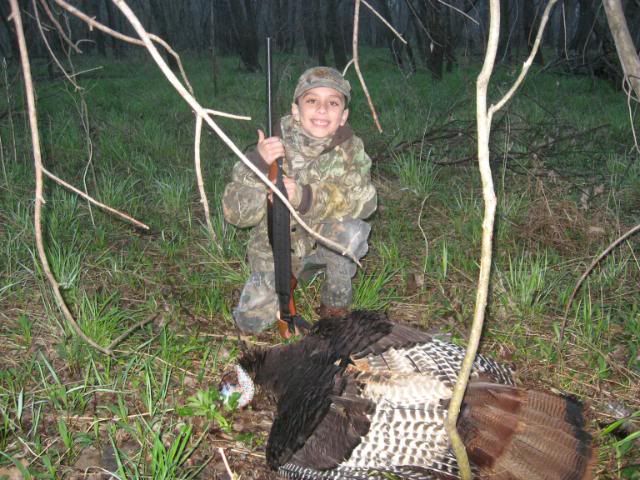 He just had to keep a hand on that bird!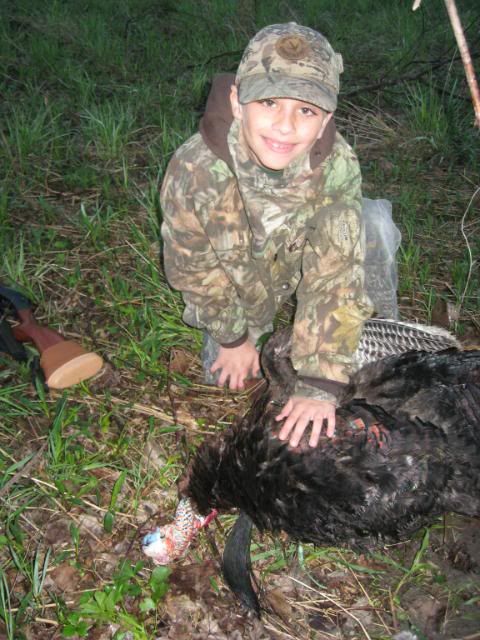 Spurs were about an inch long.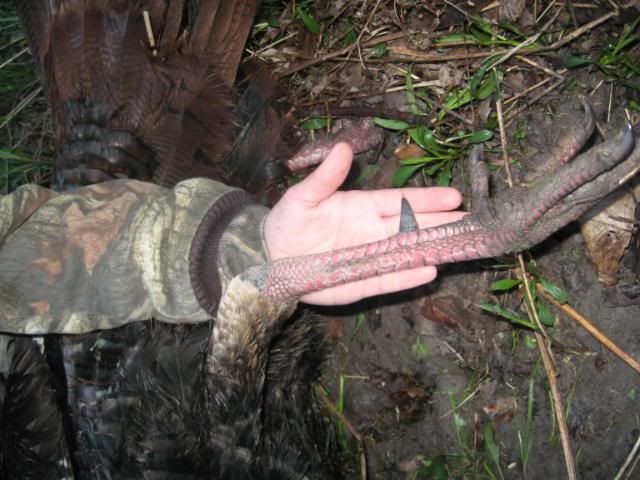 I figured he needed to notch his own tag this time.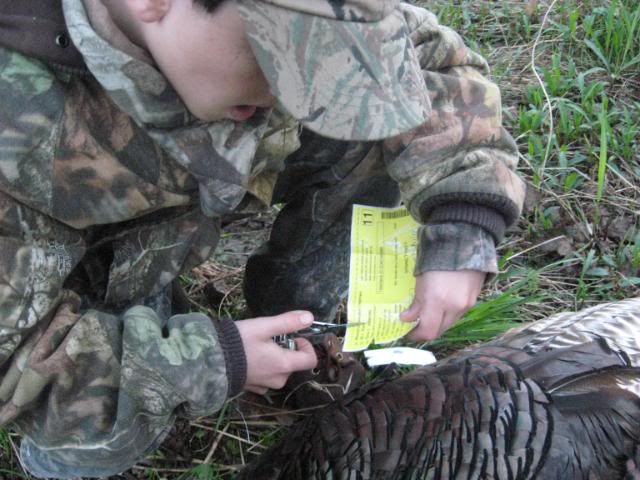 I like this pic. You can tell the bird was in full strut when you see the pellet damage to the tail but he doesn't care.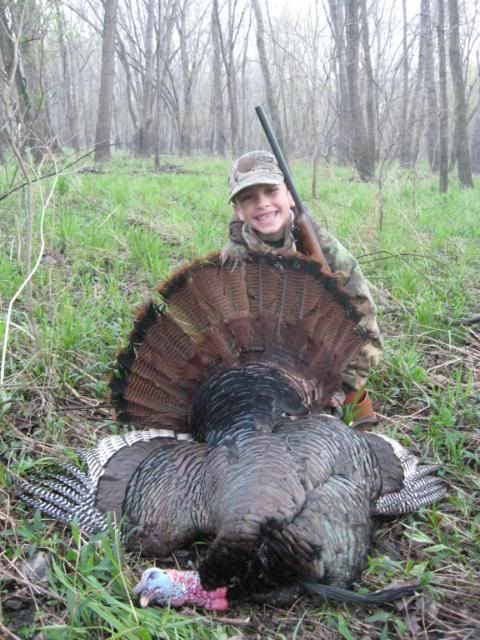 I was gonna make him carry it back to the car but he couldn't handle it. Here we stopped in another spot to take another picture.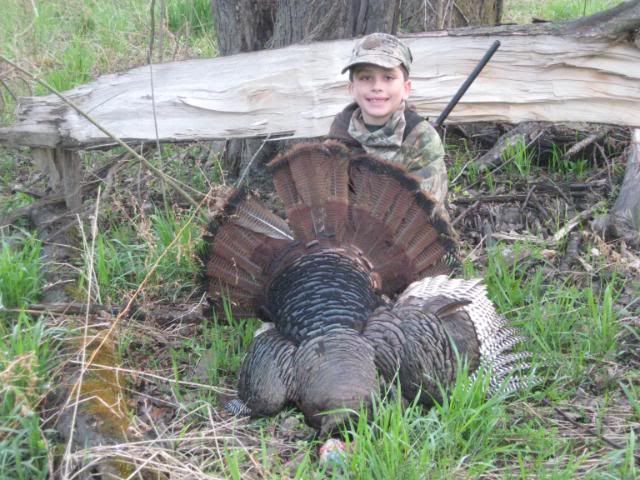 Lastly, proud Dad had to get himself in a picture. Dang hat feels awfully tight for some reason.....