Discussion Starter
·
#1
·
There has always been a common thread when reading about Marlin lever guns and their 1894 .44 mags when perusing the various forums. Accuracy! Or, lack there of it. I love Single action six-guns! A good lever gun just seems to be a natural companion to our favorite hip shooter. Many people being stout followers of the Grand old man himself, Sir Elmer, the .44 mag is a justifiable choice. The only problem was that if you wanted a Marlin lever gun, you would be frustrated trying to get the thing to shoot decent groups. Jacketed, cast, hard, soft, checked, plain base, it didn't matter. The Marlins were more finicky than a 10 year old at a vegetarian buffet. When I shot mine, I actually scoped it after several range sessions thinking the large groups were my fault. Once scoped, the groups remained the same. The scope was removed, and the gun banished to the back of the safe, to the non interesting, or remedial group of poorly mannered shooters.
Alas, the sentimental side of me loves a happy ending. A few weeks ago, I stumbled into PC(powder coating) bullets. To say I was impressed, would be a huge under statement. Long story short, the PC bullets appear to be to greatest innovation to cast bullet shooters since invention of the humble gas check. With the extremely positive results I obtained with six-guns, and a 1894c .357 Marlin, I got to thinking of that lonely .44 mag lever gun. Would PC bullets coax it to better accuracy? With nothing to lose but a try, I dug out the rifle, dusted it off, and loaded up some ammo.
I loaded up three different bullets, all over a stiff charge of 22 grs of H110. First was a Lyman 250 gr RFN cowboy bullet of plain base design, second was a 280 gr WFNGC design, and lastly, a 265gr Ranchdog designed slug with gas check. I also loaded some of the Ranchdog slugs without GC to experiment.
First up was the plain base Lyman 250 gr slug. 10 shot groups at 50 yards would be the test norm. Looking thru the peep sight after the first 4 shots, I could make out a hole in the target. I shot the fifth round, loaded 5 more, and then checked the target. The blue painters tape is 1.5" .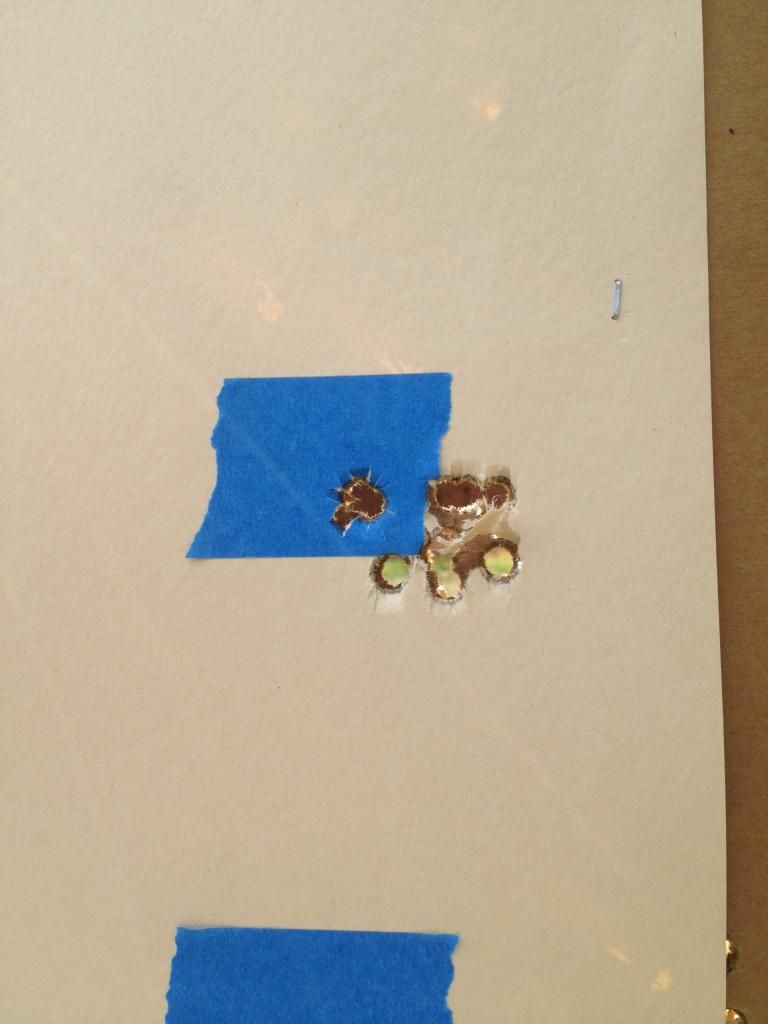 Damn! This was the best group ever shot by this gun! I had to shoot again! see if this wasn't some kind of cruel fluke. 10 more down the pipe.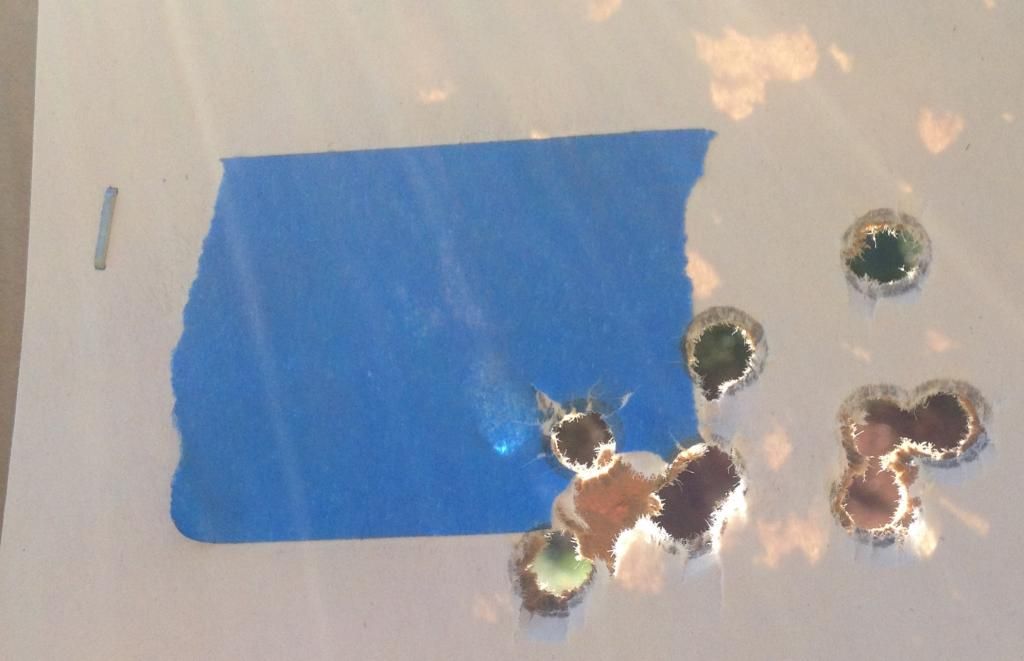 WhooHoo! Things are looking up! Next up was the RanchDog bullet with gas check applied. 10 shots, 50 yards. check the target.
Looking good! I'm getting excited! Now to try 10 RanchDog bullets without a gas check. same routine. 10 shots, 50 yards. Check the target.
By this time, it would take a bulldozer to wipe the grin off my face. I got it to shoot. These darn PC bullets are something else! Lastly, I tried a WFN slug weighing in at 280 grs dressed with a gas check. You know the drill. 10 shots, 50 yards. Check the target.
As I mentioned in my previous post, the more I shoot these PC bullets, the more impressed I am. I also shot a .45 colt Bisley Hunter and a rather troubled 4" Ruger RH that always gave me fits. But that is another story for another day. I will give you a hint. I'm still smiling and in a state of amazement.