Here is a .54 GPR rifle I built a couple years ago. This is my first rifle build. I built a Lyman Plains Pistol the previous year to get some experience. I learned from a few mistakes on the pistol that I was able to avoid on the rifle. After looking at pics of originals in the book The Plains Rifle by Charles E Hanson Jr, I modified the cheekpiece so it is not so thick at the bottom of the stock. I also cut the forward portion of the comb back slightly to resemble early plains rifles.The glaring mistake I made on the rifle is the wood/metal fit at the rear of the lock. When I was sanding the stock, I set the lock in place but did not screw it in. It looks like it was not seated completely. When I assembled the rifle, I discovered the wood is a little high in that spot.
I hand rubbed 8 coats of True Oil on both the stock and ramrod allowing each coat to dry 24 hours. I used Laurell Mountain Forge to brown the metal parts. I replaced the factory ramrod with a hickory rod and pinned the tips. I added a silver front sight and a semi-buckhorn rear sight from Track of the Wolf to finish it off.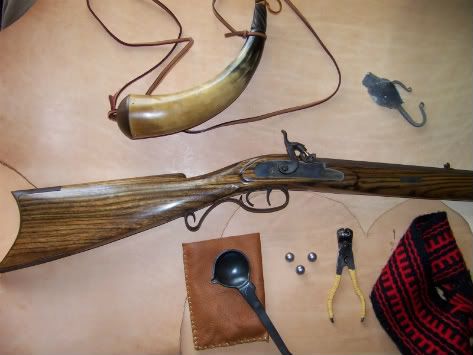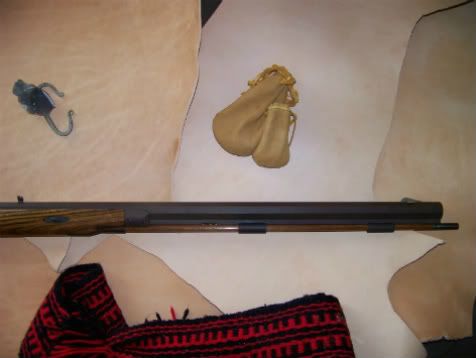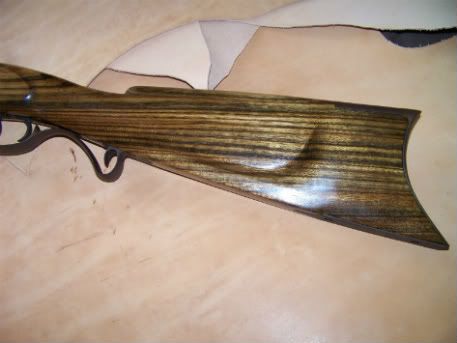 I thought I could live with the wood/metal fit at the rear of the lock. After a couple days it was all I could see when I looked at the gun so out came the sandpaper. I decided to brown the lock while doing 8 more coats of True Oil on the repaired area of the stock. I think the browned lock improves the look of the rifle.