I'm trying to develop a workable technique and a tabletop setup for creating quality digital photographs indoors of rifles suitable for on-line posting. I thought it would be a simple transition from photographing handguns to long guns, but the greater length of a rifle makes creating good pics more difficult; the light is more difficult to manage; greater distance between the camera and the subject makes the setup more difficult for focus and composition. Although I've just started trying to make good, clear images with incandescent light, early results are frustrating.
The following is my first full-length photo of a Marlin; it was taken on an ironing board with incandescent lights suspended about 3 feet directly over the gun. The camera was on a tripod, and I used timed shutter release. It doesn't hold a candle to photos I've taken outdoors in terms of clarity and color quality.
I'd appreciate any guidance on how to get good images indoors of rifles. I'm using a Nikon COOLPIX AW100. White balance=incandescent; ISO=800; autofocus; image mode=2048x1536. I have Nikon SLR digital cameras, but the COOLPIX gets good photos of handguns.
Outdoor lighting easily produces superior photos. I'd like to get some clear pics of my Marlins inside like the ones I get outside. This is the only outside rifle pic I have at hand, and it has issues, but the color and clarity are far better than the above photo.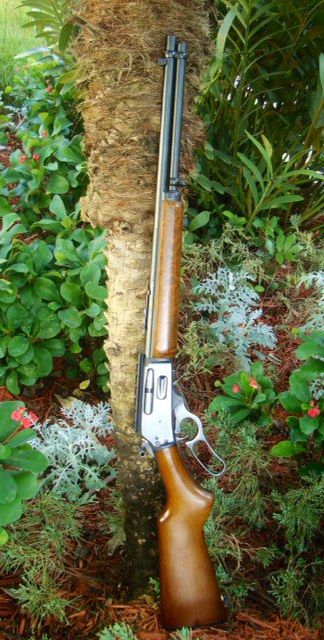 Thanks