Discussion Starter
•
#1
•
Hello. nEwbie from ky.
about a year ago i bought a mossberg 20ga shotgun. and for somereason ran across hydro dipping. So i decided to snake skin the stock and foregrip(pump).
about the same time my nephew(8yrs old) wanted to learn of guns. I started him with bb guns. And then he tryed out my father in laws old remington single shot 22.
while we where there, i just now finished my 20gauge and wanted to make sure i put it all back together correct so got it out to shoot it. Of course him at 8yrs old, he went NUTS over the snake skin stock on it.
First question he asked, can i shoot it? well at 8, i had to say no, not till your a little older. Then he came off with "when i get old enough can i have it?" I then told him of course he can have it. And as soon as he is large enough to shoot it(he is small for his age, not sure when he will be big enough) its his gun.
with this said, about a month later i end up at a gun show. Found a smaller single shot 22. I HAD to get it for him and snake skin it for him.
few pics.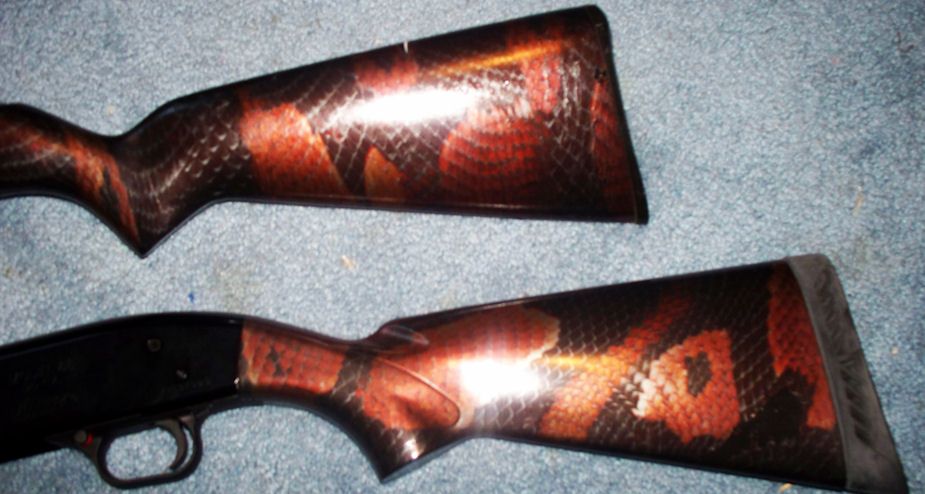 with that said, some have seen the 22 and asked for me to make them one similar with a different pattern. yesterday i ran across a guy saleing two marlin 60's for $150. one has small break in the trigger gaurd and the other dont have rear iron sights. but with $75 a pc. i had to buy.
so with the back story out of the way, trying to find a few options for sights and also the trigger gaurd assembly (with lsho option)
as for the sights i was tempted to completely remove the sights. and run a red dot "scope"
but if i remove rear sights the indention is left, and its pretty ugly. im wondering how i would go about filling in the indention left from the missing iron sights. think i could actually "WELD" the open spot and grind it all smoothe? or welding/heat a bad idea for the barrel on this rifle?