Discussion Starter
·
#1
·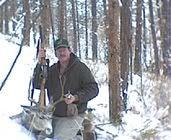 This is one of my better bucks taken with my Glenfield 30-30 carbine(made by Marlin). Scope is Simmons 2X-7X Pro Hunter, very durable and affordable. For those interested in such things, ammo used was Remington core-lockt featuring 150 grain bullet. Shot distance was approx. 150 yards or so after a .5 hour stalk.
Very good hunting within the White River breaks of western S. Dakota. Good public access east of Badlands National Park.
Temp was 4 below zero when this photo was taken. No camo for me, plain CARHART insulated coat over flannel shirt and sweater. Pants are also CARHART over long johns. Boots are 1000 gram Herman Survivors from CABELA's. I took off my orange cap for the photo because it makes me look like Elmer Fudd with the ear flaps and all.
Jack
3:15 PM 8-1-2005 trying photo again with brackets