Discussion Starter
·
#1
·
Yep. They're out there, and they're
selling
.
I've seen a couple already, and my gun pusher's son brought one to the range last week. Apparently he has a serious cash (over)flow problem, he paid something north of $700 for this thing, and hasn't realized his mistake yet. Maybe he likes it, or maybe he's just drawn to weird guns. This one surely fits that category!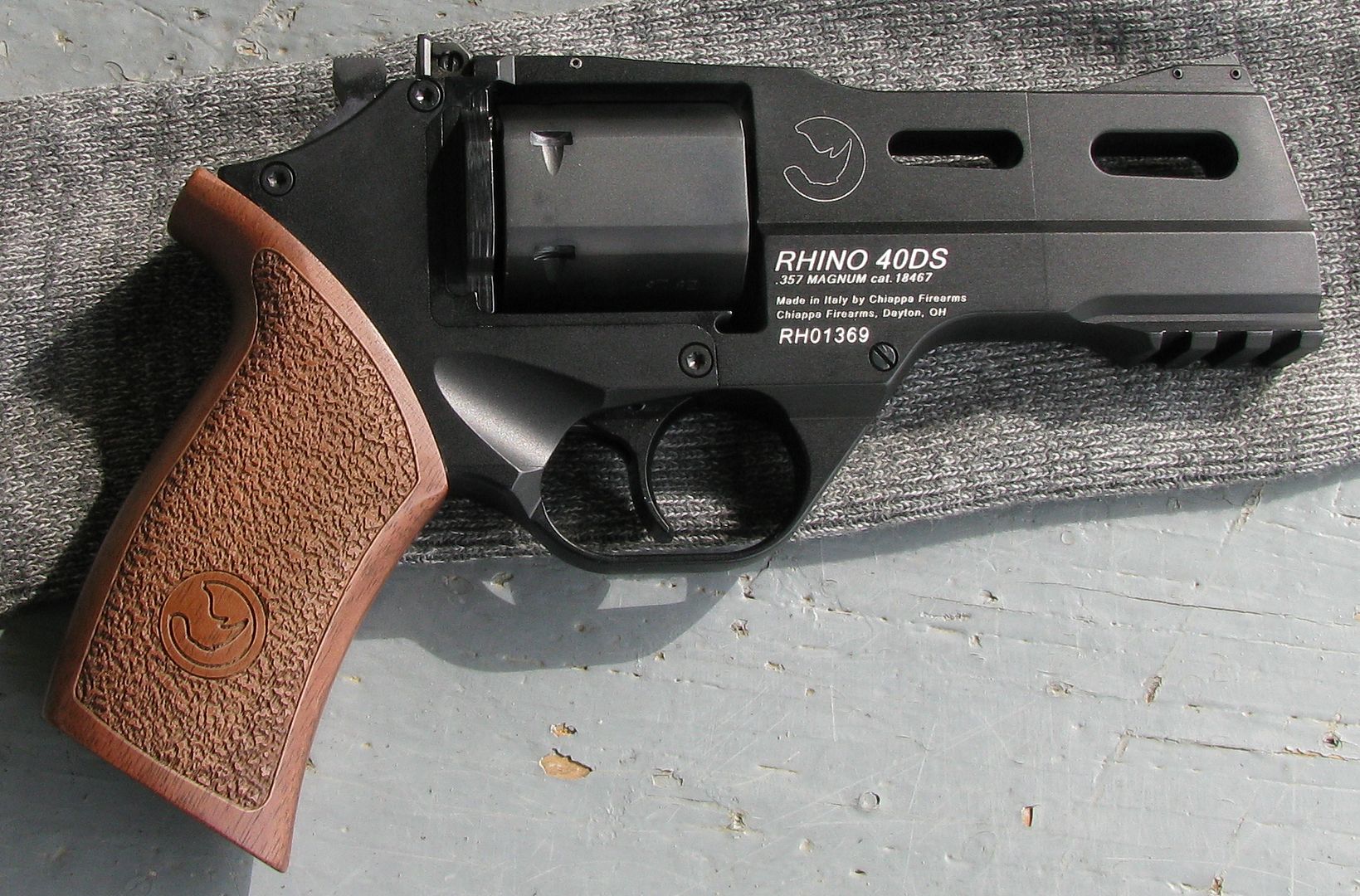 Homely little sucker, isn't it?
I wanted very badly to dislike it, to find something inherently WRONG with it, aside from the appearance, which even the maker admits is enough to frighten small children and the faint of brain. (i. e. Liberals) But I picked it up and examined it, and yes, it's just about as different as it can be, and still be a revolver. The cylinder is thin, unfluted and
hexagonal,
the hammer drops down to the frame after you cock it, and the grip looks like something Mattel threw away. But if you can disregard its appearance (I tried, but it was difficult) it's still a handgun, and therefore I decided to go ahead and shoot it. I'd brought my duty weapon to shoot that day, along with a 20-pound ammo can of
HOT
38 Special ammo, so I pushed the weird latch and opened the cylinder, then proceeded to stuff the cylinder full of ammo and took aim at a soda can laying in the dirt 64 yards away. Six shots bounced the can four times, and I started forgetting what it looked like, and focused more on what it was capable of. The sights aren't bad at all, black and clear, and it was close to dialed in at the range I happened to be shooting at.
Everyone there had to try it, and my ammo stash was seriously depleted by the time we got tired of shooting it. The better shooters hit a lot of cans, even at that distance, and once you got used to the weird (stagey) trigger, it wasn't that hard to shoot well. Most of us made good hits when we used the sights, and despite our constant comments about how weird/ugly it was, we kept shooting it until it was pretty hot.
I'm a traditional revolver guy, always have been, and I view it kind of like I do a Glock, or any plastic gun. This one is alloy, not polymer, and the grip feels better than I expected. If you can get past the appearance, it works and shoots just like any other revolver.........but it's still bufugly as all git-out. Or did I say that already?
Back in the late 80's there was a revolver called the "Mateba" that used the same design with the barrel mounted low, and it shot from the bottom of the cylinder, like this one does. The claim was made that with a lower bore axis, muzzle jump is seriously reduced, because the impetus is directed straight back into the web of the hand. It's true. We were shooting some major-league 38+P ammo, my standard practice load for my S&W M-64 HB, and muzzle rise was
significantly
less than with my heavy-barreled duty gun.
I didn't have any 357 ammo with me, and didn't get to shoot the gun with anything hotter than what I'd brought, but I'm told that in a gun of this size and weight (kinda light, because of the skinny cylinder and alloy frame) shooting full-power 357's isn't real pleasant. I believe it. Even with less muzzle flip, you have to hang on pretty tight to the gun, and the web of one's hand is going to get pounded pretty hard. But if you shoot ANY semi-lightweight gun with full-house 357's, you're surely going to know when it goes off. As with any other revolver, a high grip is a good idea. The higher the better, and the Rhino lets you get your hand plenty high.
Attached is a video of my 130-pound son shooting the thing with the +P 38 ammo I had on hand. Muzzle rise is noticeably undisplayed.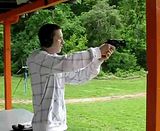 I have to admit that even though I was trying hard not to enjoy shooting it, it's still a handgun, and I enjoy shooting most of them. Kinda like a Glock, I shoot them well but will NEVER own one. They go bang, they are useful, but the aesthetics are horribly absent, and all I can say about this gun is that it works as advertised. It's weird, ugly and different, but it's not
better
, in ANY regard. If you have too much money, want something new and unique, go ahead and buy one. It certainly draws a crowd at the range, at least with those who've never seen or handled one.
As for me, I'll stick with the traditional stuff. In my very humble opinion, the revolver didn't need "upgrading". 8)