Discussion Starter
·
#1
·
Here's one we love, and it is easy to prepare. I created this one, although I can't imagine it hasn't been done before, by others. Too simple not to have been.
First, start with a 14" Lodge Dutch Oven. Take a four pound chicken, rinse and dry it, split it down the BACK with poultry shears, or whatever, and salt and pepper, and lightly Poultry Season it, front and back.
Melt a little butter, maybe 1/4 stick, in the SLIGHTLY heated D.O. Place the flattened chicken in the D.O, breast side UP. (I put a couple pieces of butcher's cotton twine in the bottom, with ends over the top of chicken, to lift the chicken, later.) Then dot the top of chicken with about two tablespoons butter.
Add a couple cloves of crushed and minced garlic, about 2/3 onion, sliced, around the edges, and six medium fresh red potatoes, halved. Pour about 3/4 cup dry white wine (or even a fifth, I don't care) over the chicken.
Have enough charcoal burning to completely cover the edged rim, plus about five or six in the middle, on top. Place about eight or ten, around under the bottom of the D.O. After 30 mintues, turn lid clockwise 1/4 turn, and turn D.O. 1/4 turn counter clockwise. Do this every 15 minutes. Depending how cold the weather is, you might add about eight fresh burning briquets to the top, about one hour after starting. But if your original coals are still pretty hot, don't add new briquets.
Cook for 1 1/2 hours, maybe 1 3/4 hours. DO NOT OPEN LID until done.
Serve with a good fresh salad, hot biscuits or rolls, and you'll have the best feast you've ever had in your whole mouth!
Raw food ready to go.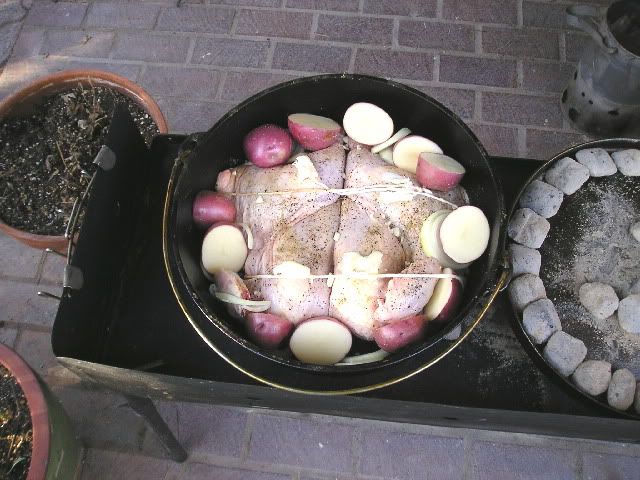 Charcoal arrangement.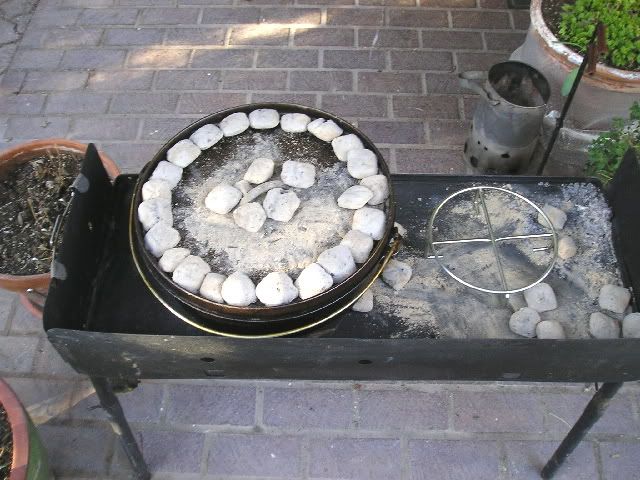 CHOW TIME!!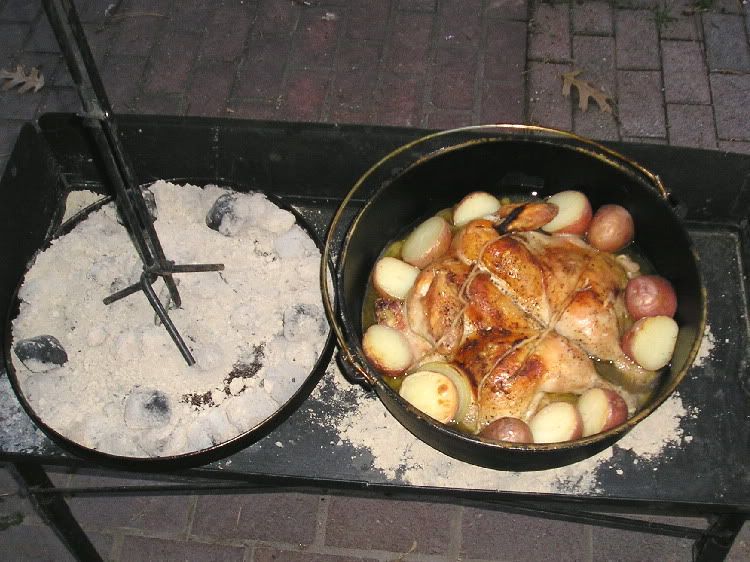 Enjoy. L.W.[/img]