Discussion Starter
•
#1
•
Do any of you have a hunting "photo wall"?
Not sure if this is the right place for this or not. The Marlin moments might be better but it doesn't quite fit the rules there.
I'm wondering how many of you, especially those with kids have a dedicated photo wall for hunting/outdoor pictures.
On the 1894 forum, nbh40 started a topic about his boy shooting not one but TWO blacktails with just two shots from his 357 rifle. Oh yea, his boy is only 9 years old! He's got a real nice picture posted and it got me thinking that it would make a real nice pic for the wall. In these days of digital media, it's not hard to get away from paper prints but like old Marlin rifles, they still serve a great purpose and I value my better photo moments just as much as a trophy on the wall. Maybe more in many cases.
Here's what I mean. This is a shot of my "family outdoors" theme wall.
Now, I've got three kids who are 7, 10 and 16. It's pretty cool to look at the pictures all up there together and see how they've grown over the years. Especially my daughter since she is the oldest. I first started taking her hunting with me when she was about 5. The first time deer hunting we got out a littler late, maybe 8 in the morning as I tried to keep it easy on her. We didn't see a deer all morning so we broke for lunch in town. While there we stopped by the check station and looked at all the deer being brought in. I was going to take her home but gave her the choice of home or more hunting and she wanted to try it again. We went back out to a different spot and in about two hours she was sleepy so I laid my pack out on the ground and told her to lay down on it then covered her with my wool shirt. In minutes she was out like a light. Later, about sunset, I shot a doe with my 45-70 and she never even woke up! This pic was her right after she first laid eyes on the deer. Think she's happy???? Cute little thing and Daddy's little girl.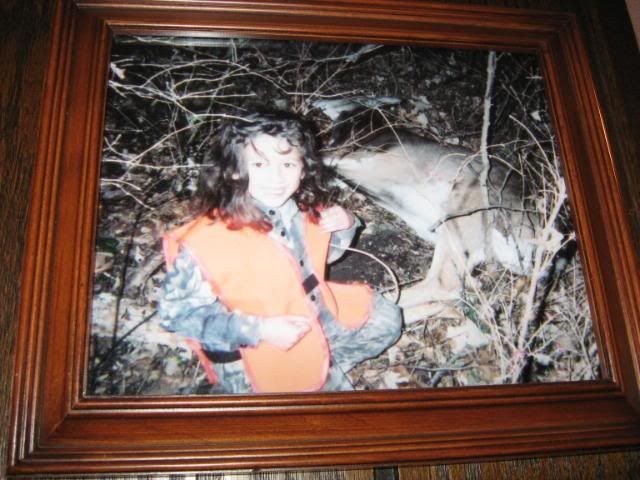 Fast forward to when she's 11 years old and starting to hunt on her own. She got her first squirrel with a Stevens 410 and she's real proud and so was I.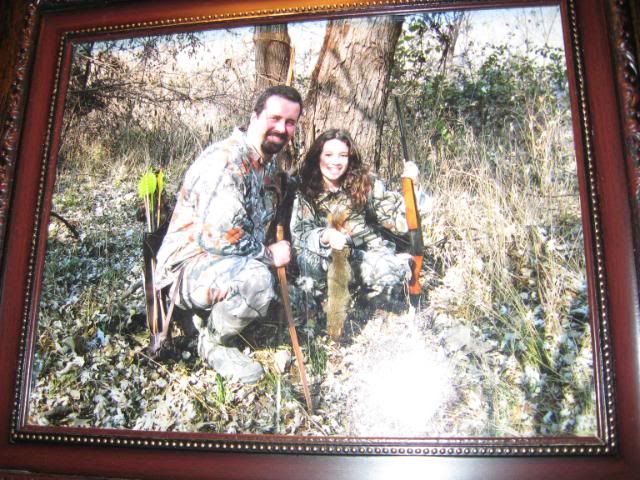 Following spring, she gets a 23# gobbler with an 11" beard and 1 3/16" spurs. There's another one for the wall. Check out them spurs!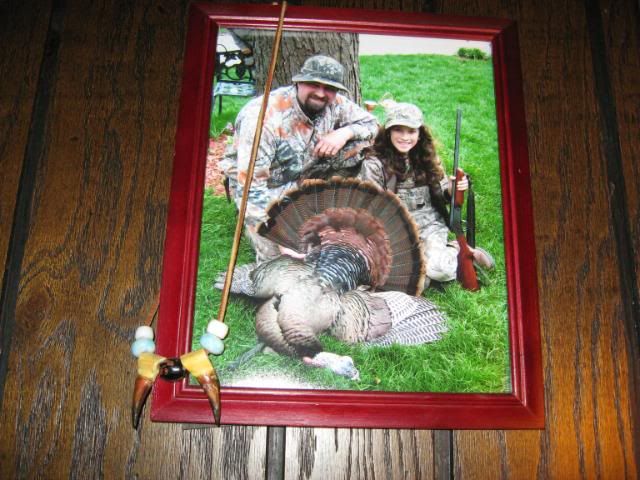 That fall, she wants to hunt deer and all I have is the 45-70 so off to the range we go and she handles it great. four shots in about a 2.5 inch vertical string but only about a bullet width deviation side to side. I figure the vertical stringing ids due to her not managing the recoil as well as a grown up. A simple afternoon hunt goes as planned for once and she's got a big doe from about 50 yards with a perfect shot. Too cool!
She'll be bow hunting this fall too but my oldest boy is following in her shoes. Here he is with some squirrels we got a few years ago.
And this spring with his first turkey. Also 23+ pounds (23.1 to be exact) with 10 inch beard and 7/8" spurs. Not as big as his sisters but man what a hunt!!! Never heard so much gobbling in my life!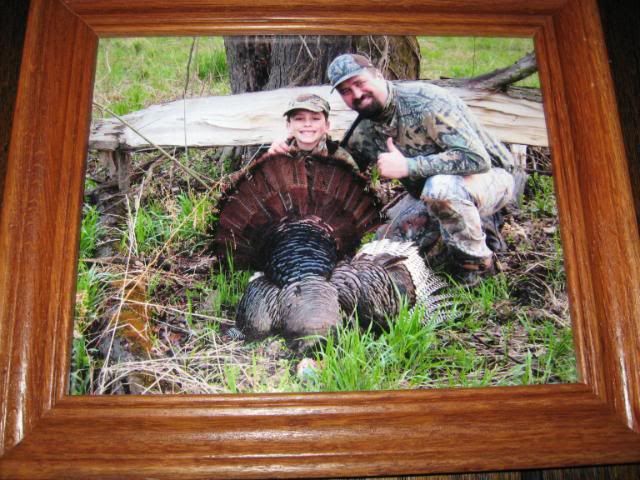 I'm hoping to be able to add his first deer picture this fall. He got a nice Marlin in 35 Remington and last I knew, he was the youngest member of "team 35 Remington".
What I'm getting at is this, if you have kids and you take them hunting, take a camera. When you get that one really cool picture, print it, frame it and write the date and a full story on the back. Most of our kids won't kill a big buck their first time and taxidermy is too costly for many of us. Simple pictures well done are just as good to me and the cost is small. You'll forget details over the years and having the story written down on the back will preserve it for your old age and more importantly, for your kids. I'm thinking that when they are grown and married, I'll put them all in an album and give them to them as a gift. We may be on the tail end of this entire hunting heritage thing and I for one want to preserve as many memories as I can. At the rate I forget things, it's the only way I'll keep my stories straight.
So lets see 'em if you've got 'em.
If you don't have 'em, start collecting them. It sure is fun and it's cheap too. Walmart will make an 8x10 for just a couple dollars and you can get a wood frame for about $5. The whole package might run $8 or so.