Discussion Starter
·
#1
·
Well, it took 3 long weeks, but I finally was able to convince the wife that with the purchase of a brand new Primos TruthCam 35, I could time my hunts according to my prey, therefore allowing me to spend more time at home with her, doing housework, etc... :lol: I found the TruthCam at Academy for $99...But as all stories go, once it was placed in the woods, some questions came to mind, like, "there's oil jacks out here on this land, which means oil jack workers, which means someone might see and envy my nice new camera..." Hmm, what should I do? Well, I know they sell security boxes for game cameras, but how secure are they? Are they just meant to keep honest thieves honest?...And there go the wheels in my head. "I could make something better than what I could buy, it would cost less, look better and be more secure"...So I went home and proceeded to tell my wife that same thing (While I stood at the sink, doing dishes with a smile on my face, of course). After a few choice words from her about the cost of my hobbies, telling me to just buy a pre-made one, and her mentioning the fact that I STILL havent killed anything, I convinced her that this "DIY" Game camera security box was a good idea, to keep me from possibly spending her jewelry money on a new camera, should this one turn up missing.
So with a quick trip to Lowes, I came out with everything I needed...
1. Breaker box (I forgot the specs on this)
2. 2 hinges
3. 1 hasp and 2 padlocks
4. 6 ft. of 3/16 cable with 2 clamps
5. Metal jigsaw blades
With the help of a friend last night, we put the hinges and the lock hasp on, drilled holes in the back to secure it to the tree with 4 in bolts, and brainstormed over the rest. This morning, I went out to get the camera, came home and began the work...
I started off by making a template for where the holes needed to be located on the front of the box for the sensor, lens and IR lights. Once that was done, I cut where I needed to and then did a test fit.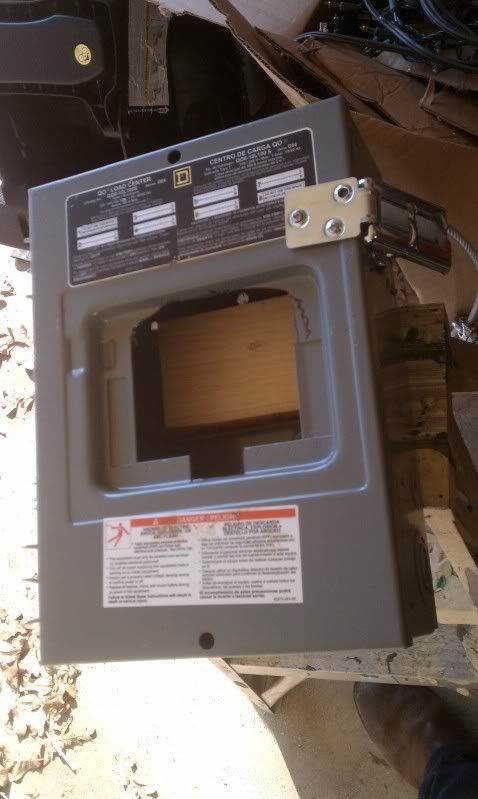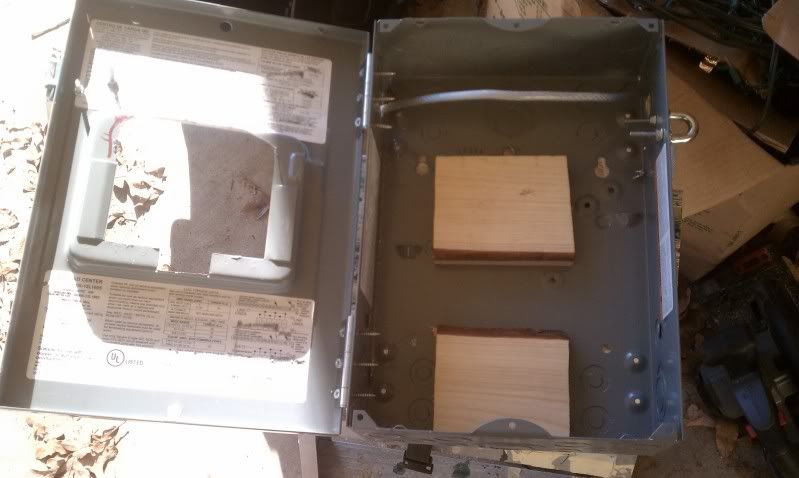 The two pieces of wood, which are mounted to the back of the box, are to hold the camera up to the front of the box.
Then I had to re-fit the hasp, as it wasnt shutting properly. After that, I cut 2 slits in the back of the box for the canvas strap that came with the camera, to allow me to strap the camera to the box and tree so that it wouldnt fall out when the box is opened. Next came a base coat of tan, and with the help of a can of brown and a few leaves for a stencil, PRESTO!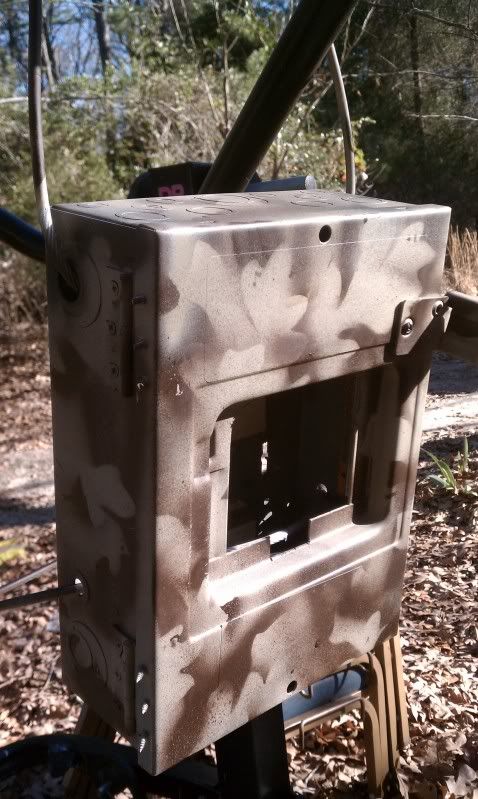 I now have a box that is impermeable to the common miscreant, as well as portable/reusable, and looks pretty darn good, too!...
Total cost of box and materials=$50.00
tools used-Jig saw, drill, circular saw, brainpower, 1 can elbow grease...
Knowing that you made something yourself instead of buying it and showing your wife your not as dumb as her father said...Priceless :!!!: