Discussion Starter
•
#1
•
When I was a kid, I was fascinated by a Fitz-Colt I saw in one of my dad's gun magazines. When John H. Fitzgerald worked for Colt in the early 1900's, the shortest barrel available from the factory was 4". Fitz made snubnoses by cutting factory barrels down to 2 1/2", 2", or even 1 1/2" lengths. He also created the first custom handguns by also bobbing the hammer spur and cutting away the front of the trigger guard (Fitz had huge hands and he coulnd't get his trigger finger inside the trigger guard when wearing gloves) for fast trigger access.
A co-worker gave me a jar of gun parts he found while cleaning out a friend's old home. There was a 2 1/2" cut and re-crowned Colt Official Police .38 barrel in the jar and that's what got me thinking about those old Fitz-Colt revolvers.
I bought a 1948 Colt Official Police .38 Special off Gunbroker (after looking for a very long time) that had a lousy barrel and a terribly worn finish. Colt made tons of these common revolvers and this one had no collector value. I didn't care about the condition of the barrel since I would be having it replaced. This gun had a tight action and functioned well.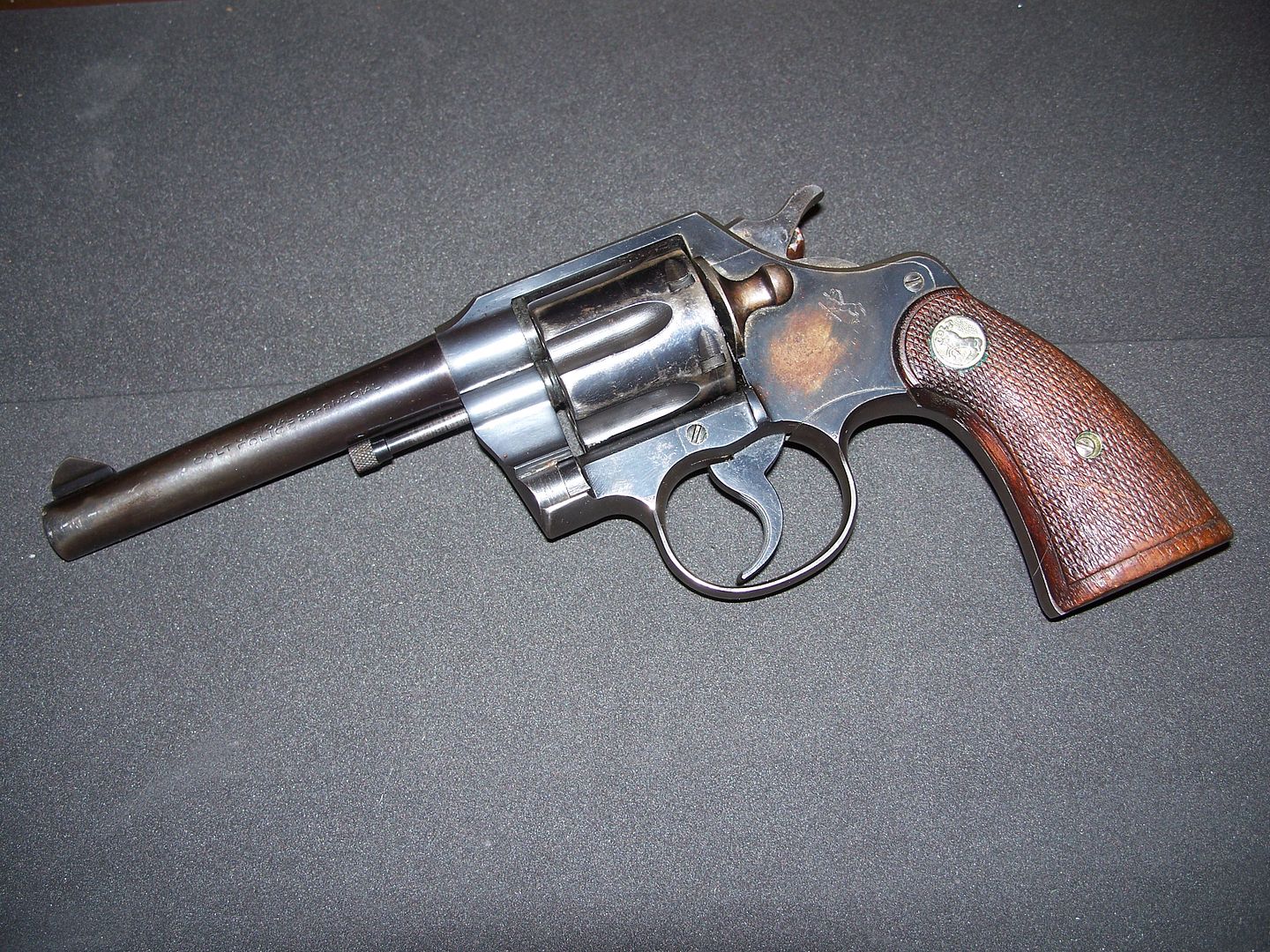 I gave the gun to my local gunsmith, Mario Matelli (
http://bullseyefirearms-il.com/
), and he disassembled and cleaned the old Colt and smoothed its action.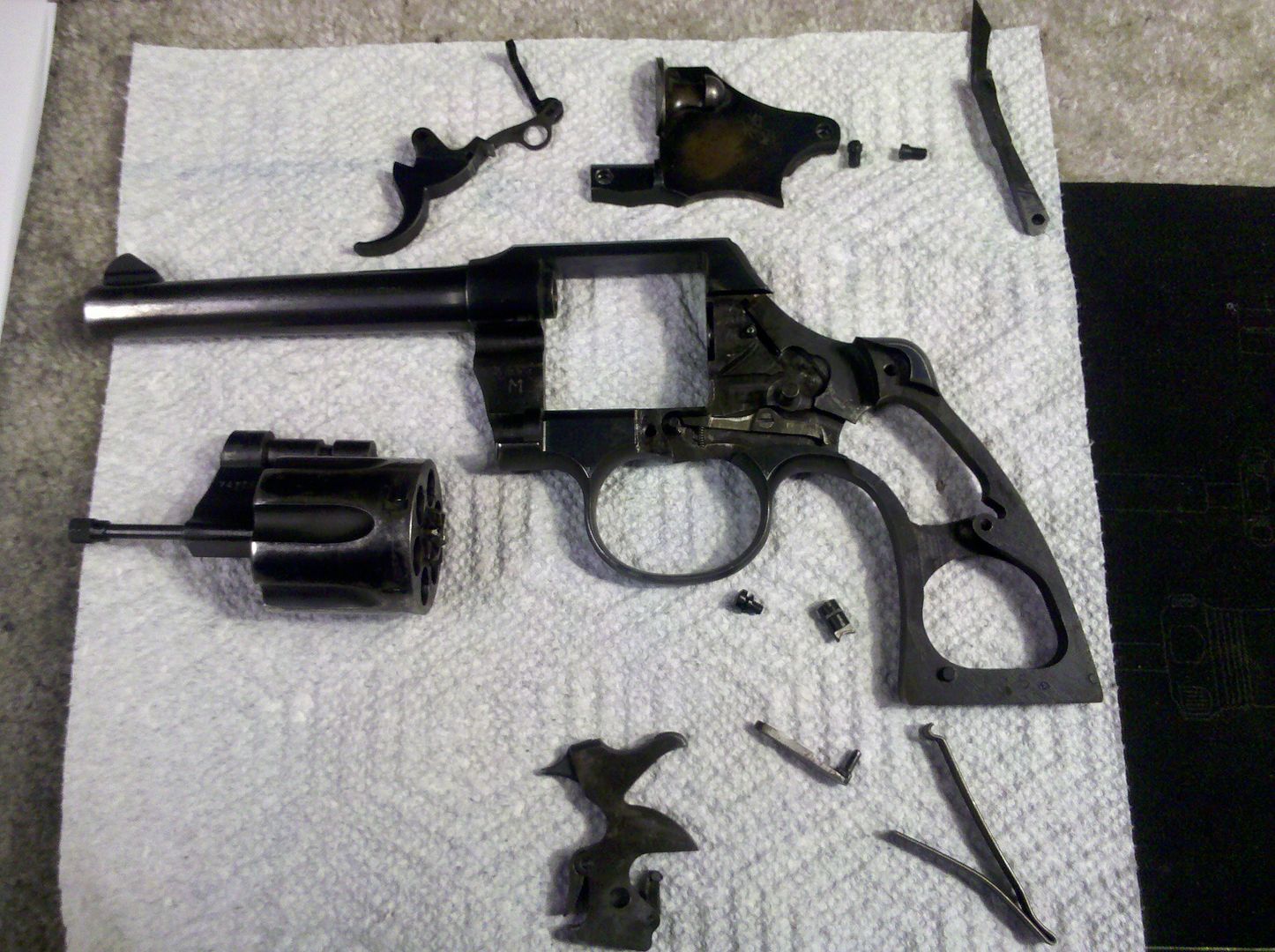 Then Mario bobbed the hammer, cut away the trigger guard, and attached the 2 1/2" barrel.
Mario then removed the original front sight from the old barrel and re-attached it to the new shortened barrel.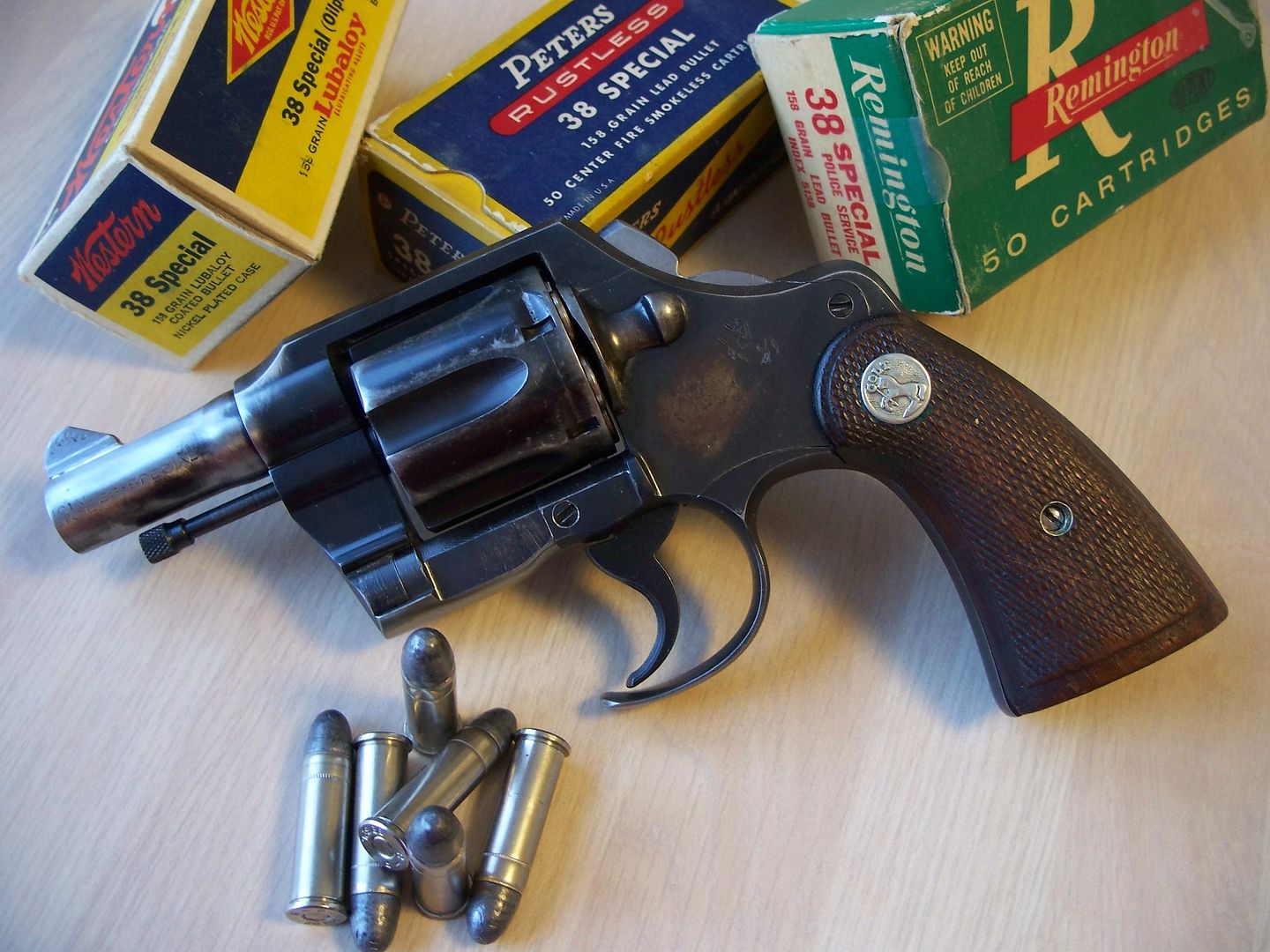 I had an old set of Colt grips with factory medallions from the same era as the walnut factory grips that came on the Official Police. I sent those medallions to Patrick Grashorn (
http://grashornsgunworks.com/
) and he inserted them in a handsome set of his American Elk Stag grips.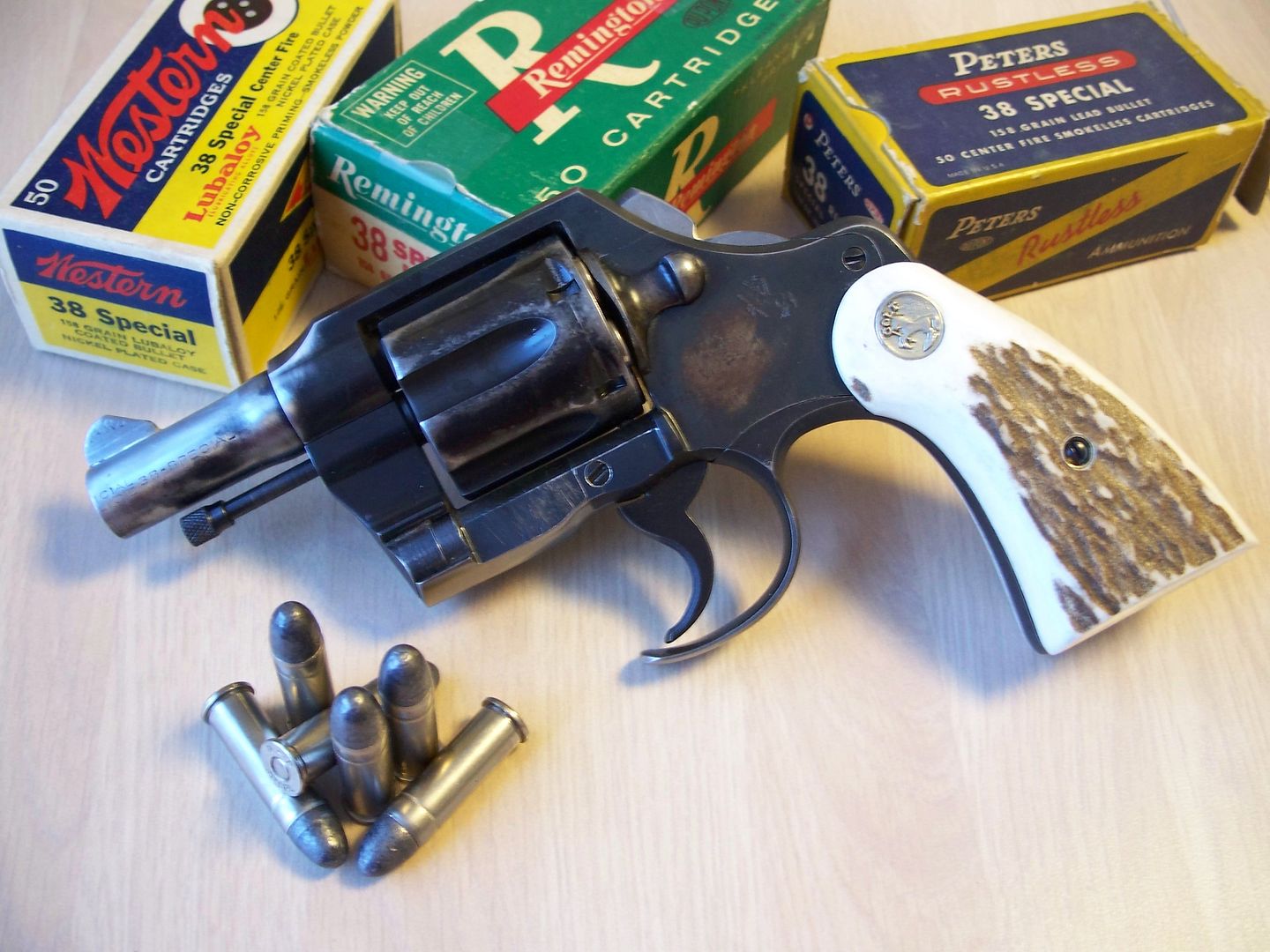 I then turned the Fitz'ed Colt over to a local guy that does fantastic re-blueing. He doesn't want more business because he has too much already so he asked me not to put his name out on the internet. He is truly an artist and when the Colt came back, it looked just wonderful!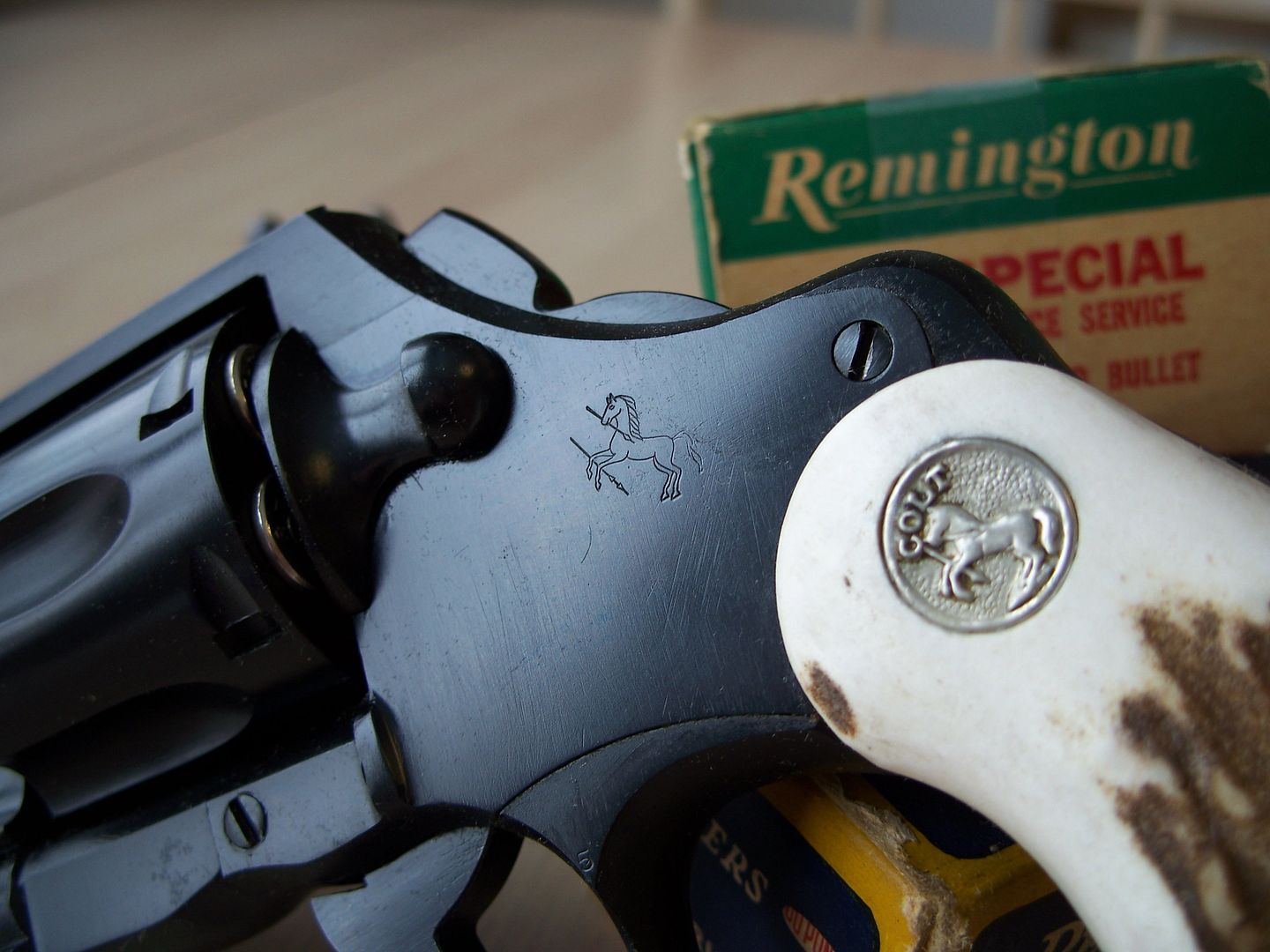 I sent the Colt to Michael Gouse (
www.mtart.com
) for American Scroll coverage. Gouse has engraved several other guns for me and I just love how his engraving turns out.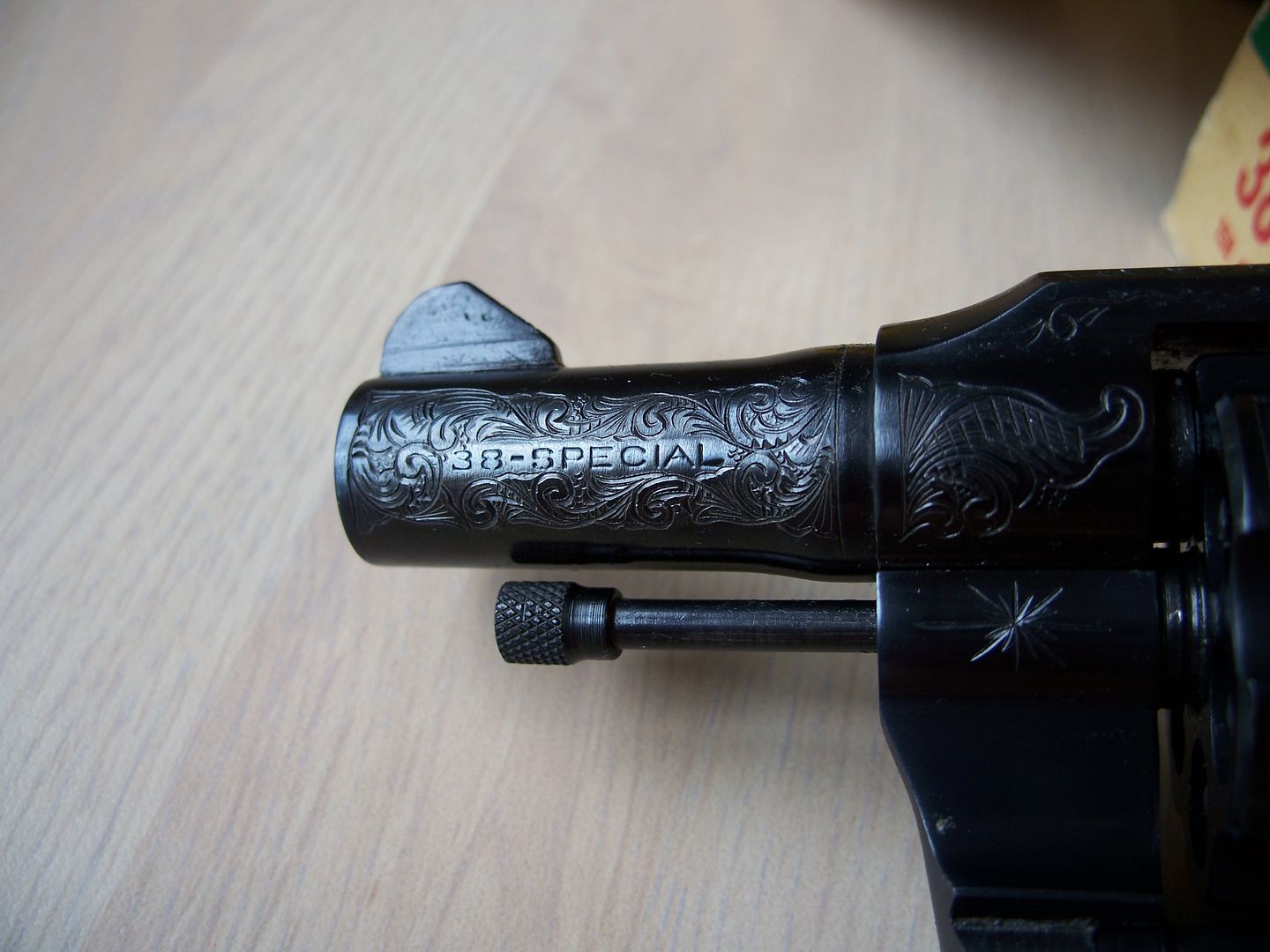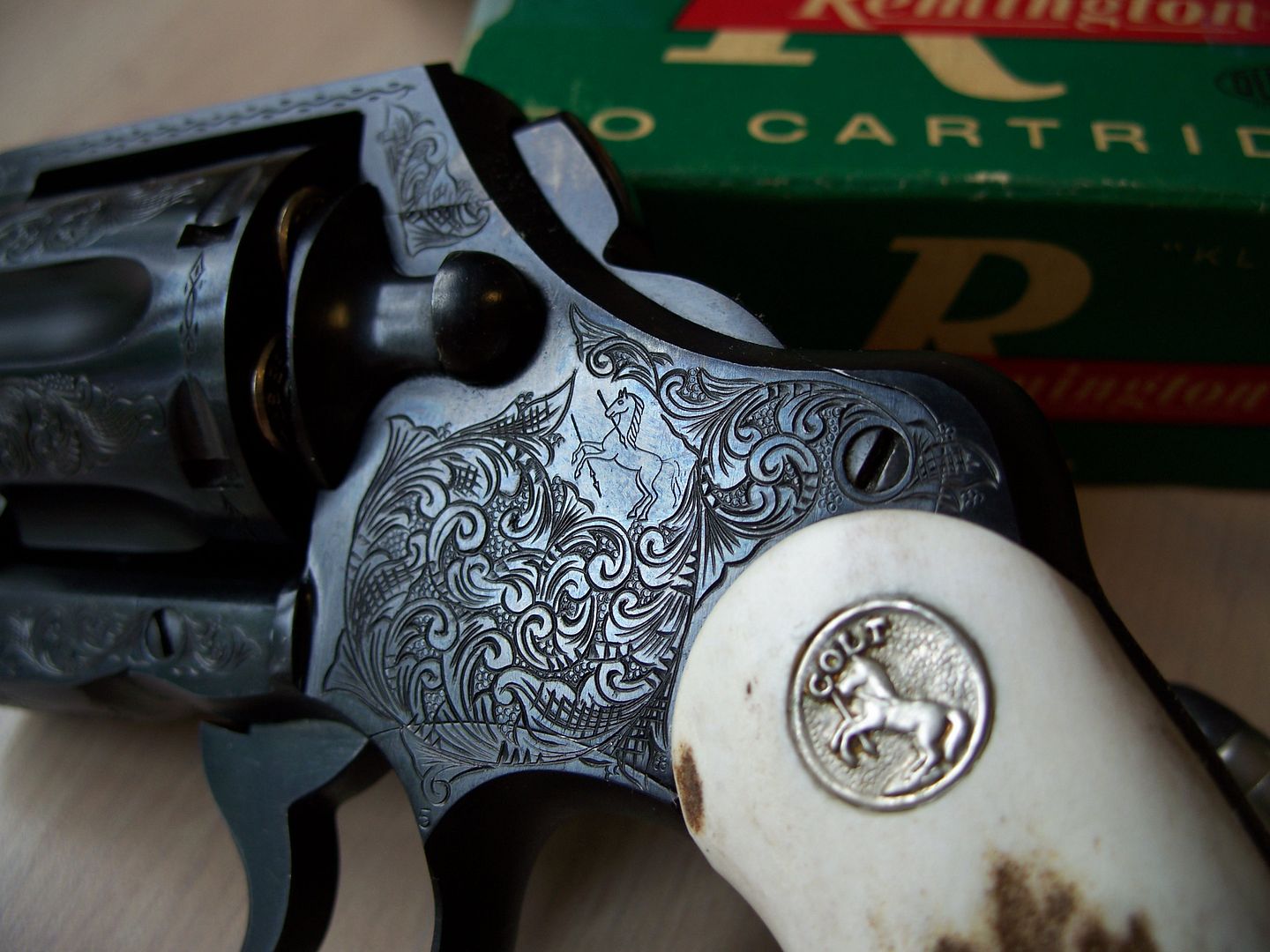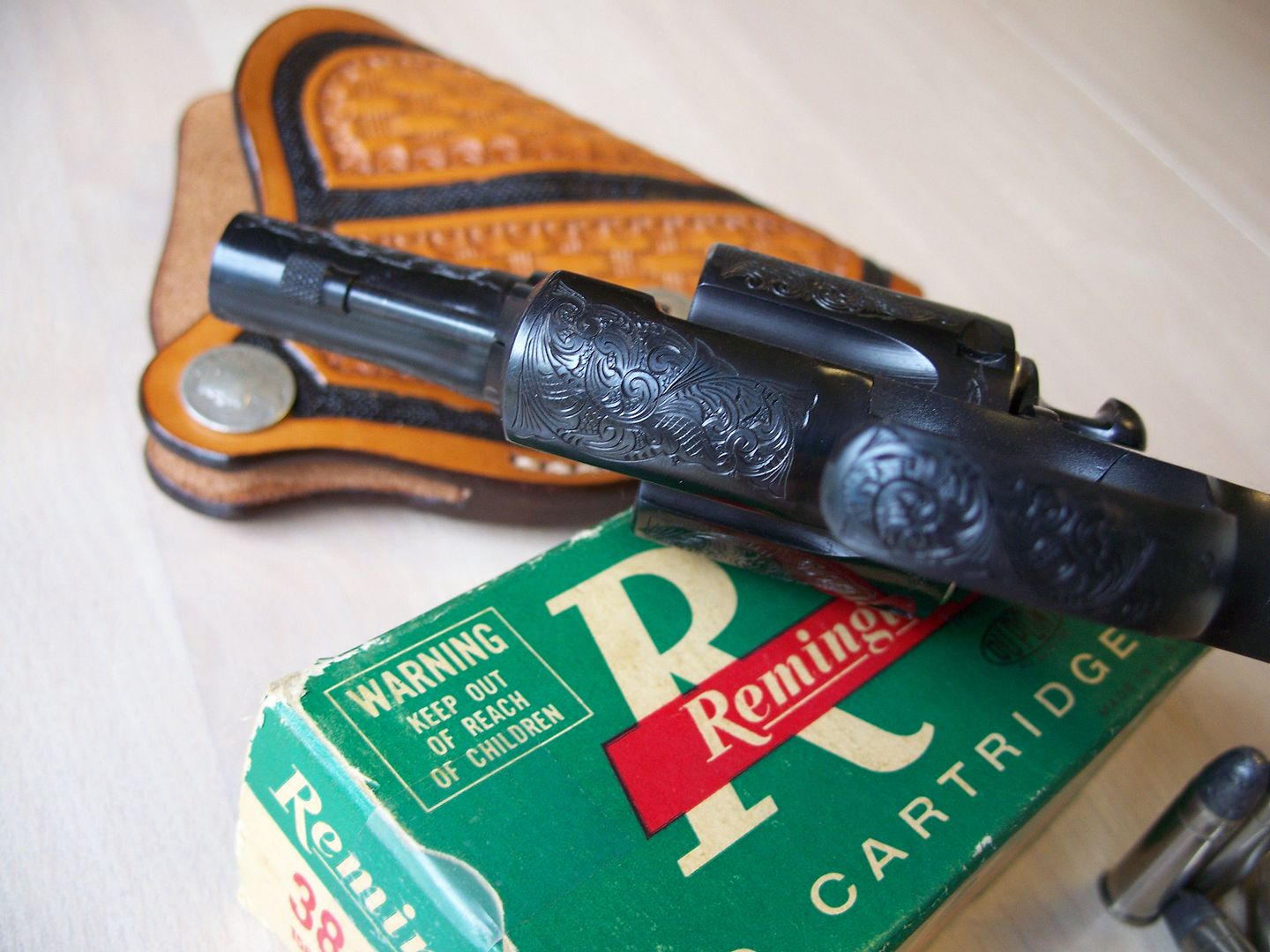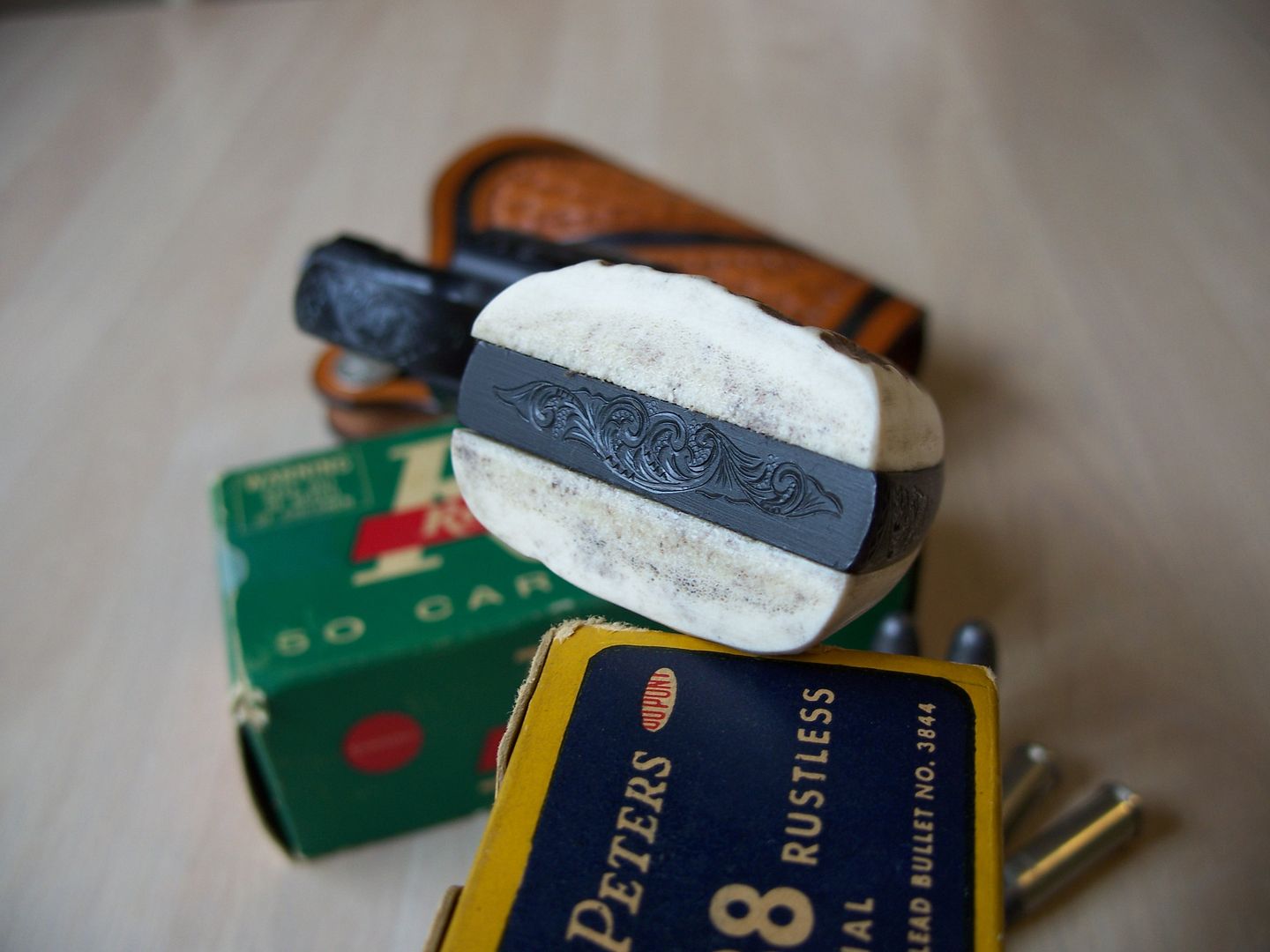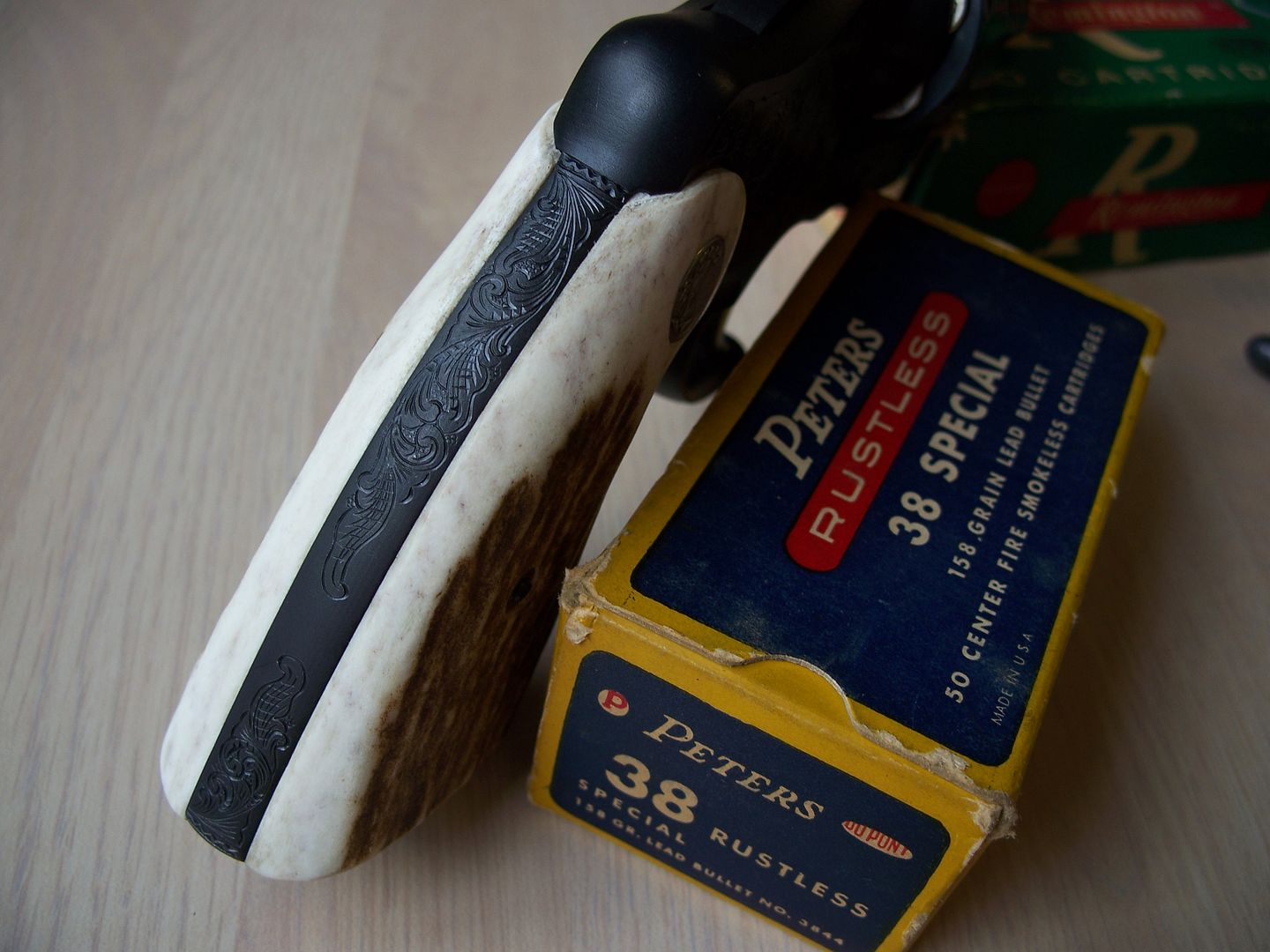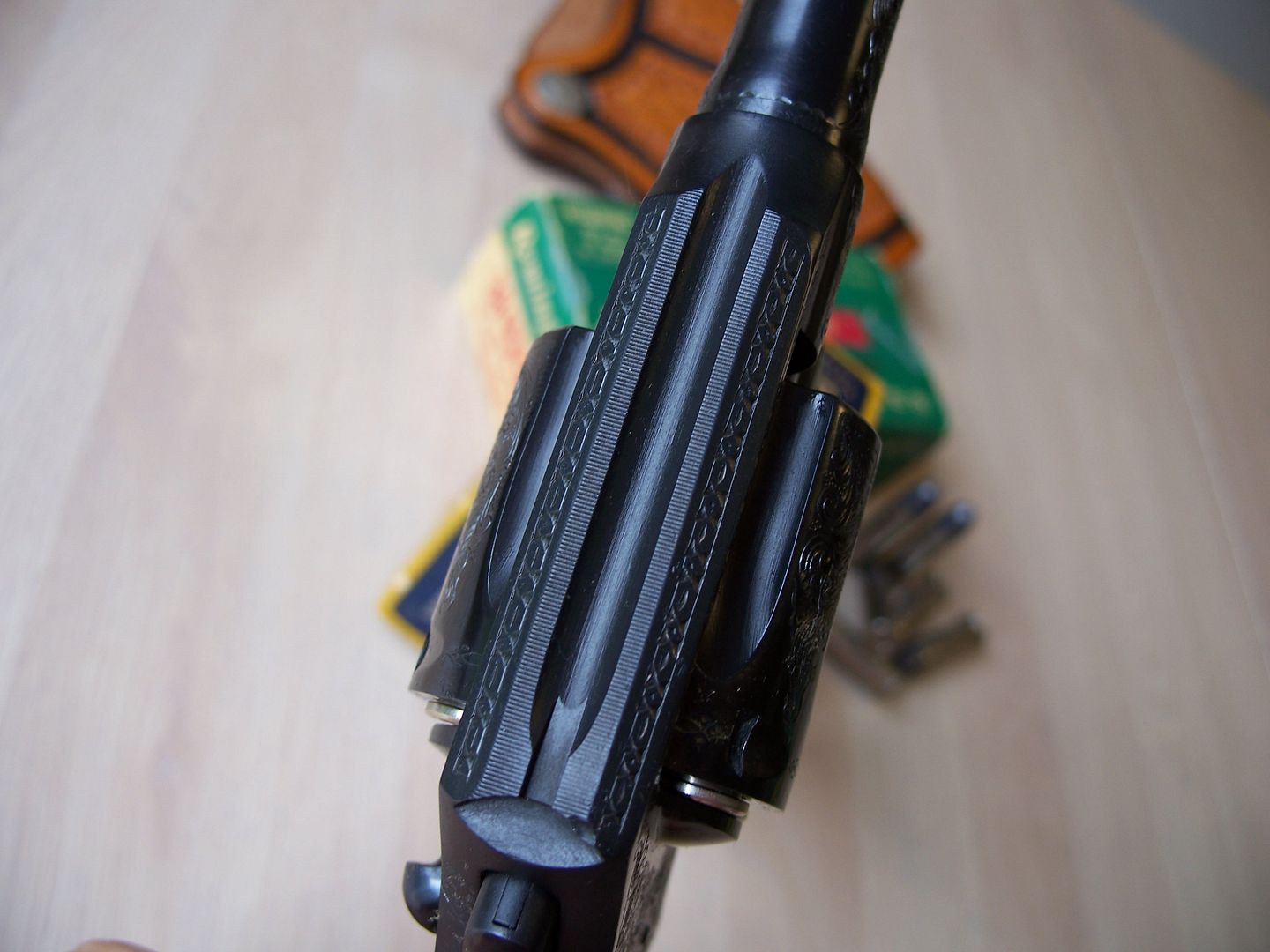 I made a cigar box into a custom presentation case for the Fitz-Colt too: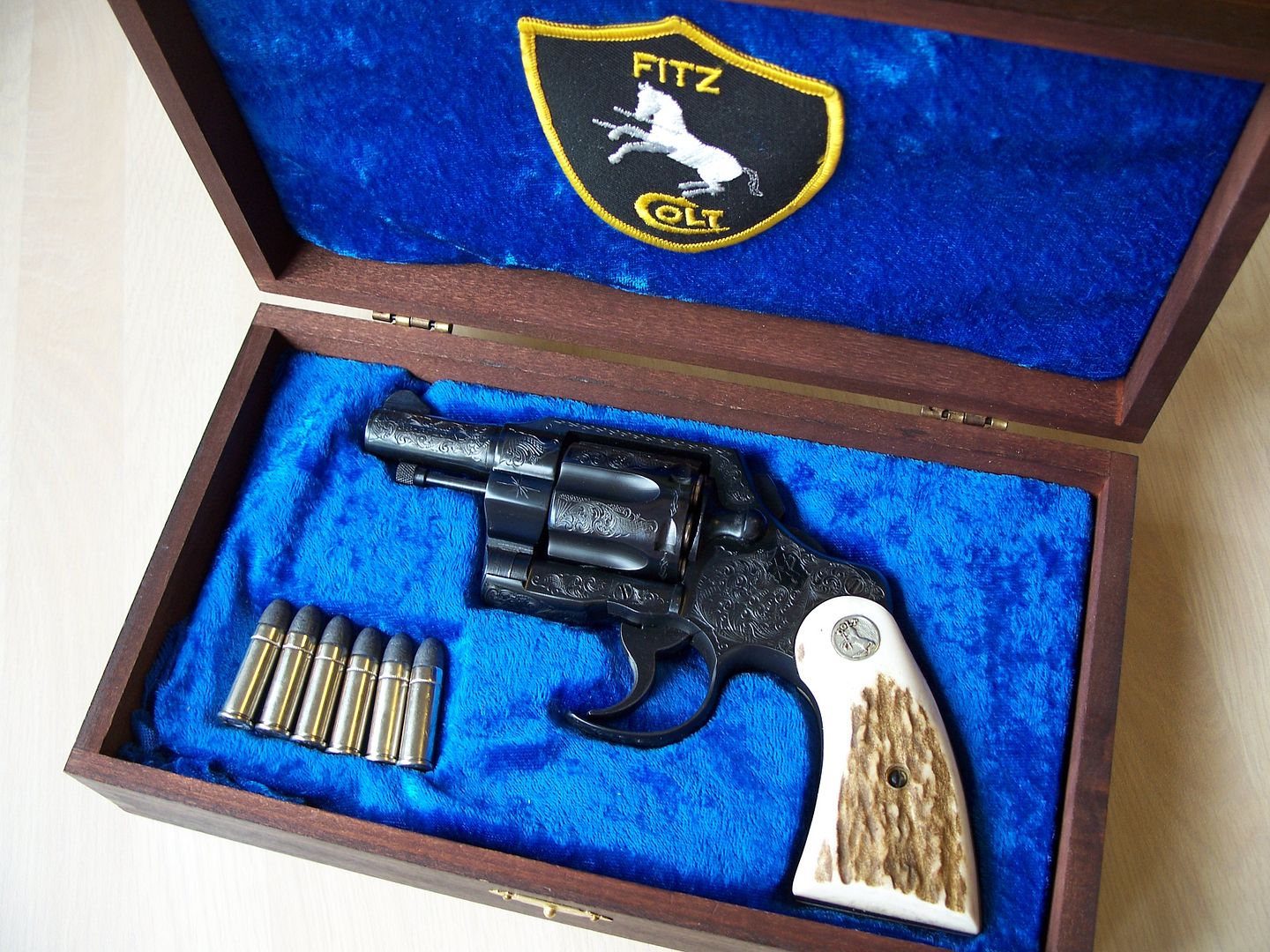 While the Colt was with Gouse, I looked around for a proper holster to go with the revolver. I couldn't find one that looked vintage but still covered the cut away trigger guard. Then I found Tom Dyer (
http://www.saguarogunleather.com/index.html
) and ordered one of his custom tooled and dyed leather holsters. I had him use silver Mercury dimes for the hardware. By pure luck, the dimes are dated 1929 and 1927 which are the years my mom and dad were born. Amazing, and it makes this whole project just that much more special to me.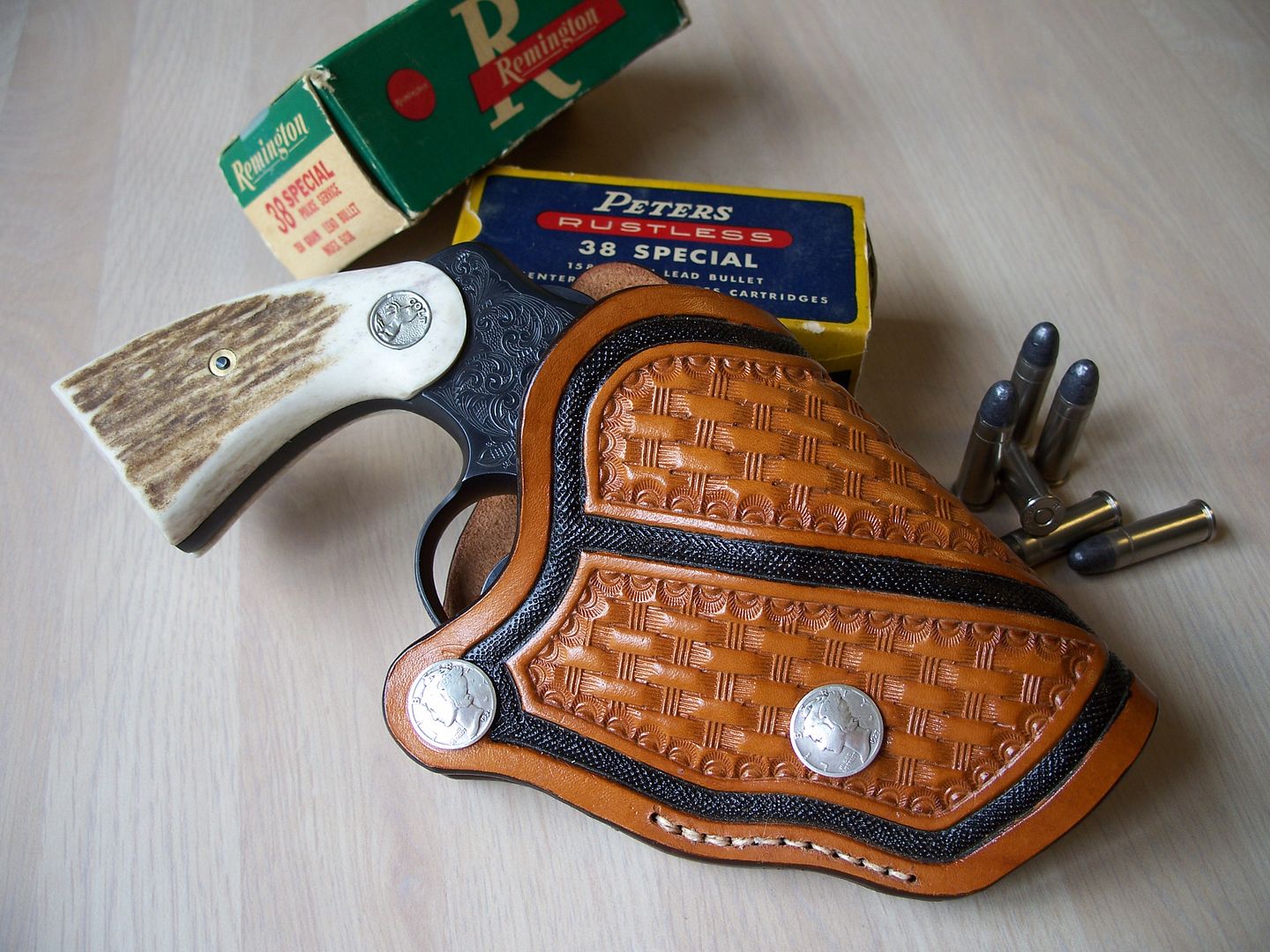 Tom even stamped my initials on the back.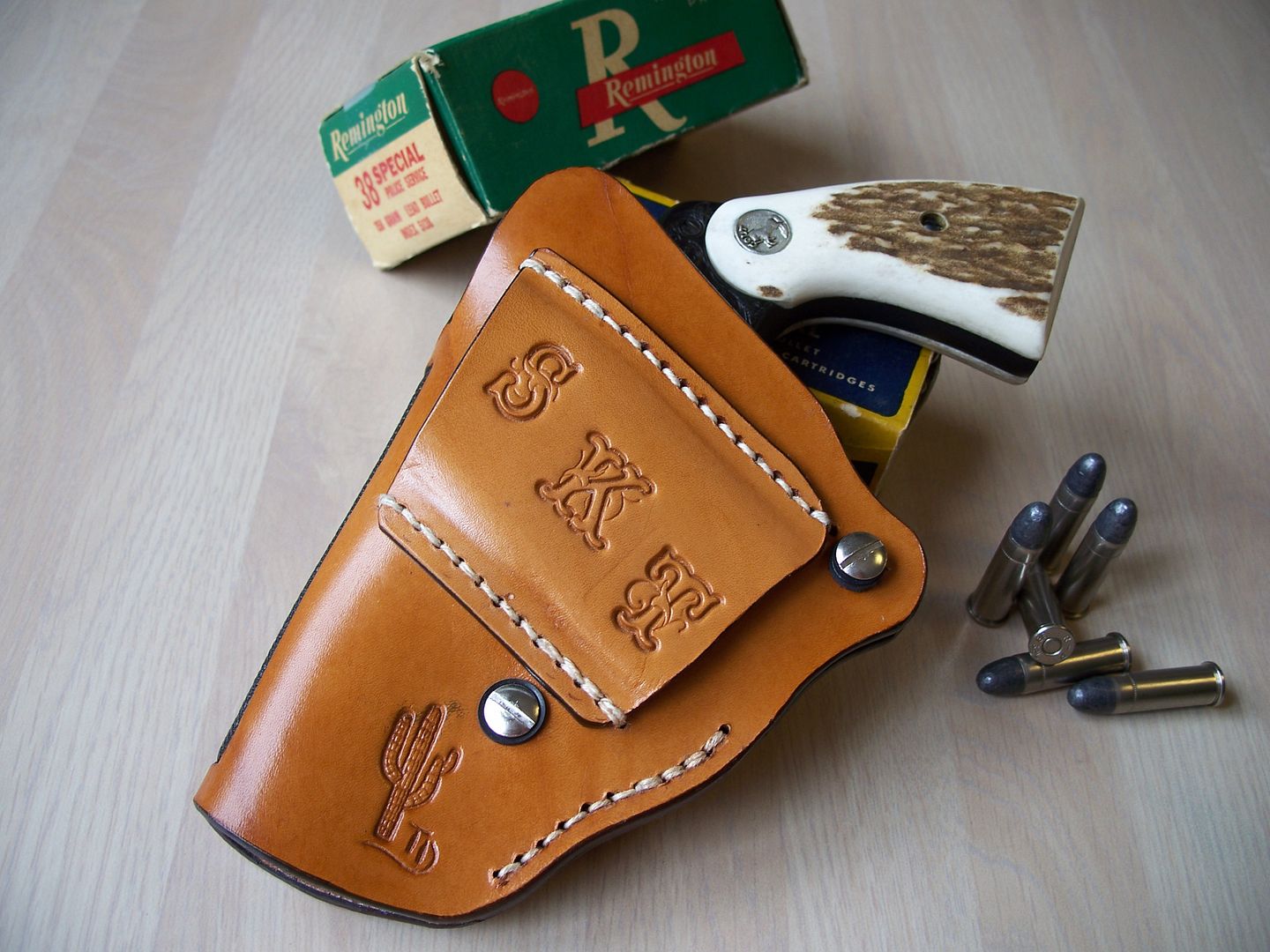 So the gun is finally finished and it's exactly the way I envisioned it to be. I am so happy with my Colt and I can't wait to shoot it. If I'm lucky, I'll shoot it this Friday!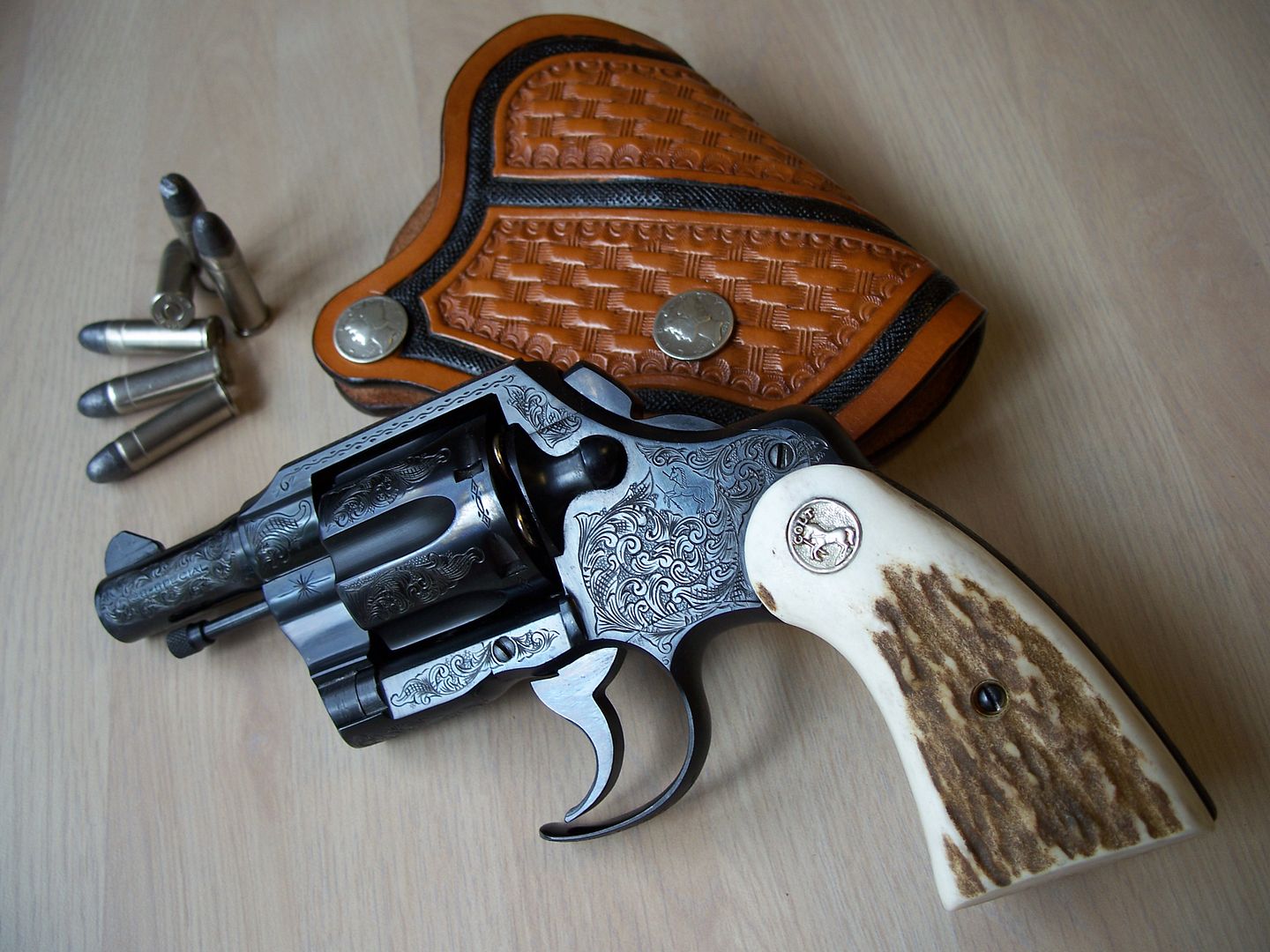 -Steve