Discussion Starter
·
#1
·
I always thought the old Fitz-Colts were really neat. The cutaway trigger guard, bobbed hammer, and shortened barrel always lit my imagination. Original revolvers actually made at the Colt factory by J.H. Fitzgerald sell today for thousands of dollars.
A few years ago a friend gave me a box of old gun parts and inside was a 2 1/2" Colt Official Police barrel. It had been custom cut down and its muzzle was expertly re-crowned. It read "icial" over "lice" and then .38 Special. Apparently it had been a 4" Official Police before it was shortened.
It took me a few years, but I finally bought a 1948 Colt Official Police .38 Special off Gunbroker for a reasonable price. The gun was tight and functioned well, but its finish was rather poor. It had lots of scratches, holster wear, and some browning patches of patina. Its 5" barrel's bore wasn't very good either.
Here is the Official Police when I first received it: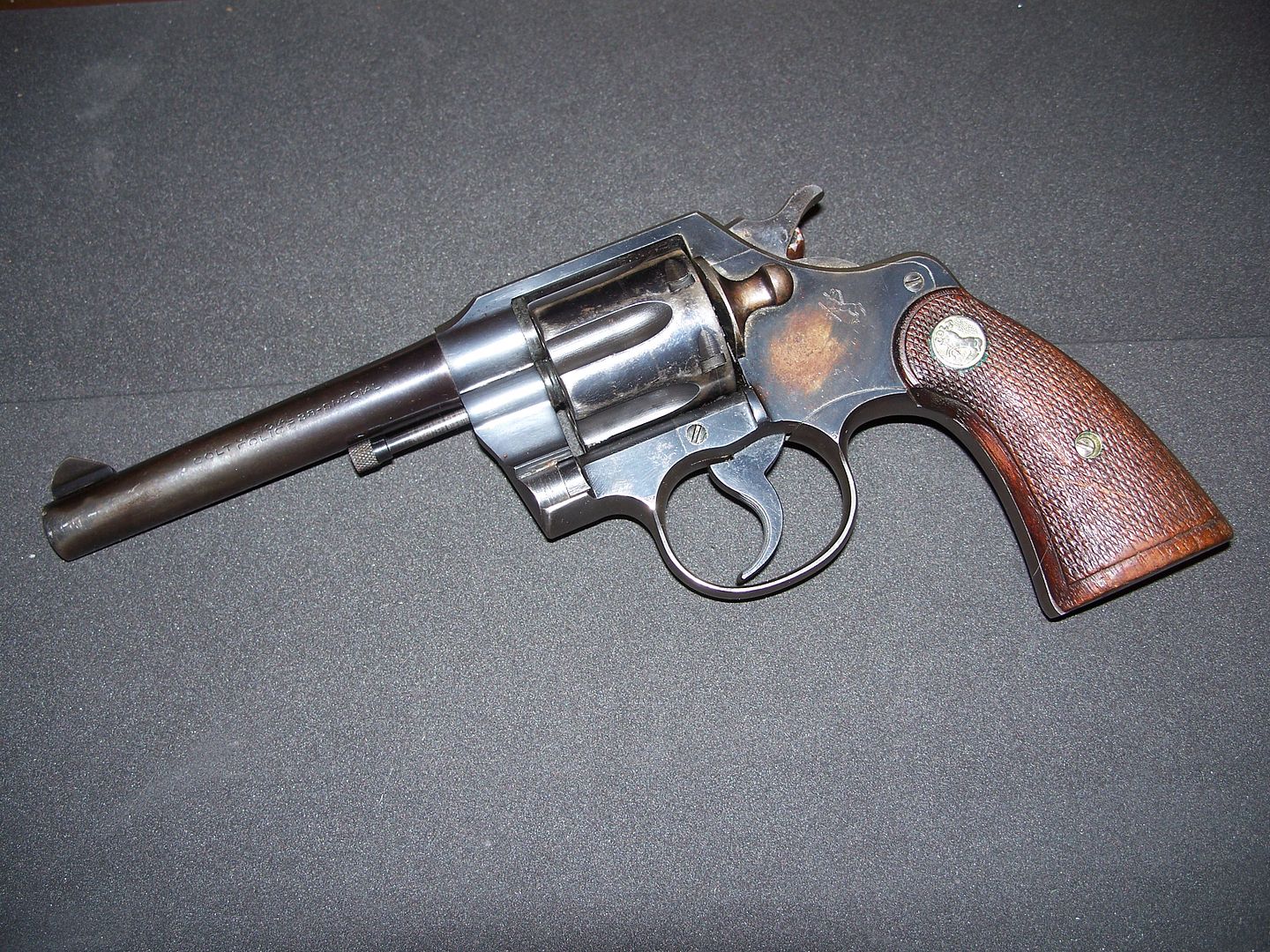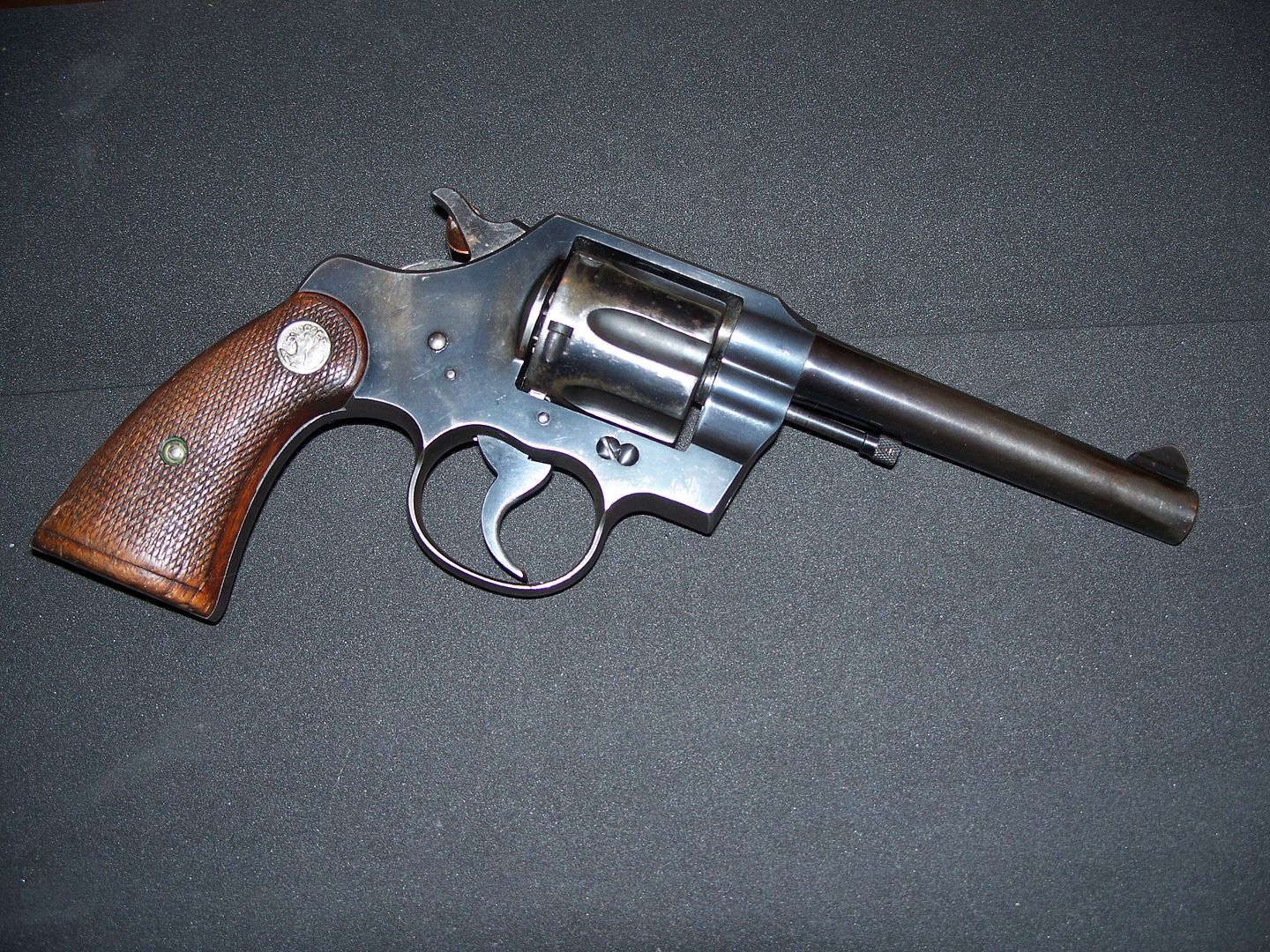 I left the Colt with my FFL and gunsmith, Mario Matelli (
http://bullseyefirearms-il.com/
) and he completely disassembled it for a deep cleaning: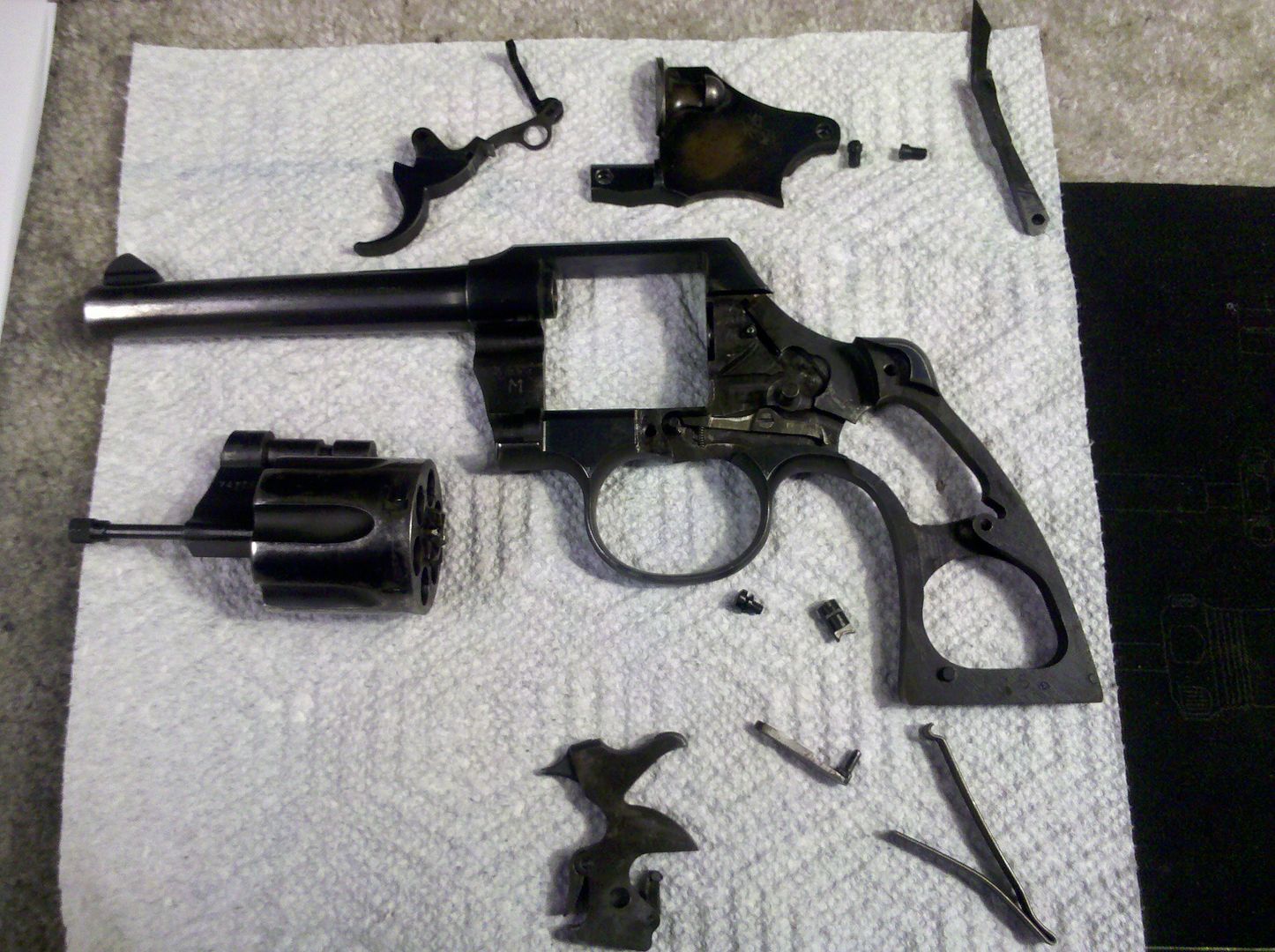 Mario is a great guy and a fantastic gunsmith. He installed the short barrel:
Then Mario bobbed the hammer and cut the trigger guard the way Fitz did it way back when:
Mario also went over the action and smoothed it out. His work on the hammer and trigger guard is outstanding! We talked about front sights and I wanted to see if we could re-use the original front sight from the factory 5" barrel. Mario did an amazing job of removing the old sight and then installing it on the custom 2 1/2" barrel. Here's how the Colt looked when I got it back from Mario: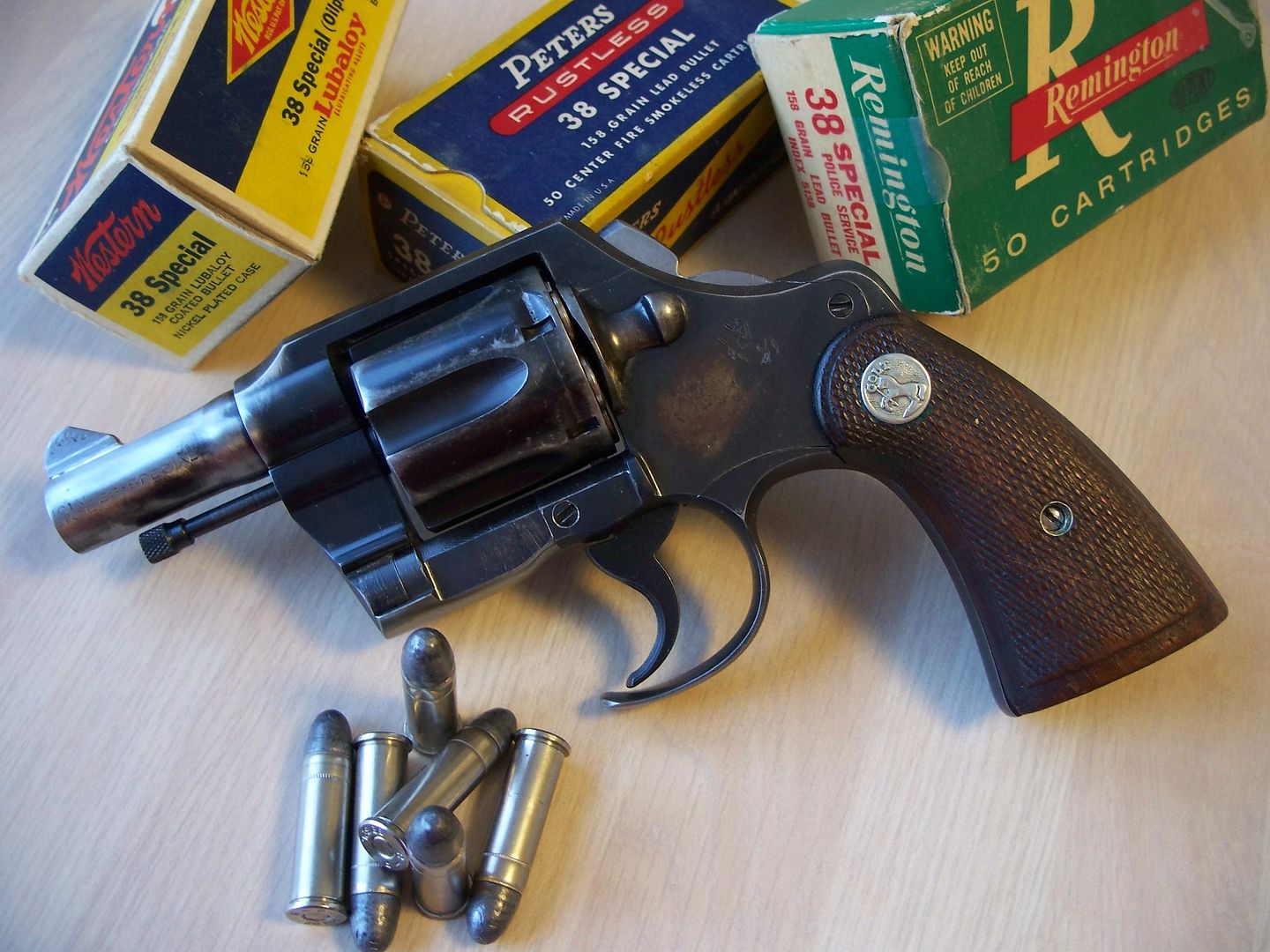 I've got big hands so I didn't want to shorten the grip. I sent a period correct pair of Colt medallions to Patrick Grashorn (
http://www.grashornsgunworks.com/
) and he installed them in a pair of his handsome American Elk Stag handles.
Then I had the Colt re-blued by a local guy who does great work. He kept the matte blue finish on the top strap, and the front and rear of the grip strap areas. The rest of the gun was polish blued. He didn't lose the Rampant Colt emblem on the left side of the frame, but he did polish off the "Icial Lice" on the left front of the barrel at my request. Now all it says is .38 Special.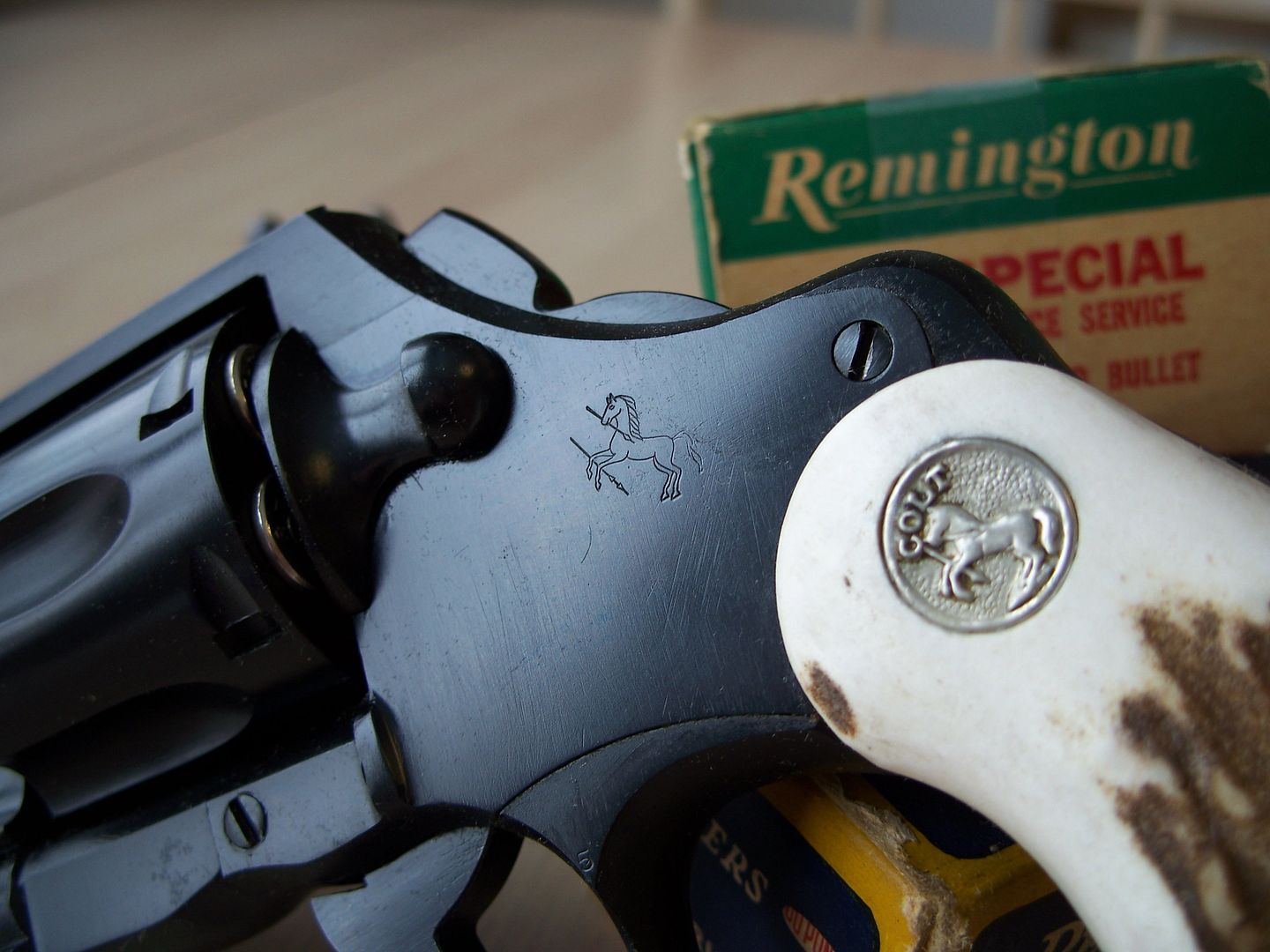 I made a custom case out of an old cigar box to hold my Fitz'ed Colt:
I'm very happy with the way the old beater Colt turned out. I've breathed new life into a Colt that wasn't much to look at when I got it and wouldn't have been much of a shooter either. I won't ever carry this gun, but I will shoot it just to say that I did.
But I'm going to wait to fire it until it's totally finished. It has one more trip to make to Michael Gouse (
www.mtart.com
) in about two months. I called him and got put in line on his waiting list to have this revolver engraved. I think I'm going to go with about 75% Nimschke style engraving. I definitely want to have the bottom of the frame engraved where the trigger guard used to be and I want some scroll under the portion of the trigger guard that still remains.
I'll be sure to add photos when it comes back from Gouse, but that's 3 months or so away....
-Steve