Discussion Starter
·
#1
·
I want to thank rmfmike for keeping this intact for me. if the pictures don't show you can find them on his website. for now, i have lost the capability to host pictures.
ALASKAN ADVENTURE
preamble: i kept a daily journal on the trip.
i think it best if i only type out one day at a time or the thing will be too long to read all at once and my fingers will fall off.
my hunting partner and i had been threatening for a couple of years to go bowhunting in alaska. he has a sister and her family that lives in soldatna,ak. so we would have a kind of jump off place. after a few years we both finally had the time, money saved up and the great desire to go. so we decided to go MOOSE HUNTING. we bought all the hunting gear and studied up on how to hunt MOOSE. my friends brother-in-law at one time was a pilot and the two of them had talked it over. the plan was that SOMEHOW we were going to get across the cook inlet and go moose hunting. of course the brother-in-law was coming along as he had lived in alaska for some time and was aquainted with the peculiarities of that area.
then my friends father decided that he wanted to come to as he is also a bowhunter.
both father and sons names are don by the way. don sr. and don jr.
then both dons wives figure they may as well go along as well and do a heap of visiting while we are gone for a FEW days out hunting.
it was quite the entourage! i never saw so many suitcases. anyways, i hope you all find this at least interesting.
date: mid aug. 1998
1st day
We arrived at ohare airport in chicago 3 hours before the flight. This will be my first ever. I am anticipating it calmly as i am determined to go.
A young black man checked our bags. When he saw those large cases he asked what was in them. "bows", i reply. "Are there arrows with them", he asks? "Yes", i reply. "ARE THEY LOADED", he asks? how do you answer that question.
We flew coach. that means coffin sized space. i know that now! take off was easy. I have never liked extreme heigths. After the initial shock it was fascinating to look down at all the little squares that were roads forever.
31,000 ft! smooth. Somewhere over colorado we ran into a thunderstorm. there were many lightning flashes below us going to the ground. I always thought that clouds were kid of flat. these were like large pillows standing on end and large spaces between them. landing was much differant than the takeoff. The pilot on slowing down would seem to move the plane side to side and the plane would drop. KIND OF LIKE THAT FIRST DROP ON A ROLLER COASTER! i wasn't expecting that first one! WHOA!
We landed in reno, nevada late on account of the storm. our connecting flight was only 10 min. from take off. We got off one plane and right onto another and we were off again. 4 MORE HOURS.
A guy from florida sat next to me. He was on his way to Denali to try white water rafting for the first time. He was interesting to talk to.
We arrrived in anchorage, ak. gaining 3 hours time it being 1:30am their time. We had a 6:00 am flight to kenai. when we checked in with air alaska they bumped us up to a 4:30 am flight. we were all beat and most of us fell asleep on the floor in the anchorage airport.
At 4:30 am we boarded a dehavillon dash 8 twin prop plane for the 20 min. flight to kenai. They even served juice and cookies.
The first thing i have learned about flying is that it requires a LOT of waiting!
We arrived in kenai about 5:00am and i was truly amazed that ALL our luggage was along. i now know why they call it luggage!
We called my friends sister and she came right down and picked us up. it was time to get some sleep. what a day!
PREAMBLE: you have all heard the old phrase, "the best laid plans of mice and men often go astray". well, this was kind of a mediocre plan at best. astray doesn't quite describe it. after talking with the brother-in-law for 5 minutes, i knew that if we were going anywhere for more than a WEEK-END, he would not be coming along. of course that meant that there was no plan at all from that point on. then it seems we were planning under some mis information about moose season and non-residents. things were already looking fairly shaky.
2nd day
We settled in. the moose hunt plans have not come off. now we have to decide what to do about it. it's plain that if we go anywhere hunting, we will be going without an alaskan resident. it now seems that moose season isn't in yet for non-residents and won't be until it's almost time for us to leave. lucky for the moose! there is a fly out service here in town and we are going to go have a talk with them.
We went into soldotna and found a place called TALON AIR. they were offering $700 caribou meat hunts. For $700 they fly you, your camp(which aint much) and 100lbs of gear into wherever the caribou are, drop you out and come back and get you on a specified day.
you can stay as long as you like. price includes the meat haulled out.
BUT for $1200 they would fly around some more until they found some big caribou bulls and drop you out as close as they could to them. i was afraid of that.
We reached no unanimous decisions on this day.
We drove down highway 1 along the cook inlet going toward homer. we stopped at clam gulch and i took some pictures of the volcanos across the inlet. there were a lot of shucked clam shells on the beach. the locals dig them at low tide.
The tide is amazing! i'm told from high to low tide it varies 30 ft! in something 30 miles wide and i don't know how long that is a LOT of water moving in and out of this inlet. the water is a brown silty color. i figure the currents from the ebb and flow to be the reason for the color. back to home.
We drove out of kenai this evening. MOOSE SEASON IS IN FOR THE RESIDENTS and the 2 lane dirt tracks ANYWHERE look like a loop scoop with road hunters. i guess in alaska you can carry your uncased loaded gun in your vehicle. i suppose they might frown if you shoot it out the window. We saw moose too. they were all illegal ones. the rules say they must be spike, fork or a 50" spread to be legal. it was too dark to take pictures of them so we headed back for the house.
PREAMBLE: if you all think that i was was a little disappointed about the moose hunting you would be right. but, i was in alaska. i had dreamed of being there for many years. we were trying to get there and do some hunting without having to sell the farm to do it. somebody from alaska would have been great to have along to keep us from making the beginners mistakes and winding up bear meat. i had some alternate plans in mind if the hunting fell through. i was going to rent a car and take a fishing-photography drive across as much of the country as i could in the 2 weeks i had to do it in. as another saying goes, "when life hands you lemons, try to make lemonade".
3rd day
It takes a while but we finally hash out "the plan". We are going for the whole 9 yards of trophy caribou hunting. WHOA!
We went down to the talon air office where 2 ladies were waiting. they smiled a lot. we told them we wanted the $1200 caribou hunt.
they smiled a lot more! We bought licenses and paid for the air fare...$1660 apiece worth. the good part was they could take us the very next morning and pick us up 10 days later!
Now we had to put together a camp and buy food for 10 days and we only had the rest of the day to accomplish it. The only part of alaska i saw on this day was all the stores in soldotna. when we left the talon air office they closed the doors behind us!
We were allowed to bring a tent, a camp stove and fuel that were not a part of the 100 lb limit apiece. included in the 100 lbs was all clothes, gear, hunting equipment and food. we added 3 tarps and 3 pack frames with packs. we could use some other things but are not sure what 100 lbs of gear looks like.
luckily, the brother-in-law had most of the camp stuff and a friend of his loans us a 3rd pack frame. being optimistic, we had to buy a bunch of meat bags to store meat out there in the weeds. they were easy to come by in soldotna.
today we spent the greatest part of the money we brought with us. we unanimously call it a "CASHECTOMY"!
the women fed us lasagna for supper. the 2 Dons wives don't look too happy about us going off into the wilds 0f alaska for 10 days. i am sure they think we are bear bait!
the brother-in-law loans me his ruger blackhawk chambered .357 mag. it has a holster and belt that fits me and the loops contain about 15 hp bullets that he says are loads a buddy makes for him. he offered a centerfire rifle but nobody wants to be responsible for or carry it.
So! WE ARE READY!!! probably forgot something.
PREAMBLE: when a person gets older he tends to weigh risk on a differant scale than he did in his youth. up to the point where we left chicago i had never been on a single airplane. i thought about all this a lot before i even bought the tickets. would it be worth the risk to do a lot of flying and offer myself up in LARGE bear country to experience the wildness of alaska. i came to the conclusion that my life was forfeit. a persons death should be EXCITING! i would rather be killed at a chance meeting with the large bear than to wheeze out my last breath in bed, while dying of old age or some incurable disease with the whole family in attendance! after coming to that realization i never worried about planes or bears anymore which left me free to thoroughly enjoy myself!
4th day
We are up early...6am. we stopped at SALS for breakfast and the place had reindeer sausage. great stuff!
arrived at the talon office by 8am. nervously, we sat around waiting while the pilots drank coffee and chewed the fat. Finally, a young man who turned out to be our pilot sat down and questioned us about our experience and if we had some of the more important things. satisfied, we all got in our vehicles and headed for a lake where they kept their float planes.
when we unloaded the truck on to the dock the pilot asked, "is that all you guys brought?" i figured he was joking but when he started to load the plane he walked right past the scales and didn't bother to weigh it! I KNOW WE FORGOT SOMETHING!
Compared to all the planes i have been in so far, this one is miniscule! he took 10 min. to warm up the engine. we were going round and round this little lake while he kept messing with choke levers or some such thing.
i got to be the co-pilot with my own headset to talk to the pilot and everything! without the headset i could see his lips moving and that's all! "what kind of airplane is this", i ask him over the headset? he replied, "1956 dehavillon otter". otter? that's great! maybe this old piece of junk WILL float! "why are we circling the lake still"? "so the engine won't stall and we hit the trees on our way out"! oh! please circle as long as you like.
Off we go. not high and only about 120 mph. seems like we just crawl along but soon we are over the cook inlet with nothing but volcanos and mountains in front of us. one of the dons handed my camera up and i shot some aerial photos(my first!) as we flew. there were a few glaciers through the mountains.
We flew up a valley a couple miles wide and steep snow tipped mountains on either side.
it took around 2 hours to reach the iliamna lake-mulchatna river area. thats where we were going to be hunting. SOMEWHERE around there. we flew around spotting caribou. the pilot knew where the were as he flew here twice daily. he told me that there were THOUSANDS of caribou on the hills above but he could only land on the larger lakes. where most of the caribou were, there were no lakes. he put us down on a lake as close as he could get to them. wow! did that lake look small when we headed down. i would have hated to be the first to try to land on it!
we were in tundra looking country. there are small lakes as far as i can see and that is a considerable distance even possibly 100 miles! there are mountains on every horizon.
everything got tossed out of the plane and piled up at the bottom of a very steep bank.
the pilot says he flies over every FEW days so if we have meat to send back or want to go back home , hang a tarp out by the lake. when and if he had room he would oblige us.
on that note, he jumps in, fires her up and he is gone. there are just the 3 illinois boys left when the quiet set in.
HERE WE ARE! i have no clue where "here" is. i hope nothing happens to our pilot on the way back. nobody may know where we are.
we took off in search of a campsite. there was a good one on top of the lake bank in the thick brush. we figured the brush would help protect the nylon tent from the wind. the pilot had warned us that the wind(he called them willewas) frequently reached 60 mph here. we tied the tent and tarps to everything we could find. we also constructed a lean-to type shelter with one tarp about 30 yds from the tent. here we will store all the food and do the cooking. the only kinds of food we brought are dried soups, a couple of dehydrated meals and lots of instant oatmeal. the only gas stove is a one burner backpack stove to boil water on. we won't carry any food into the tent at all.
in the middle of putting up the lean-to i spot caribou on the high ridge above the camp. the pilot had told me it was about a mile from the lake.
after the camp was completed we pulled out bows and put broadheads on the arrows. it was illegal to hunt today but tomorrow we can. i filled my canteen from the lake and added iodine tablets. the women had sent along some chili and we ate that for supper. it got dark about 10:30 and turned cold. tomorrow will be exciting no matter what happens!
preamble: up to the time flying in our little otter in which i spotted the first caribou, i had never laid eyes on one in my life. i hadn't really given much thought to hunting one since we had planned to hunt moose. all preperations were made to hunt moose. here i was in alaska about to hunt a caribou that i knew nothing of. i had grilled the pilot on what a really big one should look like. he also gave me a verbal explanation of how to skin, bone and preserve the meat. hunting whitetails back east was no comparison to this!
5th day
We're up at 6 am. water is frozen in the puddles and our water bucket. it's light enough to see close up but have decided not to leave the camp until we can see good up on the hill. THERE ARE CARIBOU UP THERE AND WE ARE EXCITED! the plan is to sneak up there, get downwind of them and hopefully let them walk up on us.
Finally we are ready. up we go. and up......and up...up....up....UP! the guy who thought that was a mile has obviously NEVER walked it! when we got to the bottom of the last "up" it was the steepest and longest climb. the caribou were probably still 400 yds off when we got to the top.
Don sr. set himself up when we got to the top. we figured we ought to fan ourselves out some for a better chance. don jr. and i sneaked on up closer to where we felt they were. at 80 yds we spot a big bull and of course he spots us as well. the bull ducked over the horizon. so don and i split off and fanned out some more. i eased along the edge of this thick stuff. at the edge it was like somebody had mowed the whole area as far as you could see. the ground was mostly short white lichens with a few large rock here and there. there was no way to get out in that stuff and expect to sneak up on anything!
up ahead i spot 7 or 8 caribou. to the left of them i noticed these big black things sticking up. then they moved. there were 2. they moved in unison. i realised they were antlers! i could not yet see the animal but could easily see 4 ft. of antlers!
i belly crawled out to the last few shreds of cover. i was about 60 yds from a huge bull that was lying down. the animal was 20 yds past my ability to make a good shot! along side of whitetails these things were huge.
i could only hope that when he got up he would come my way. he didn't. 30 minutes later all of them fed over the hill. what a wonderful sight it was too! last thing i saw was those large antlers disappearing.
i saw 15-20 caribou today and could have shot a smaller one. after seeing 4-5 of those huge bulls i have decided that only one of those will do! IT'S THAT OR NONE! now i need to learn how.
we ate soup and crackers for supper, washed the dishes and are in bed before the sun is set. no caribou were injured in the least.
i really don't think they know we are here yet!
preamble: a person should never give up on learning new things in their lives. yesterday i did not have the ability to do this: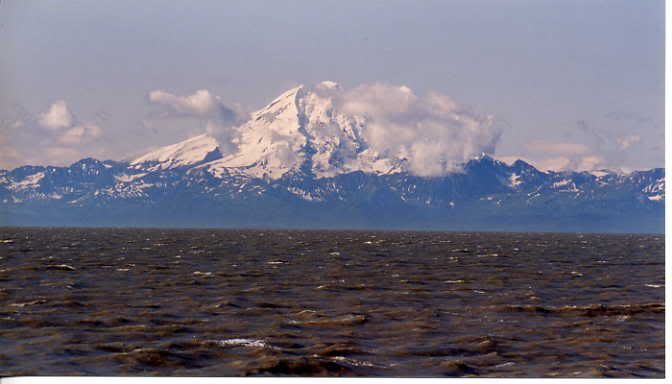 REDOUBT VOLCANO ACROSS THE COOK INLET IN ALASKA
TODAY I CAN.
the 2 people i went hunting with are GREAT friends of mine. i would not have contemplated going on this trip with just anybody. 10 days in the same tent will sort out whether you can stand one another or go to sharpening the knives!
6th day
Up at 6 am again. don sr. and i pick blueberries. everywhere you walk you squish blueberries. we have hot oatmeal with blueberries in it for breakfast and more blueberries for dessert! we eat blueberries all along the way.
don sr. says he is NOT climbing that dang hill today. i don't blame him. i wouldn't either if i hadn't seen all those big bulls up there. they are probably 40 mi. off by now.
don jr. and i figure we'll take the straightest route to where they were yesterday. IT TAKES AN HOUR LONGER TO GET THERE! we waded swamps and some of the awfullest thickets i ever saw. it was pure misery trying to fight out way up steep hills that were dense thickets.
we finally sneaked(yeah right!) up there. we glassed as far as our binoculars could see, which was a considerable distance. in an hour of looking i saw 2 teensy weensy caribou. what happened! it certainly wasn't the elation of the day before.
so we hiked out in there further. we were walking on one of those ball park white lichen covered ridges and we could see for miles. that lichen is white in color and a dark brown caribou is pretty difficult NOT to see.
don spotted a caribou on the next ridge FURTHER from camp. "lets go get him",he says.
"what! are you crazy?, i delicately ask. 300 pounds of caribou meat 3 miles from camp! no way! "but just look how big he is", he says. "yup" i say. i desperately look for CLOSER caribou. none in sight. well......maybe.
We started towards it. at the bottom of our hill we run into a fast running and fairly deep and wide creek. there was no way to cross without getting wet to the yingyang.
lucky me. we decided to hunt back the way we came and toward the camp. if we could get one closer to the camp it would save a LOT of hauling on our backs.
i was carrying my camera everywhere we went.
it isn't pleasant to carry but i won't be without it. i stopped to take a few pictures off the ridge. bugs.....let me say that again bugs...bugs!....BUGS!
i HAVE NEVER BEEN SO UNINTERUPTEDLY ATTACKED BY SO MANY BUGS IN MY LIFE! there is no way to shoo them off. shooing attracted many, many more. it was a swarming blanket of bugs! i pulled a headnet from my pack and pulled it over my face. then i smashed the 100s that got in against my face after i pulled the headnet on. ahhhh! relief! the headnets had been recomended by the brother in law. i probably owe him my life!
I heard a noise and looked up. walking towards us were 4 caribou! there was 1 baby, 1 cow, 1 yearling and 1 bull. i had seen some bulls a lot bigger than this one but this one was walking right to us! i pointed them out to don and we drop to our knees instinctively. we are on our knees in 1-2 inches of white lichen. we are in green camo with pack frames strapped to our backs. we look just like a large green sign on a snow white hill that says "DUMB CARIBOU HUNTERS HERE!" just like i figured they spot us at 100 yds out and apply the brakes.
"they're all little ones", i say. "the bulls pretty nice", don says. "you want to shoot it", i ask? "if it gets close enough i might", he replies. "they wouldn't be too smart to come closer since they already see us", i inform him.
But they do. it was like they were fascinated by what they were looking at! the cow and calf got UNINTERESTED first and backed off, but the bull and yearling keep coming slowly. they got mighty fidgety at 50 yds. don is no slouch of a bow shot. he had his headnet off. poor him! i heard him draw behind me and then release. i saw the arrow hit the deer as it was facing us. the other 3 caribou got outta dodge! the bull tried to follow but couldn't keep up. don took off chasing and making loud strange noises. i picked up our packs and started after him. i lost sight of him about 100 yds ahead.
i followed along the hill for 200-300 yards looking for him. finally i spot the caribou, still standing, on the far bank of that stream we had give up on crossing. i could NOT see my hunting partner. i dropped everything and got to the opposite side of the creek from the animal. it was about 40 yds almost straight up. there in the creek up to his shoulder blades was my partner. he had got so excited that he had shot ALL his arrows and had only managed to hit the deer high in one antler which was quite apparent since it was still there. the deer walked over the bank. of course we gave immediate chase and that meant we were both wet. "hey ole buddy, loan me an arrow". i remember those words fondly. that arrow did the trick! the animal fell back down the creek bank into the brush. pictures and congrats over, there was around a 250 lb animal to quarter and bone.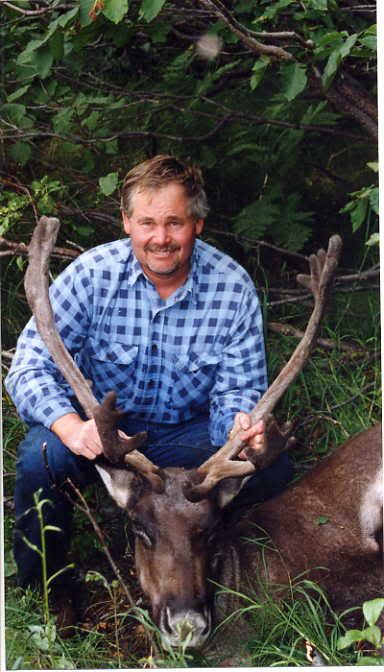 DON JR. WITH ARROWED CARIBOU
The bugs revelled! somewhere between the shot and the congrats i had lost my headnet. doom on you dan.(that's me) the deer ended it's life in a big thicket. no wind in there and the bugs loved it. it got so miserable we actually dragged the deer up that bank and into what little breeze there was. that was tough!
My ears were on fire. my neck was on fire. bugs were eating me up! i ran back toward where the caribou had come from but could not locate that bugnet. buck-up dan...your'e in for it.
we disassembled the caribou and the bugs did likewise to us! it took us about an hour. thank goodnes we had 4 meat bags with us. we could only carry 2. we put a front and hind quarter in each bag and the trim meat in a third. we were soaked and our boots were full of water.
We hung a bag of quarters and the antlers in a tree about 200 yds from the carcass. loading the rest of the meat in our packs we headed off for camp. after all that, it wasn't easy either!
that night, after we had hung the meat in a tree a couple hundred yards from camp we made a fire and roasted caribou tenderloins! good stuff. the only way we have to cook them is skewer them on a stick and roast them over the coals. we forgot the salt and pepper.
tomorrow, we have to go back after the rest of the meat!
preamble: in most eastern states the dnr will REQUIRE you to bring your deer to a check station whole and intact. you can hang the thing in a locker until you are ready to go home if it is warm out. where we were this was not possible. our air service came in to check on us about every 3 days. so the meat has to still be good for that length of time.
the meat bags i refer to are very large and strong cotton muslin bags with drawstrings on them. they keep the bugs off and allow the meat to dry with a crust on the outside while preserving the meat on the inside. the animal is skinned one half at a time. you start by slitting the skin down the backbone along its entirety. then you peel the skin over one side and bone it. there is no gutting done and you have to keep the meat clean and dry. no washing it. we were rubes in the woods to this kind of meat keeping.
7th day
I went out early close to camp. i saw 2 caribou but had no opportunities. the animals were too small anyway. i came in early to help pack out the rest of the meat.
we figured all 3 of us would go back up there so we could each carry out 1 thing there being 2 quarters left and the antlers. so back we go to the top of the hill.
the bows were left in camp as this was only a carry mission. i did carry the pistol as we had seen bear sign and didn't want to run into one armed only with ugly faces!
made it to the top of the hill for the third time and i had made up my mind, THE LAST!
there were caribou crossing right by the camp. all of us finally make the top and decide to take a breather.
i walked over and down the ridge to have a look at the remains of the carcass. the carcass had been disturbed but i could see nothing around it. so i went back to where the guys were and we were sitting around loafing.
The caribou came over the far hill. there were antlers showing at over a mile! these were some of the BIG BOYS! NO BOWS!...WHOOPS.
don sr. says," if they come close enough we may have to pepper em with that pistoli". it ocurred to me that none of us had thought to even fire the thing. it was loaded with "reloads" and who knew where the things might shoot. it was a mighty sorry situation!
I had decided that i was either going to shoot a large bull with an arrow or go skunked. so i handed don sr. the ruger and told him if they come really close to give her a whirl!
i got out my camera. the caribou kept coming and walked down into a dip in the hill and out of sight. last we saw, they were still coming towards us ,howsoever far away. so we waited some more. i was afraid they would go over either side of the hill without us ever seeing them again. i told them,"well, i'm going to try to at least get a picture of one of those big rascals!" "i'll go over the side of this hill and skirt along the bottom." "then, i'll ease up to the top and see if i can spot em." both dons were sitting with there backs to a tree and resting.
so i dropped down under the ridge and walked out about 300 yards, then i eased up slowly to have a look. when i got almost up to the top of the ridge a pair of those huge antlers was straight in front of me and not 15 yds away!
i regretted leaving that pistol. the wind was blowing from where the deer was towards where the 2 dons still sat loafing. dropping down on my belly i scooted down the hill a little to get some room. i didn't know if the deer knew i was there are not. i watched for a minute to make sure he wasn't coming my way. those horns were like flags. nothing happened. i eased back up slowly and in only a few yards there were the anlers again and still there. he didn't know i was within miles of him! i could tell he was feeding or laying down by watching the tips of those antlers.
i slithered back down the hill a ways. when i got down so far i could look back and see both dons right where i left them. i started waving frantically and finally got their attention. i was making wild hand signals which were meant to mean ,"the deer is right here, get down and i'll go around him and push him to you", which they took to mean,"i see him, hurry up and get up here".
so much for hand signals! they started towards me right down the top of the ridge. i was pretty sure they could "bump" the deer and was trying to come up with a plan. so i figured i'd trust my luck.
i went about 20 yds futher past the deer and came up slowly. when i got close to the top i could see those antlers again! he was in the same place. the plan was to get up wind of him slowly and let him get a whiff of me. hopefully he would head in the dons direction and hopefully they would see it coming. i was doing a heap of hoping! the country was huge and the deer would go anyplace he liked.
so i eased on up and after a few moments when i got in line beteen him and the wind i saw those antlers turn toward me. i was plenty close enough to tell the direction they were pointing too. "got you" i could imagine him thinking. "i'm glad this time" i thought in reply. the deer moved off.
before i could get up the hill he got plumb out of sight! he had sneaked off! but which way had he gone?
i crossed the hill and turned and started walking towards the dons. i figured to keep the rascal headed in their direction if he was in front of me. i walked about a hundred yards when all of a sudden i see the deer kind of turn towards me he looked confused. he was about 50 yds off. i whipped up my camera and shot him! he was beautiful!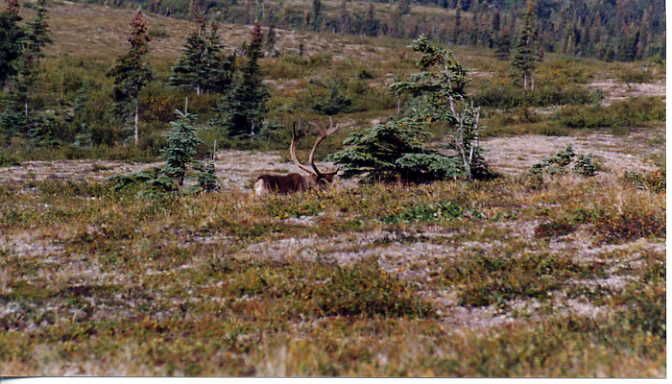 ABOUT 3 SECONDS BEFORE THE FIRST SHOT
POW! ZZZZIIIIIIINNNNNNNNNNNNNGGGGGGGGGG!
WHOOPS! DIRT EATING TIME! A .357 MAG IS IMPRESSIVE WHEN IT GOES BY!
on my belly i could see the deer was still confused but on his feet and looking sickeningly healthy. he turned towards me. all i could do was shoot him with ugly looks!
Pow! the deer started turning around and around and......fell graveyard dead!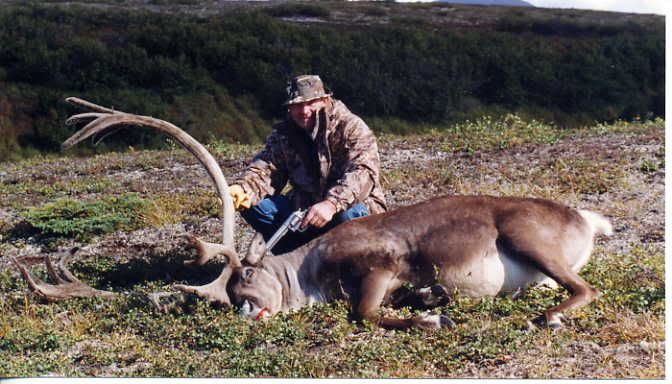 DON SR. WITH CARIBOU TAKEN WITH .357 HANDGUN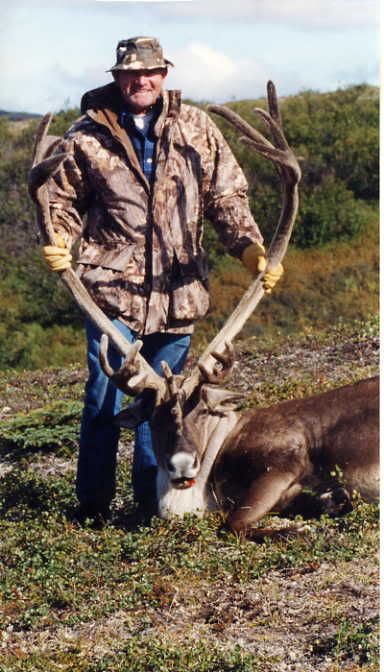 HENCE FORTH NAMED "DEADEYE"
probably 400 lbs of caribou was laying there and we hadn't carried all the other back to camp yet! OUCH!
we didn't have meat bags for this one with us as they were back in camp. we left the deer lay ,packed our packs with yesterdays meat and headed back for camp. wow! when we got back was i beat! in camp we ate , rested up some, and packed the meat sacks in our packs. we went over to hang up the meat and found bear sign around there. we hung all the meat up HIGHER in the tree! so when we got the meat and horns secured of course off we went UP THE HILL AGAIN!
It took a lot longer to do this one. the hind quarters probably were over 50 lbs each and the antlers about 30!the antlers were in velvet. Since we had worked so hard all day we hung those heavy hind quarters and horns in a tree way down the ridge from the remains of the carcass. we packed the front quarters and trim meat into 3 bags and headed back for camp.
we could see our lake off the top of the hill. just as we left the hill our pilot came buzzing in and landed on the lake. after a little while he took off again. there was no need in us trying to hurry as it would take us over an hour to get there. we were much closer when he came in again. i waited for a few minutes after i heard him shut the engine down and fired one pistol shot into the air to let him know that we were close by. about 200 yds from camp i saw him standing in the camp waiting.
there were 3 guys with him that he was hauling out. he told us he knew we had meat and had room to take it back with him. he said he was sure impressed that we illinois boys were sure puttin on the miles! he said most guys never leave the camp.
i'll bet dons' brother in law was pretty unhappy when he got the call from the talon air office to come pick up 1 1/2 caribou!
there was still the matter of the other half a caribou still up on that hill! we went to bed early. we was 3 wore out dudes!
preamble: some people might think that i was a little disappointed and jealous that don sr. got the deer and i didn't. not so. i was just as excited about his success as he was.
we three have been hunting whitetails together for years. so we look out for one another. more than once one of has got a buck off a stand that the other has offered. no whining is to follow. when you can do it for somebody else it creates a warm fuzzy feeling inside. a successful kind of feeling.
8th day
it rained and blew hard all night long! no leaks in the tent and everything is still standing. it rains mostly everyday. an off and on kind of rain that never last long. it was still raining at daylight.
i was feeling sick to my stomach and suspected that iodine water. the stuff is purely vile! we slept in and got up late.
when i finally did get up all i wanted to eat was some dry sugar smacks. i was standing around, there not being on thing to sit on, just looking out over the lake. there were little bunches of caribou in sight.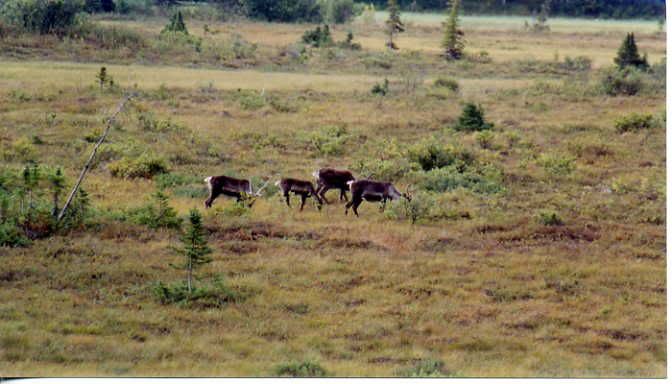 then a moose showed up!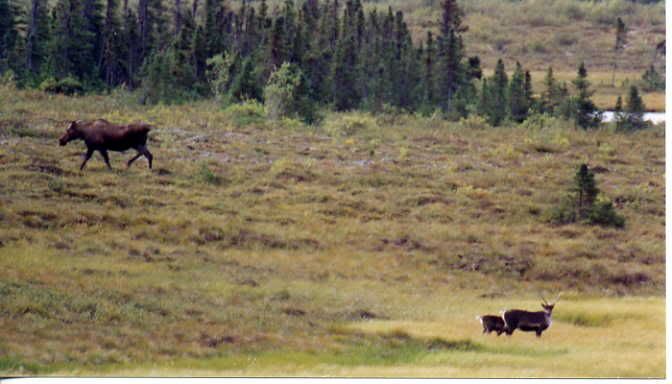 then another! i got my tripod and set it up and added a doubler to my 300mm lens. the next thing that showed up put the goosebumps over me.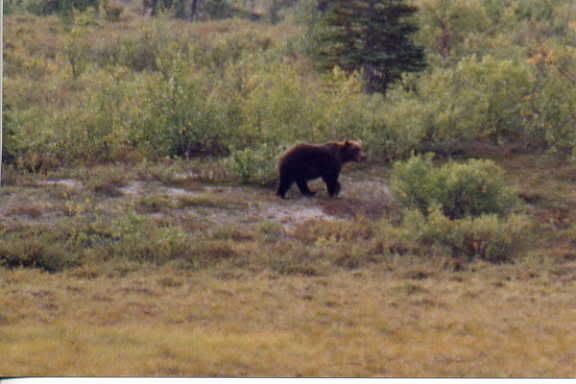 whoaaa! guesstimat 600-700 lbs!
the words, " good god, look at the size of that brown bear", will get ALL the sleepy heads up and out of bed with their boots on in a big hurry! they may not be wearing much else but the boots are important!
the thing was around 200yds from camp. i was trying to take pictures but for some reason the camera kept shaking, even with the tripod! he was walking out in the middle of this short stuff and was he putting on the show. we were a captured audience! after about 15 minutes he wandered of in a direction away from us. i hope it is a LONG DIRECTION!
we still had meat up on the hill and it became obvious why the pilot stressed to move the meat a long ways from the carcass and keep the butchered meat a long way from camp!
supposedly the bear will go for the offal first.
we finally got aroun to going back up the hill after the rest of the meat. all is good. no bears in sight so we rest up some more. when we pack up to go i glanced around and spot a black bear over on the first carcass. he don't scare me none after seeing the other one. i might have a chance at whuppin one of those blackies.
we hiked back to camp. coming through all those thickets we jump a lot of ptarmigin. not far from camp one flutters on the ground and just sits there. i drew the pistol and took careful aim at the head. pow! nope! the thing flutters around a little and just sits there again! pow!
we have fresh caribou steak and ptarmigin for supper! ptarmigin....good stuff!
now if we only had some salt or pepper or grease or matches! i knew we forgot something! oh well. all in all it was an exhilerating day!
PREAMBLE: WE had been out in the weeds now for a few days. instead of doing a lot of hunting, i had spent a lot of my time packing meat. for a couple of days i did no hunting at all. the caribou kept pouring by us as we went about packing in all that meat. we saw them frequently.
ninth day
ROASTING CARIBOU, PTARMIGIN, AND BOOTS
i'm up early by myself. nobody else has to get up. skipping breakfast, i pack some snacky things and boiled water. i quit that iodine water! i'd rather drink swamp slime!
off i go out into the tundra country that is across the lake from our camp. that seems to be one of the primary directions the deer are coming from. they have been coming through here since we arrived.
i brought the pistol with me. i'll bet those guys don't get far from camp!
this is brushy country and i am hoping to find a place to "ambush" one of the big ones. i walk a hill that the glaciers have pushed up. the deer seem to travel them to some extent.
i find a place with a lake on one side of this very low hill and a conifer stand on the other. i can see a long ways of this little bump.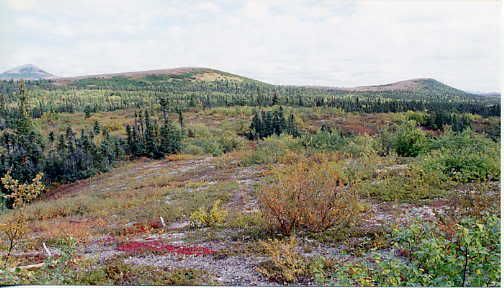 alaskan terrain
through the course of this day i saw about 15 caribou which is about normal. 2 bulls came within 20 yards but were not the big boys i'm after. lucky them!
there is a pair of bald eagles not far from me with an eaglet!the adults sit around all day watching the lake for fish while the eaglet squawks a lot trying to hurry them up. i can see they are waiting as fast as they can.
2 trumpet swans are swimming on the lake and a pair of loons are calling from another lake close by.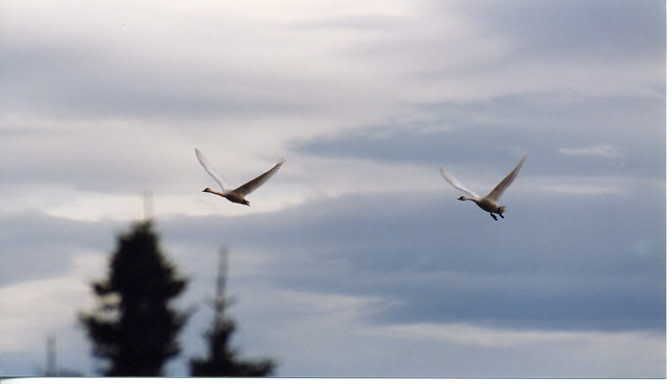 trumpet swans. lucky shot!
from this knob, lakes and swamps stretch as far as i can see. i'm wearing hip boots so i can go wherever i like, mostly.
glaciers must have formed this country. it's laid out like furrows in a field except on a huge scale. the tops of the hills hold trees, brush and at the very top those white lichens. the lower parts are all lakes, moss, peat and i'll guess muskeg. some of the places i crossed were only floating vegetative mats. the mat would sink with every step. i put a leg through one and there was nothing but water under it. the caribou must have webbed feet! they go right across.
the muskeg(i'm guessing here)is strange to me. it's a humpy ground covered with moss with deep holes full of water. the holes may not be big around but can be 2-3 foot deep! the diameter of the hole had nothing to do with its depth. i have been very careful where i am walking as i don't want to break a leg out here.
at one point in the day, i heard water slopping in the lake below me. that perked me right up! something big was sloshing around the edge. the lake was only about 40 yards below me but dense bushes kept me from eyeballing the source. a few moments of silence past. then i heard another and differant kind of sound. this was a loud flapping sound like a dog shaking itself dry.
UH-OH! i had seen the caribou shaking the ubiquitous bugs off but that was more like a nervous shudder. this noise was an ENERGETIC, ENTHUSIASTIC SHAKING SOUND! hhhhmmmmmm.
i watched in that direction for a long time and kept on seeing nothing. an hour went by and i was still watching nothing. i was scanning the horizon for deer but kept coming back to look in the direction of the racket.
after seeing that grizz i was not about to let my guard down.
15 yards and right where i happen to be looking, up pops a big black head! in the next instant it was gone again. my blood went cold for an instant. in that instant my brain was pouring out information! that was a black bear was the first thing it informed me of!
then all on its own it informed my body that lots of adrenaline was called for and my blood went racing. how had i let the thing get this close to me without knowing it was there. it could have been any kind of bear!
the bear had to be just under the crest of the bump i was sitting on just out of my sight. but where?
it is legal for me to shoot a black bear with this caribou tag. not brown bears but blackies were. i got to thinking about the size of the bears head and thought that he might not be all that large. certainly nothing like the brown i had seen. it ocurred to me that i could shoot the bear if i wanted to and as this was the first bear i had ever got this close to the idea had some appeal.
so i got up and eased in the direction i saw him last. the wind was coming from his direction. i had knocked an arrow and was taking one little step at a time in its direction.
i only got about 5 yards or so and i spot him! he was probably a little over 100 lbs.
he looked like a vacumn cleaner sucking up blueberries for all he was worth. it was a comic sight really for he was mostly blue all over! i raised the bow. he was only 10 yards from me but i didn't shoot him. he just wasn't an impressive animal. as he fed along the hill i eased along with him while studying him. i had never been this close to a bear in my life. i followed him for about 5 minutes until he spotted me! he froze and we were eyeball to eyeball. then...he run for it!
i could tell he knew a seedy looking character when he seen one! i do too. both dons back in the camp are starting to look pretty seedy! none of us have had a bath since we been here! i threatened to jump in the lake, but when i waded out in there to get water wearing hip boots, my legs went numb! going in there naked could be dangerous to certain extremities!
a large caribou came over the far hill and abandoning all caution i wore myself out trying to get in front of him. 60 yards was as close as i could get and i ran out of cover. lucky him! i couldn't help shooting an arrow at him. he was broadside out in some short green grass with NOTHING ELSE AROUND HIM! that arrow made the prettiest little arc i ever saw and splashed water when it passed right under his belly. i regretted shooting. had i just crippled him, he would have ended up bear meat. HE WAS HUGE! i have to find a better ambush point.
i hunted to about 7:30 pm and then hoofed it back to camp to find even more caribou meat roasting. yum! it went good with a bowl of soup.
while eating here come the "BIG BOYS" right past where i had been sitting all day! i grabbed my bow and ran as fast as i could trying to get to a spot to ambush them. i beat them there too! but doing so i had forgot the wind which told them where i was. they weren't EVEN interested in a look at me. they had that look in their eyes that told me they had been sneaked up on before. no illinois greenhorn was going to outsmart them.....at least today.
when i knew they "had" me, i got up and sludged back to camp. i needed some sleep!
preamble: i know that any native born alaskans who might read this story will find our antics quite amusing. the story is intentionaly amusing. i like to laugh even at myself.
we actually were doing pretty well for 3 people who had never camped in alaska. we might have done a lot of things differantly if we had an alaskan resident with us but we toughed it out and grinned through the whole thing. a bigger variety of eatables would have been a welcome thing. soup and oatmeal got tiresome by day 10.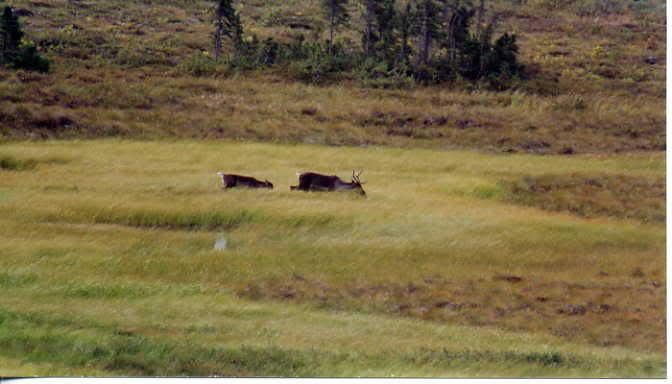 COW CARIBOU WITH CALF
TENTH DAY
i am up and at it again. since the "big boys" showed up after i left last night i have decided to stay out LONGER! i brought more snacks. while rummaging through the food box i couldn't help noticing that the food is getting low. oops. it's a good thing that we have 2 quarters of caribou on the meat pole.
out on my own again. the guys hung around the camp yesterday. i had suggested they take their bows and see if they couldn't find some more of the stupid variety of ptarmigin. those are tasty! they were not to excited about the idea. something about me having the pistol. that .357 mag. shoots those ptarmigin up too bad! i don't think that they had shooting ptarmigin on their minds.
all day i sat where i saw those big bull caribou yesterday. i was hoping some more would come by. nope! i saw about 15 more but no big ones.
about 9 pm. i hoofed it back closer to camp and set up an ambush there. 5 minutes later a cow walked by me only 15 yards away. figures!
all day i never saw a big one. finally went back to camp.
don jr. fixed some of that dried chicken stew that you just add water to. that stuff is really good.....if that's all there is. we ate the LAST 4 saltine crackers with it. they wouldn't let me buy a bigger box. all that peanut butter and no crackers to spread it on. i got a whole cup of mint tea with no sugar. i knew we forgot something.
the pilot dropped by and told don sr. that if he had room in the plane later he would be able to haul him back tonight. he would stop back if it worked out. don sr. has his sleeping bag packed. we are out of coffee!....he is READY.
"no more dadgummed coffee, guess i'll have to help you guys drink up that tea".
there's only 3 bags left for three guys for three days. sounds like we may be drinking fairly weak tea. maybe we'll be drinking blueberry tea.
they did pick 2 gallon of blueberries today but they are getting mighty tiresome. what i need is a waterbucket full of pepsi!
nobody came back for don sr and he had to unroll that sleeping bag again. methinks that ground may feel a little lumpier tonight!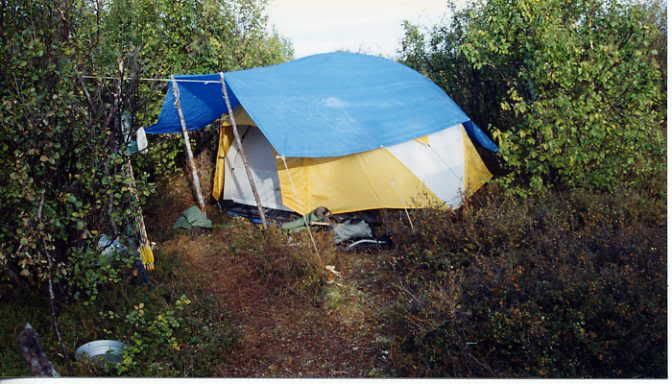 OUR DOMICILE FOR 10 DAYS!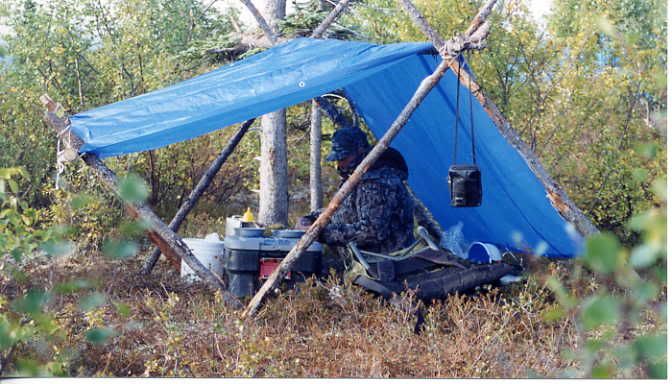 QUALITY LEANTO ENGINEERING BY DON JR.
PREAMBLE: i have come to the realization that people in our position should have been packing MORE AND MORE POTENT weaponry! a .357 magnum will probably down a brown bear more reliably than an arrow, but after seeing the real life size of a brown bear i knew the pistol was "not in it". if it became neccessary, killing one EVENTUALLY would not be acceptable. if it came down to having to fire the thing we would be in some serious trouble. on the odd chance i ever get to go back i have since acquired a ruger super redhawk chambered .44 mag. and practice with it on occasion. it will be my ptarmigin gun!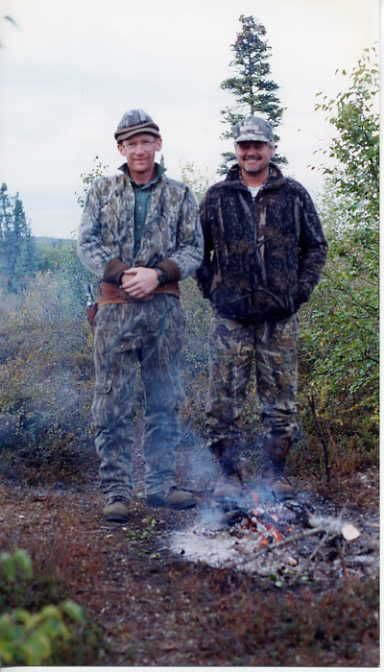 DON JR.(KNOTTY BUMPO) AND MYSELF(SQUACKS)
2 SEEDY LOOKY CHARACTERS! (self portrait)
11TH DAY
I have 1 hershey bar and 1 cheezy cracker. i like those! i am sitting in a blind that i have thrown together that is located in a funnel that the caribou have been pouring through for days. the wind was never right to sit here before. today, everything is perfect.
four hours and i haven't seen a single caribou. something tells me i would make good caribou repellant. i admit that i don't know much about caribou but they are still a deer. there is the strong possibility that i will not kill a caribou. i suppose it really won't matter.
the sight of that brown bear was worth the trip in itself! we have seen five or six black bears from the plane and around our camp. it was this kind of excitement and uncertainty that i was looking for. perhaps also, faith in myself.
this morning i saw a BIG bull moose. it was around 300 yards from me. i HEARD him walking in the water from that distance. then he went into a thicket. HE SOUNDED LIKE A BULLDOZER! trees were snapping and popping. i could follow his progress for a long time. a moose is not a dainty animal! looks like he is a down in the mud, slug it out and in your face kind of animal! AND PURE UGLY! when i think that we had intended to shoot and PACK out 3 of those i get weak in the knees just thinking of it. maybe... if one was standing ON the plane landing!
those bugs are late this morning. maybe they slept in! i should be used to them by now.i have breathed them, ate them, drank them and had them in my eyes, ears and nose! there are mosquitoes, no seeums, white sox and things i do not recognize. i found a spider web in a tree yesterday. i put my face up close to it and in a few minutes it was stuck so full of bugs that they tore the web down! the spider was in hiding. the bugs might eat him! they crawled down my waders and back up inside my pants and bit my legs all up. it takes a heap of scrathing before i can get to sleep at night.
don jr.s' legs are all scabs where he's been scratchin! on account of his great pathfinding and bug attracting capabilities i have dubbed him "KNOTTY BUMPO"! he is more realistic than FENIMORE COOPERS VERSION!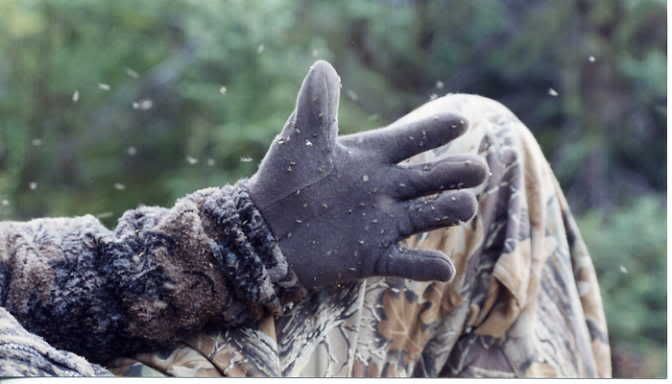 BUGS!!! WHOLE GOOGLES OF EM!
when we got here, everything was green. in these few days, fall has come. somebody told me that fall lasts about a week...then it starts snowing. snow wouldn't bother me as long as this lake doesn't freeze up. that's our landing strip! the pilot said there was no WALKING out of here. I ASKED!
there is a black bear on top of the hill behind our camp. he has been eating on what is left of the last caribou carcass. there ia also a pair of golden eagles and some bald eagles as well. if those caribou don't show soon, i may go pay a visit on the bear to see how big he is. i really don't want to climb back up there but a bear skin will fit in my house. one of those huge caribou racks WILL NOT.
for some reason the deer are no moving today. i have not seen a one. now it has started raining. wind and rain, they say, is what the caribou like. me too! the bugs can't stay in one spot and pester you. they tread air in the dead space behind your body until the wind lets up, then they right back on you. it's like a gray cloud following you everywhere you go. a living shadow!
i saw the plane go by a little while ago. it hasn't stopped. we are not scheduled to leave until friday and this is only wednesday. i am hoping to take some drives when we get back to soldotna.out flight doesn't leave until tuesday afternoon. it will probably take at least 1 day to wash all these dirty clothes plus myself!
we've been burning dead tamarack(i think) for firewood. it's pretty hard wood. there are a lot of dead ones still standing upright around our lake. we can just push them over. they stay pretty dry by being off the ground. we only have about a quarter of a gallon of fuel left for the stove so i have been boiling my drinking water on the campfire.
we brought a lantern but have never even filled it with fuel. it is still light out at 10:30 pm and we are usually too beat to stay up that late.
the plane stopped and took don sr. and the rest of the meat out. they are coming back for us on friday. the caribou have mostly gone by is what they told me.2 guys that were on the plane said they had been out 9 days. they had taken 4 caribou(2 per person legal limit) and saw a hundred per day! they were up in that high white lichen country with long shooting rifles. there being no cover there a bowhunter would have very little chance for success. a bowhunter could spot a thousand there and never get a shot!
i saw one caribou all day!
i have decided to go back up the hill and sit on that caribou carcass. don has volunteered to go along. i might get lucky and get either a straggler caribou or that black bear i have been watching.
we were packing our packs to head up there when i spotted something else up there. i realized that there were now 2 black bears up there. they were just dark specks on the hill against that white lichen. i told don,"hey there are 2 black bears up there". we got out the binoculars to have a look. there were no 2 black bears. there were 2 BROWN BEAR CUBS AND AS WE WATCHED THE OLD SOW WALKED OUT TO THEM! WHHOOAAAA! thus ended the bear hunting idea! i can't believe the timing. had we not spotted them we would have gone up there and blundered right into them. THAT WOULD NOT HAVE BEEN GOOD!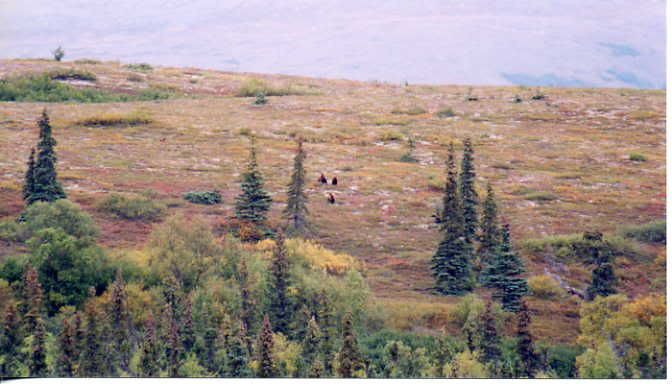 sow brown bear with cubs. lens would equal a 14x scope or about 720mm.
i bought a gold pan in soldotna. the only running creek is on the other side of the brown bear family. we were worried about where that first brownie went and now we know that there are 4 around. AT LEAST!
i guess don sr. is back in soldotna bathed, well fed and telling hair raising stories. i told him that when we come in he had better be waiting and bring me a LARGE pepsi!
i was out walking this afternoon and jumped some kind of game birds(spruce grouse?) one landed in a tree. i had him mentally all roasted for supper when i missed him at TWENTY FEET with an arrow. a ten dollar shot and no bird! of course the arrow was gone.
i am saving pistol shells these days. you never know when they all may come in handy. like, if we should meet up unexpectedly with the whole dang bear family!
the leaves have changed colors since we have been here and winter is not far off. hard to believe it's going to be warm for some time yet back home.
well, it's my bedtime. we were going to stay up to try to see the northern lights but it is cloudyand i'd bet money it will rain again within 2 hours. it has every night!
preamble: aw, forget it! my fingers are wore to the nubs.
12th day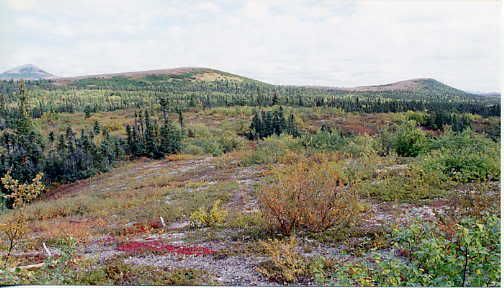 another view from our camp. we usually spotted the caribou on the tops of those clear ridges.
this is my last day for hunting. we are going back tomorrow and you can't hunt on a day you fly. so this is it.
there is no wind and the sun is shining. that means one thing. BUGS! the air is ringing with them. this is their last harrah as it snows here in september.
the caribou have gone. i only saw one yesterday all day long.
we hiked out west of the camp and found a small running stream. i had brought along the gold pan and got to wash out 3 or four pans full of gravel. no yellow stuff! there was black sand in the pan which is a good indicator that i was at least in a likely place. i didn't last long as the bugs ate my hands up with the gloves off. maybe i'll get to try someplace else on this trip.
when we got back to camp knotty bumpo retreated to the tent. too many bugs!
i took a few pictures of the area and some of the plants close by.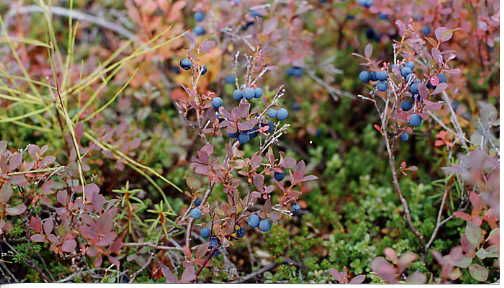 BLUEBERRIES! when i got back home it was over a year before i could stand to look at one.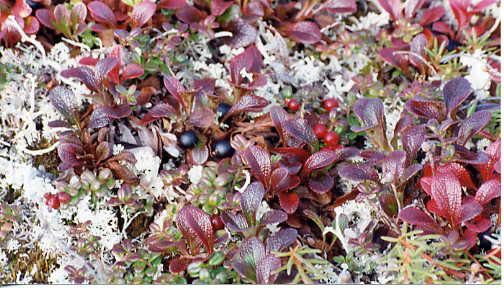 some of the low growing plants that grew there.
took a hike looking for black bear or game birds and found niether. i only carried the pistol so i could range around easier. while walking i found A HUGE PILE OF BEAR CRAP! that had to be one huge bear to make a pile that high. so i kind of ranged back closer to the camp.
i guess it will be soup again for supper tonight. they took all the caribou meat out with don sr. so it will be soup and peanut butter on a spoon.
after it cools down and the bugs quit, we'll start packing up some of the camp for the trip home. the pilot said they would come tomorrow afternoon but not to take down the tent until he got there. if the weather is no good between here and there they will not come. we may be down to just peanut butter if that happens.
we built a large fire and stayed up until 11:30 hoping to see the northern lights. the sun was still in twilight with a full moon besides. you could barely make out some stars. i gave up on the lights. it's past my bedtime.
PREAMBLE: I have decided to make this the last day for this story and then to summarize a little on the rest of the trip. after the summary i will post a few more pictures that you may find interesting. these pictures were all taken in alaska by me during this trip.
i have enjoyed telling this story to a hunting and shooting group. before this, i only let a few co-workers read it and most of those have never hunted. i feel that some of you may benefit from the telling of it if you ever decide to plan a hunting trip to alaska.
the total cost of this trip was well under $5000. altogether i was there for 17 days.
13th day
we slept late finally getting up to eat more oatmeal. (yup!) after that we struck camp. it took 3-4 trips each to get all that stuff down to where the plane would pick us up. we even packed the tent anyway.
we are waiting by the lake to be picked up. the breeze, when it does blow, keeps the bugs off. until the plane gets here, we are still bug meat!
when we get airborne, i am hoping to get a look at all those thousands of caribou that went by. i probably saw a hundred out of that bunch.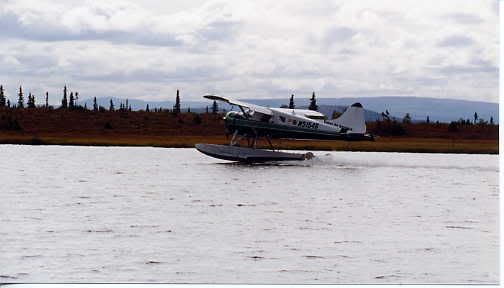 1954 dehavillon something or another. these planes are as old as i am! we are on our way out.
the plane made it here at last. our camp was located SOMEWHERE between tutna and nickabuna lakes. we overflew port alsworth on our way out and as the saying goes, "it aint much of a going concern"!
we dropped on another lake on the way out and picked up meat for some other hunters. there was a guy on the lakebank standing right flatfooted in front of me eating PIZZA!
i told don, "hand that pistol up here, i'm going to rob that guy of his pizza!"
i was the co-pilot again on the way back. fat lot of good it would have done as i never flown before this trip let alone actually flew anything. we saw some moose and bear on the way back.
ole "DEADEYE" was waiting when we got in even brought us both a pepsi!
we loaded the truck and went into town. first place we stopped was a resterant called MICHEALS'. there we ordered up some PRIME RIB! MMMMMMMMGOOOD!
when the waitress came by to check on us i told the guys,"hey, this stuff don't taste right, it don't have any bugs in it!" The ladys' mouth dropped wide open! " I should hope not!" she says. "But i have gotten so use to them", i reply.
the hunting part of the trip was over and there were 2 caribou waiting for us to butcher and pack. it was a very exciting hunt.
Preamble: as i said, i am going to summarize the rest of the trip to shorten this little "long winded " story. the rest of the trip had nothing to do with hunting and shooting and may prove boresome.
summary:
after getting back into soldotna i realised that my camera case and ALL the pictures i had taken had been left on the plane! when we had gotten out another group had loaded and the plane was on its way back out. it was an agonising whole day before i found out if i was going to recover it. i was totally miserable in the meantime!
we got all the meat cut, ground and wrapped. we left the majority of it there for the alaskan family. they had a large freezer and could use it.
one of the days left we drove down to seward and took a boat tour ou on the gulf of alaska. on the trip i saw stellar sea lions, a minky whale, puffins, a lot of sea birds and some drop dead beautiful scenery! the trip lasted 6 1/2 hours.
the last full day i was there i hired a guide that the brother in law new and he took me salmon fishing on the kenai river! since i didn't have fishing gear it was just as reasonable to hire him as to purchase all the stuff needed to fish. he also had a boat and motor! so i spent 4 hours salmon fishing. the guide wanted to check out the silver salmon run but it was just getting underway. the pink salmon , however had filled the river! i caught so many pink salmon i never bothered to count them. they ran around 6 lbs each. we never kept a one as i had no use for them and don't much like eating them anyway. the fishing was fantastic!
next day we headed home and it seemed to take forever. we started out in the morning in kenai ak. and ended up in chicago il. the next morning!
knotty bumpo and i are presently scheming and threatening another trip before we get to old and creaky!
luck!
pictures to follow as i get time!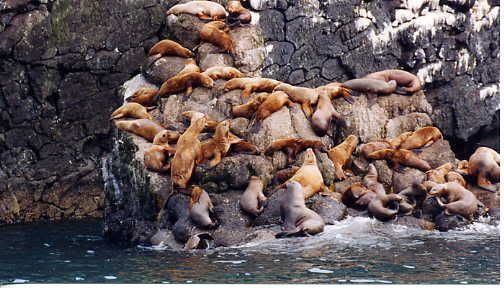 STELLAR SEA LIONS IN THE KENAI FIIORDS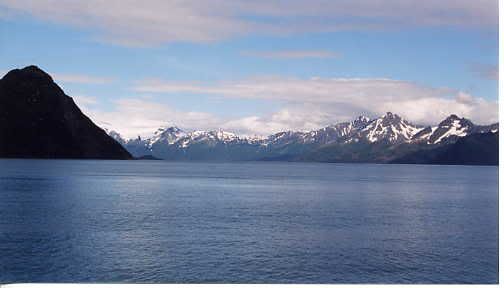 VIEW OF THE GULF OF ALASKA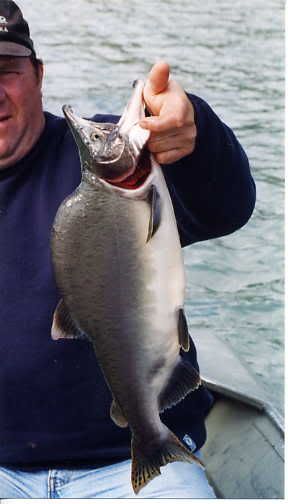 GUIDE WITH ONE OF MANY PINK SALMON I CAUGHT IN 4 HOURS OF FISHING ON THE KENAI RIVER.
hope you have enjoyed my little story as much as i have enjoyed providing it. thanks for all your kind words! the end and...LUCK!