Short story, traded a "99 336w 30-30 for a 1971 336 35rem.
Long story,
My brother in law sold his ajpg
nd he knocked off 200 and got the 336w. I bought it from him for 200 cash. Bam love it, I had it for about a month and thought about posting it on armslist for 350 to see if I got any hits. Well I did, for a mossy oak Mossberg 835 12g. I'm not much of a fan for fancy camouflage so I passed. A few days, today June 15th I woke up with an itch for that shotty, so I done some research on the internet about stuff I could do to it. For ex buy a slug barrel and turn it into a slug machine.
I texted the guy " You still interested in the trade for the 336w for the Mossberg shotty?" He replied within 2 minutes " sorry its already gone, but I have a marlin in 35 rem" I about crapped myself. Luckily I was on the toilet so it would've been fine. We exchanged some info on the rifles and I meet him an hr later and done the trade.
Its like I was suppose to get this rifle or something. Either way 200 dollars and I have a pre cross safety 336 marlin in 35 rem, I think I did good. Its not perfect but sure is beautiful to me.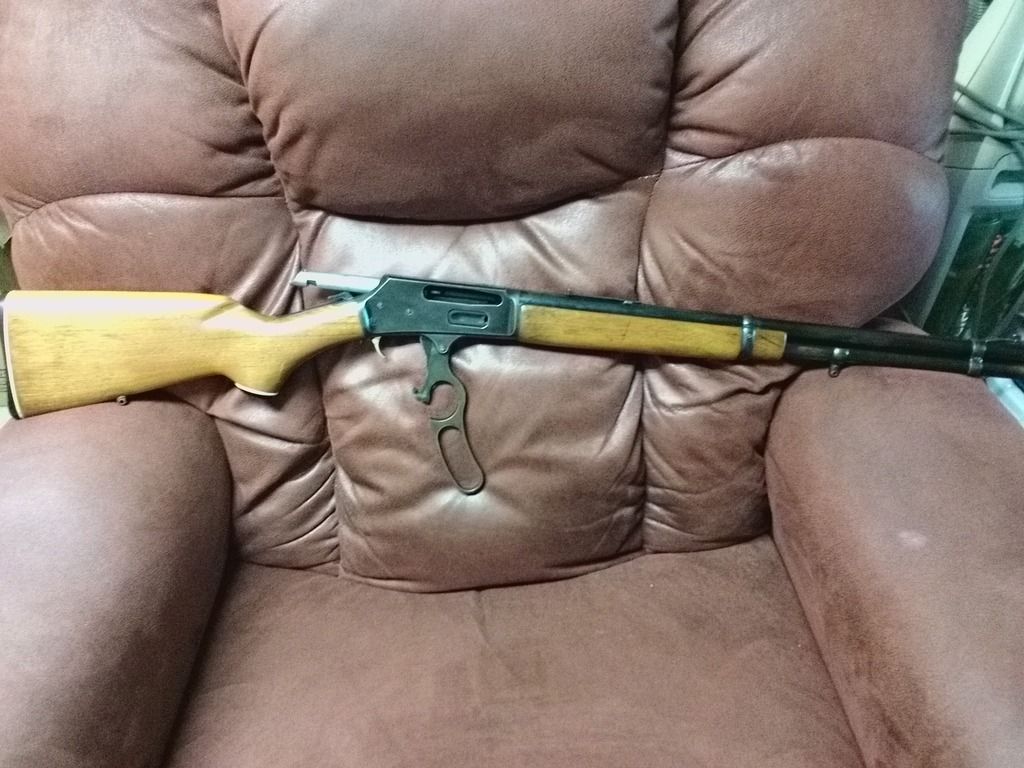 http://i176.photobucket.com/albums/...e Uploads/IMG_20160615_173943_zpseyogykdp.jpg
http://i176.photobucket.com/albums/...e Uploads/IMG_20160615_173955_zpsfch6c2ih.jpg
http://i176.photobucket.com/albums/...e Uploads/IMG_20160615_174005_zpsssp5l6wc.jpg
http://i176.photobucket.com/albums/...e Uploads/IMG_20160615_174009_zpsckbliowj.jpg
http://i176.photobucket.com/albums/...e Uploads/IMG_20160615_174015_zpso1pfugnx.jpg
http://i176.photobucket.com/albums/...e Uploads/IMG_20160615_174021_zpsgekp6ncg.jpg
http://i176.photobucket.com/albums/...e Uploads/IMG_20160615_174028_zpsdl4u9y21.jpg
http://i176.photobucket.com/albums/...e Uploads/IMG_20160615_174036_zpsfbjac7n9.jpg