Today was only a 25 yard range with my Marlin 336 carbine 1976, 2-4 minutes between shots. Parallax on my Vortex Viper 3-9x40 scope and cheek weld might have played into some of the results, but so far this is what I have:
Winchester Silvertip 150
This is what I originally sighted in with. I shot 5 bullets, so one of them must have passed through the same hole. Only the 5th bullet was off the 1" bull. Seems to be pretty solid in my marlin, very impressive but I just learned they were discontinued.. definitely a shooter in my Marlin though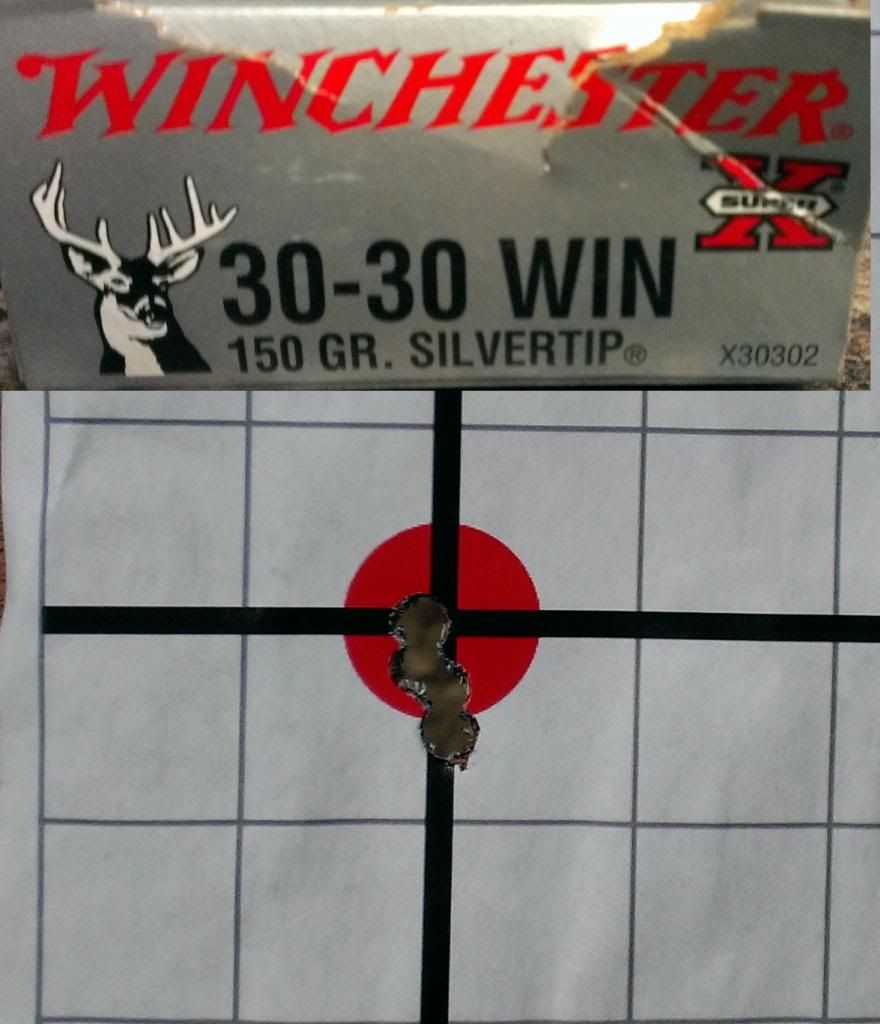 Federal Fusion 170
This one was a bit puzzling. I think my barrel started warming up a bit, but I shot extra bullets just to see if the warmed state would group better. 7 shots and I wasn't very happy with the fact that it grouped the lowest of the bunch. Every other ammo was on or above the bull vertically. I'll try again at 100 yards.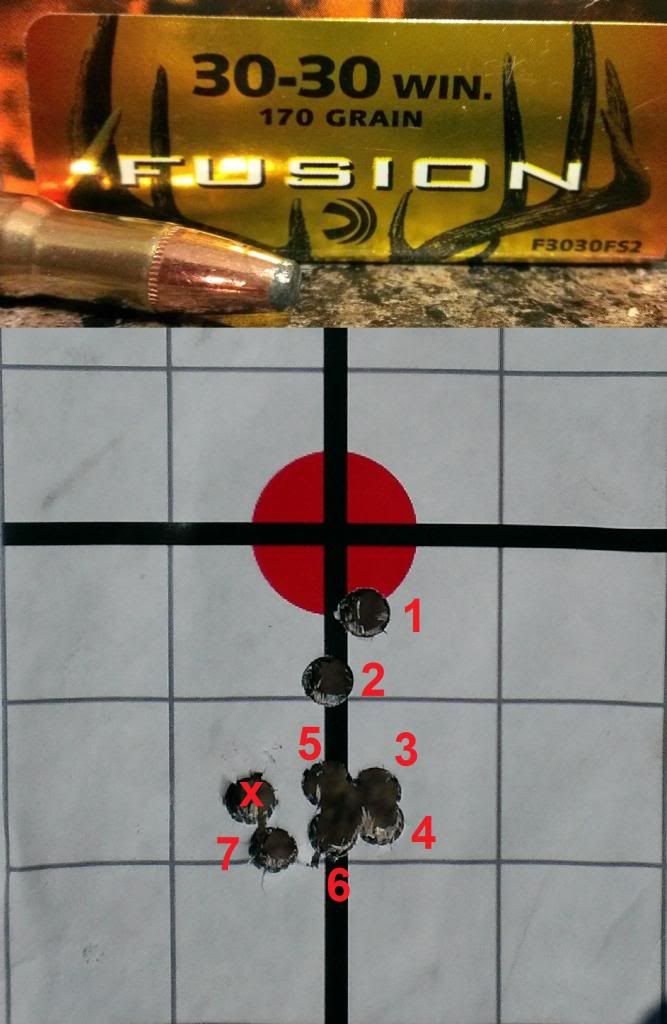 Hornady 160 FTX
Clover leaf, under 1" vertically, and about half inch wide 5 shot group. My rifle has shot a 3 shot group of 3/4 inch before at 100 yards, so this wasn't very surprising. This group was immediately following the Federal fusion, which further puzzled me. Maybe my cheek weld was bad with the Fusion? 100 yards will tell, since scope is set at 100 yard parallax.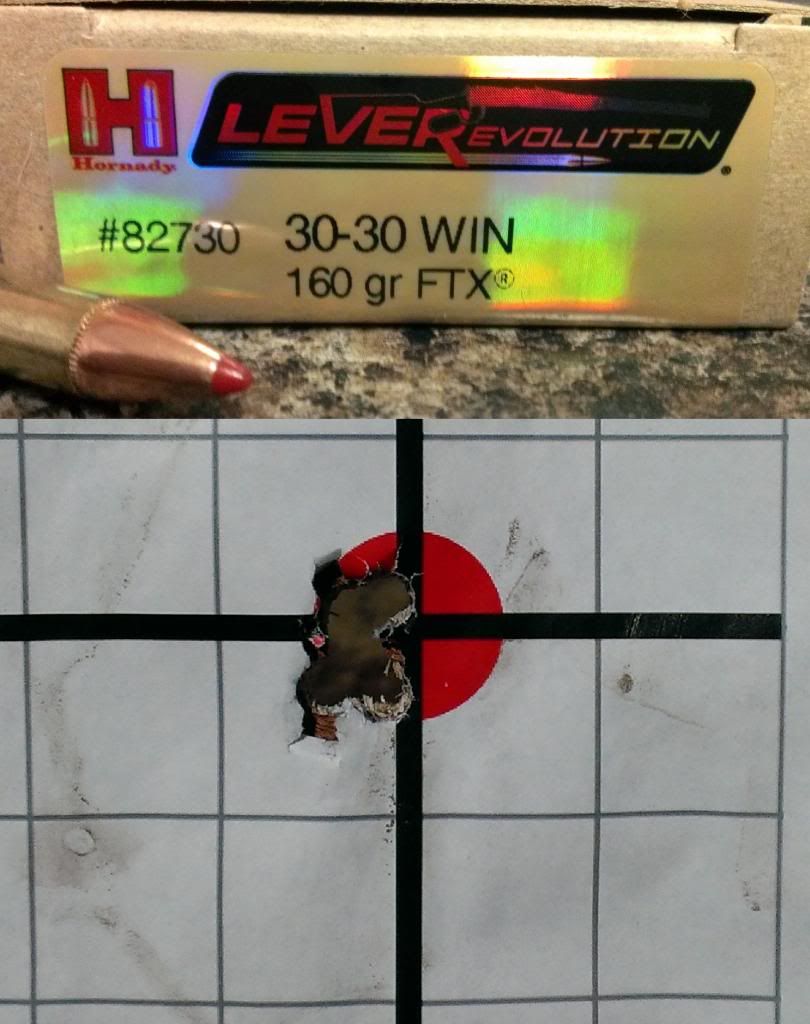 Remington Core Lokt 170
This ammo pleasantly surprised the crap out of me. The 5 shots grouped even tighter than the hornady! Only the 5th shot touched outside the bull. So the first 4 shots were all within a half inch radius! I was really hoping my gun liked it, since its performance on game seemed to be the best all around. This is now my brush ammo which should cover 0-200 yards perfectly. Going to store and stocking on this. Note: The red X was a single shot, then I adjusted windage and shot 5 more.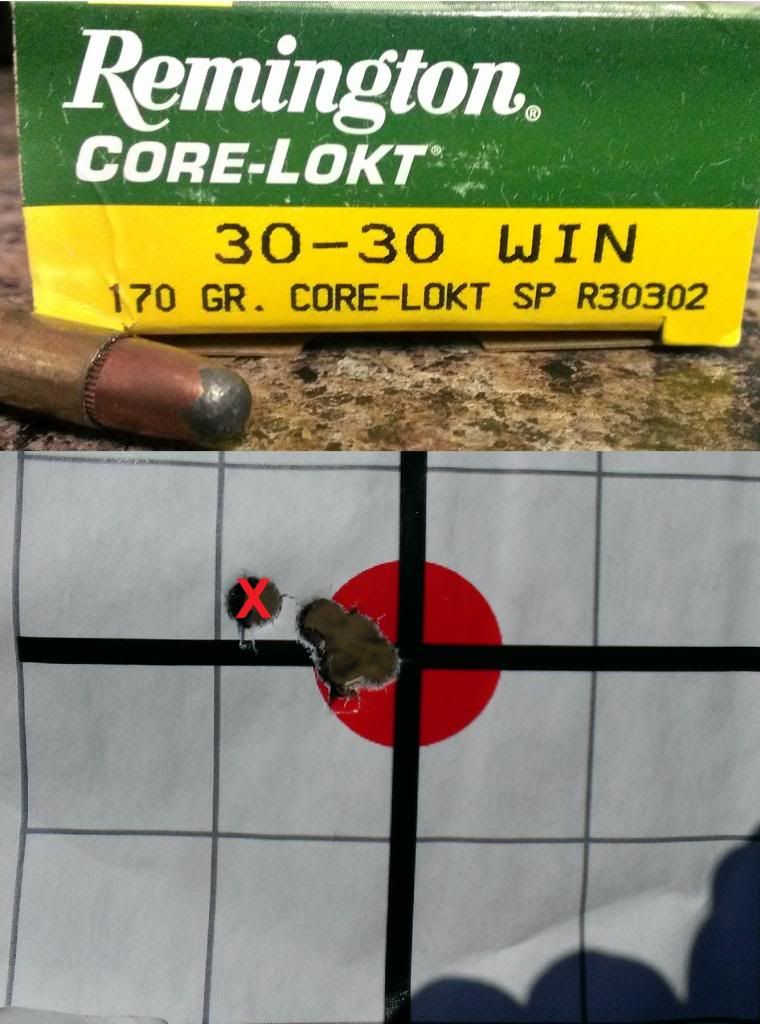 Hornady 140 Monoflex
This ammo intrigued me. It has excellent penetration performance since it holds together very well. Shooting it felt a bit different than the other ammo for some reason. I think I felt the shift in velocity even from the 160FTX. I took 6 shots because I wasn't sure about the flyer and the 6th shot ended up with the flyer. This ammo is not worth it compared to the much better performing Corelokt and 160FTX.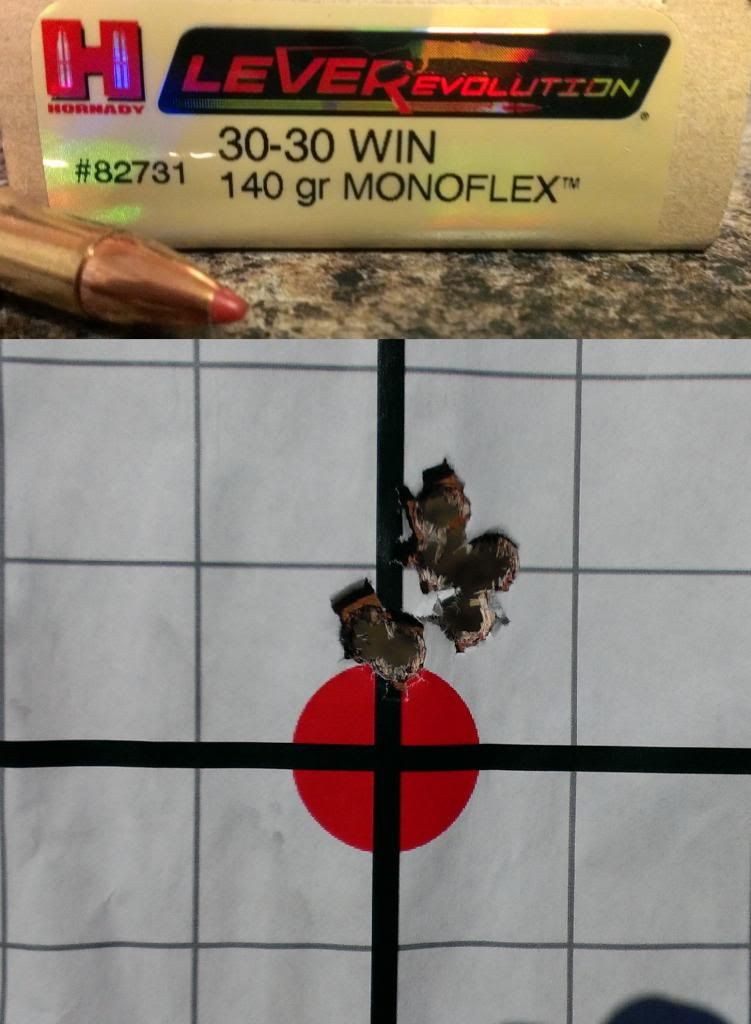 Next will be the 100 yard range report. I am all out of the Winchester silvertip, and it is out of stock everywhere, and also discontinued. So I figured it was pretty much pointless to keep testing it. Still enough for 5 shot groups for all other ammo.