Discussion Starter
·
#1
·
I
REALLY
want one of these. The first time I saw it in the catalog I knew I had to have one. OK - make that two. One for me and one for my son.
Why .357? Because my 450 will handle the big bore big game needs and.............................
my 1988 Colt King Cobra (enhanced version - mirror polished stainless) wants a stable mate. I bought this pistol NIB in 1991 from one of the gun shops I worked at. It has the smoothest action I have ever felt on a DA revolver. Double action is absolutely smooth at around 7 pounds. The single action shots have an extremely crisp let off at probably 2 pounds. This is definitely a Wednesday after lunch gun!!! ;D
She shoots 1.5" or better 6 shot groups at 25 yards from a rest with 158 grain soft points. That's just factory stuff - I haven't handloaded for her (yet). She has less than 200 rounds through her.
Here she is: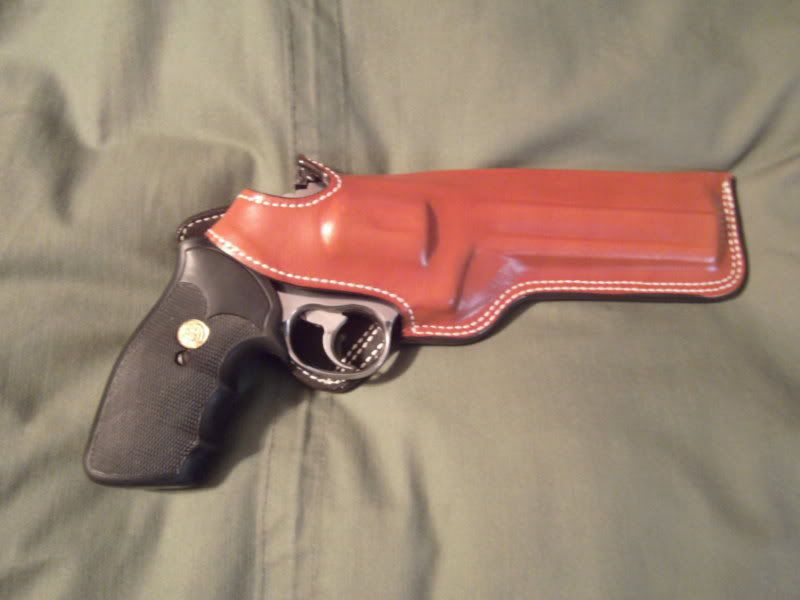 The leather is a De Santis Dual Angle Hunter. It is lined with black silicon suede. It can be worn strong side or cross draw - I prefer cross draw.
This is absolutely the finest holster I have ever bought. I usually buy Galco but I wanted a lined holster to protect my once in a lifetime pistol.
The craftsmanship is flawless. The leather is extremely rigid (wet formed) and it has a THIN profile.
I wear that on my Montana Slings brown 'stitched' gun belt - the belt matches the holster perfectly.
Anyway, my King Cobra can't wait to get a stable mate. I'm looking forward to slinging 180 grain hard cast out of the carbine and my pistol!
I hope they deliver a quality product this June or July in the 1894 CSBL!
Anybody else
'have to'
get one of these little carbines???